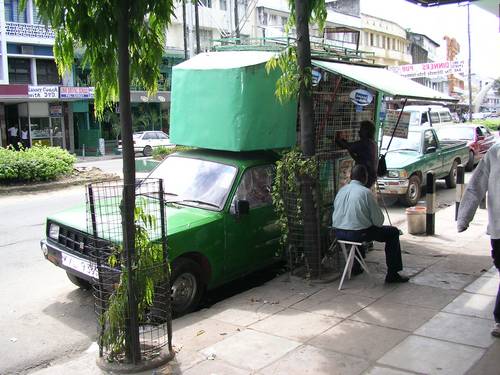 In case you can't decide on the proper location for your duka project, or if you'd like to have total access/control on your business while sitting in that office chair, you might want to try out this (shaggz & nephew compatible) mobile duka solution I came across in Mombasa earlier this week.
And it also makes me think of other mobile solutions for Kenya (aka business ideas for the jobless youth – I just can't stand these "all my friend are ideling around" phrases anymore): as more and more electronical services are becoming mobile and affordable / rescalable for resale, how about renting one of those pickups or smaller busses and equipping them with mobile internet surf stations (running on Linux or any other free software solution)? Electricity could be provided by solar panels (= one computer and 5 terminals) supplying batteries, and internet connection could be realized through a bundled GPRS connection. The technology is already there, customizable and doesn't cost more than a normal (fully equipped) Internet Café (with maintenance & hardware costs).
In other words: I would like to see 2007 being the year when we see more and more younger people moving back to the upcountry side and trying their luck over there. I think there's always a way to find a decent loan for a smart project. If YOU don't try it, who else will?