Oh my oh my….SOOO many impressions from sunny Mombasa – and the most lasting one is the good food. Nice! And the weather is was much better.
For those who couldn't make it to the beach last year, here are some visual impressions. Enjoy! :-)
@ 40 Thieves, Diani Beach on January 1st, 2007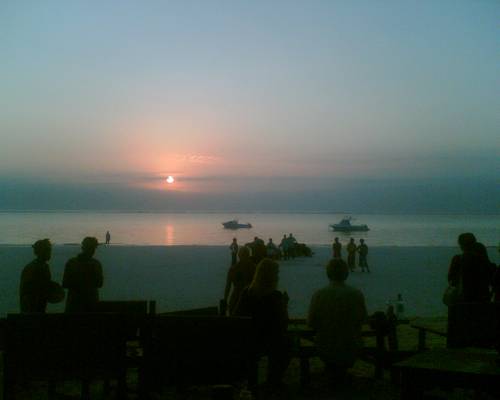 All it takes is a matatu from Mombasa via Likoni ferry to Ukunda (70/= ), and from there good luck in form of a good samaritan (as all Matatus were awfully overcrowded at 10:30 pm) who stopped a minibus for us (thx, Pastor ??? of ??? Church in Ukunda! :-) belonging to girlshope.de. Now, what a coincidence. Anyways, thx for the free ride to 40 thieves!
There's nothing better than celebrating New Year's morning somewhere at the beach, and starting the year by swiming in the warm waters of the Indian Ocean. Hola Twigamoja – I started the new year in a very dutch way :-)
One "funny" incidence that won't leave my brain for some time was the skipper of a typical Glass Bottom Boat approaching a Kenyan of indian origin at Diani Beach. The guy was SOOOO pissed off about being treated like a typical tourist (~ 3.000/= for a 2h trip with the boat) that he told the skipper in Kiswahili "I am even more Kenyan than you". That phrase really made my day.
The agonizing reality of being a mzungu at the beach of course is that you'll always be regarded as a walking money box. It sometimes stops by replying in Kiswahili or showing any local ID – but some of these beach boys operators are very persistent or maybe just dumb?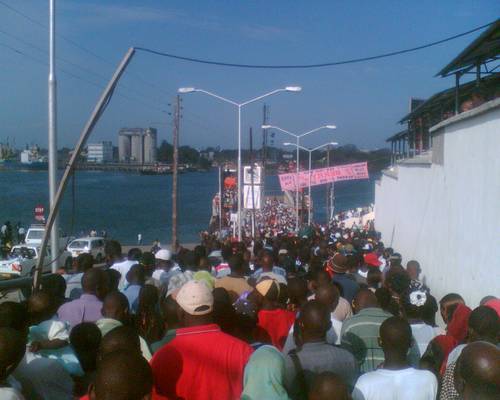 And then – of course – a nasty "traffic jam" of wananchi queueing for Likoni ferry on Monday afternoon. Waiting for 30 minutes in direct sunshine makes you feel like a Kuku @ Kenchic. Also, this is a disaster waiting to happen – if someone faints, there's no emergency exit.
Reasons for going to Diani instead of other beaches are: Sitting is free!
Chairs = 50 bob At Kenyatta Beach. A PUBLIC beach!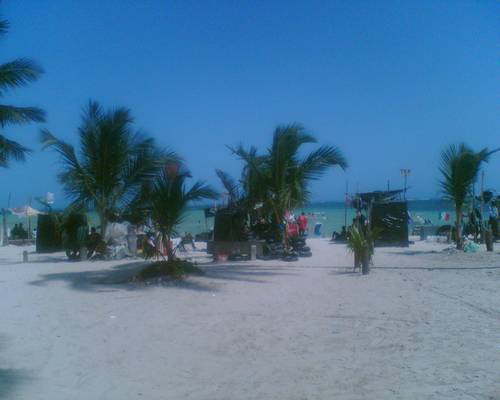 Please note the "lifebelts" (inflated car tyre tubes) as well as other accessoiries such as swimsuits for rent to the public. There should be more public beaches – but then: Diani Beach is also open to the public. And better. Public in terms of affordable prices for the masses? Hmm..
"Jomo Kenyatta Community Beach CleanUp Coordination Committee"
A matatu from downtown Mombasa to Bamburi & Kenyatta Beach costs about 30/= ==> you don't need to stay in an expensive hotel at the beach, but can instead rely on public transport, chose a cheaper bed&breakfast place downtown and also enjoy the typical Swahili cuisine in oldtown Mombasa. Beef Kebap, Swahili Pizza, etc. – I just WISH someone smart could introduce that kind of food to rural areas in Central Kenya (hint, hint!). Oh my…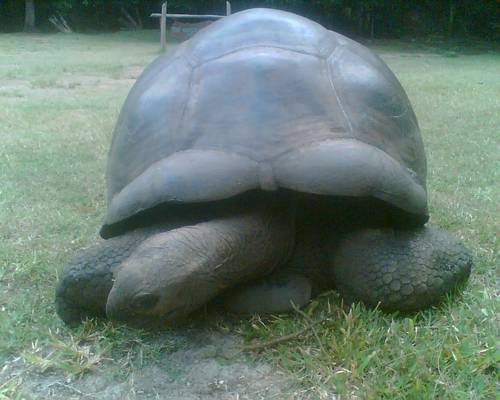 a huge tortoise at René Haller Park
Another tourist attraction is René Haller Park, or Bamburi Nature Trail as it used to be called when I was there the first time in 1991. For an entrance fee of Ksh 200/= for Kenya residents (tourist 600/=) you get to see some animals (many many crocodiles) and, most importantly, a healthy forrest where there was nothing some 30+ years ago.
The bottom line to all this is that Kenya has so many different sceneries and interesting landscapes to offer, different cultures and customs which all mix up in cities like Mombasa. Spending the holidays in this hot and laid-back city just proved to be a very smart idea!