Almost all super­mar­kets in Kenya sell bot­t­led water, and many also sell spe­cial water fil­ters with about 1–3 fil­ter cand­les insi­de. The­se fil­ters are avail­ab­le in dif­fe­rent sizes, often made out of stain­less steel and will cost about Ksh. 1800/= (~ US-$ 25,- // EUR 20,-). To fil­ter the water, all you have to do is put a lit­re of it on the top con­tai­ner and wait for it to per­co­la­te through the cer­a­mic fil­ter ele­ment into the con­tai­ner below which of cour­se takes some time.
I also wan­ted to have such a fil­ter sys­tem to fil­ter the tap water, but I was­n't wil­ling to invest so much money. Also, I've seen this alter­na­ti­ve fil­ter sys­tem in use at our office — so it beca­me clear that I had to build my own and see that I don't spend too much money on this DIY pro­ject. Many house­holds all over the coun­try use the­se water fil­ter sys­tems the­se days — which is good!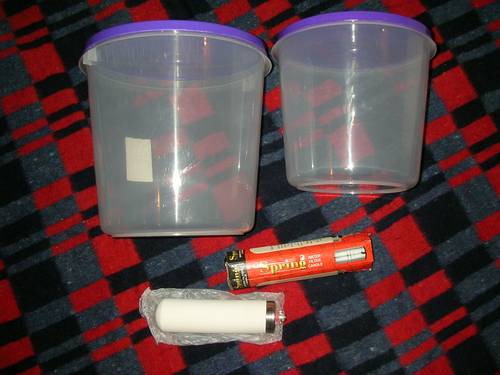 All you'll need for the water fil­ter are two con­tai­ners with flat covers (so that they can be sta­cked), a cer­a­mic water fil­ter ele­ment and a sharp kni­fe to drill the two holes. A tap should actual­ly be fixed to the bot­tom of the big­ger con­tai­ner to easi­ly drain the fil­te­red water, but isn't nee­ded per se for the func­tio­n­ing of this fil­ter. I will add a tap wit­hin the next few days, though.
Cos­ts:
- two con­tai­ners at dif­fe­rent sizes @ Ksh. 99 and Ksh. 89 (~ EUR 1,- each)
— cer­a­mic water fil­ter ele­ment @ Ksh. 179 (~ EUR 2,-)
— a small tap @ Ksh. 90 (~ EUR 1,-)
…which sums up to about Ksh. 400 /= or EUR 4,40 / US-$ 5,60 …and con­si­de­ring that a lit­re of bot­t­led water cos­ts around Ksh. 40 /=, this fil­ter ele­ment makes sen­se after the tenth lit­re of fil­te­red water. After all, every lit­re that does­n't come in a PET bot­t­le is bet­ter, as it hel­ps to pre­ser­ve the environment.
1. take a sharp kni­fe and drill a small hole at the bot­tom of the top container
2. screw the cer­a­mic fil­ter ele­ment through the hole and make sure the rub­ber was­hers are in place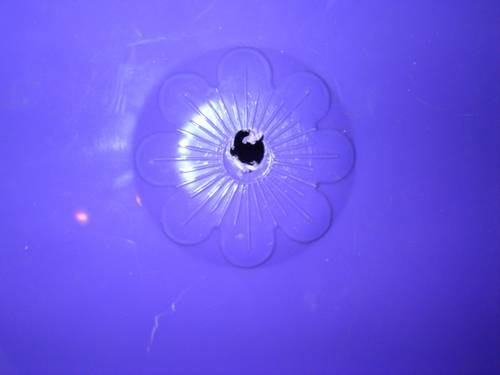 3. drill a hole into the lid of the lower container
4. fix the lid to the top con­tai­ner & the fil­ter ele­ment — make sure to real­ly tigh­ten the nut
5. et voil? — the finis­hed water fil­ter in use.
Our tap water here is a bit brow­nish — the other day I was refiiling my water hea­ter and found a cockroach leg in the sie­ve. Also, this low bud­get fil­ter should be used for har­ve­s­ted rain and bore­ho­le water only, as the fil­ter does­n't remo­ve fine traces of che­mi­cal substances.
UPDATE: I've mean­while fixed a small tap — which does­n't work that well, though. Make sure to clean any new cand­le befo­re fixing it for the first time.
UPDATE #2: Tom of Aid Workers Net advi­sed me to inclu­de a dis­c­lai­mer as someo­ne "is just wai­t­ing to repli­ca­te the steps incor­rect­ly, make them­sel­ves ill and bla­me you". True! THX!!
In a world of hot cof­fee pots, sharp kni­ves and suf­fo­ca­ting plastic bags, plea­se be advi­sed THAT YOU WILL BE SOLELY RESPONSIBLE FOR ANY DAMAGE RESULTING FROM YOUR OWN ACTIONS. EVERYTHING YOU DO WITH THE INFORMATION OBTAINED THROUGH THIS ARTICLE IS DONE AT YOUR OWN RISK.
UPDATE #3: The­re are of cour­se dif­fe­rent types of fil­te­ring cand­les. The one i used is rather cheap and only con­sists of cer­a­mic and some sil­ver lining insi­de, alt­hough of cour­se of ques­tion­ab­le qua­li­ty. Hence the low price.
An alter­na­ti­ve would be to buy bett­ter cand­les with hig­her fil­te­ring rates, an anti­col­lo­idal sil­ver lining insi­de and acti­va­ted car­bon. Howe­ver, such cand­les cost around Ksh. 1200/= (~ EUR 13,-) which is a bit too much. Also, good (plastic) taps as used on the buckets are expen­si­ve and hard to obtain in rural areas.
UPDATE #4: New fil­ter cand­le + new tap!