Almost all supermarkets in Kenya sell bottled water, and many also sell special water filters with about 1-3 filter candles inside. These filters are available in different sizes, often made out of stainless steel and will cost about Ksh. 1800/= (~ US-$ 25,- // EUR 20,-). To filter the water, all you have to do is put a litre of it on the top container and wait for it to percolate through the ceramic filter element into the container below which of course takes some time.
I also wanted to have such a filter system to filter the tap water, but I wasn't willing to invest so much money. Also, I've seen this alternative filter system in use at our office – so it became clear that I had to build my own and see that I don't spend too much money on this DIY project. Many households all over the country use these water filter systems these days – which is good!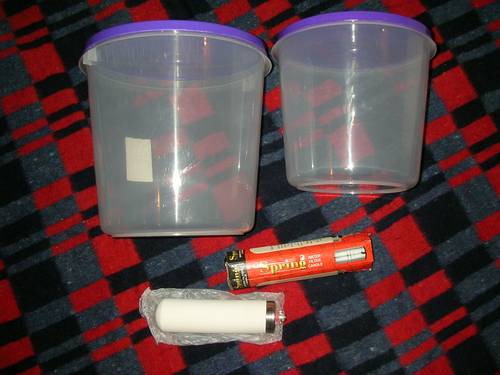 All you'll need for the water filter are two containers with flat covers (so that they can be stacked), a ceramic water filter element and a sharp knife to drill the two holes. A tap should actually be fixed to the bottom of the bigger container to easily drain the filtered water, but isn't needed per se for the functioning of this filter. I will add a tap within the next few days, though.
Costs:
– two containers at different sizes @ Ksh. 99 and Ksh. 89 (~ EUR 1,- each)
– ceramic water filter element @ Ksh. 179 (~ EUR 2,-)
– a small tap @ Ksh. 90 (~ EUR 1,-)
…which sums up to about Ksh. 400 /= or EUR 4,40 / US-$ 5,60 …and considering that a litre of bottled water costs around Ksh. 40 /=, this filter element makes sense after the tenth litre of filtered water. After all, every litre that doesn't come in a PET bottle is better, as it helps to preserve the environment.
1. take a sharp knife and drill a small hole at the bottom of the top container
2. screw the ceramic filter element through the hole and make sure the rubber washers are in place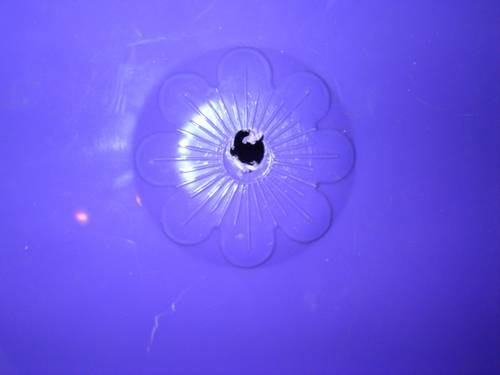 3. drill a hole into the lid of the lower container
4. fix the lid to the top container & the filter element – make sure to really tighten the nut
5. et voil? – the finished water filter in use.
Our tap water here is a bit brownish – the other day I was refiiling my water heater and found a cockroach leg in the sieve. Also, this low budget filter should be used for harvested rain and borehole water only, as the filter doesn't remove fine traces of chemical substances.
UPDATE: I've meanwhile fixed a small tap – which doesn't work that well, though. Make sure to clean any new candle before fixing it for the first time.
UPDATE #2: Tom of Aid Workers Net advised me to include a disclaimer as someone "is just waiting to replicate the steps incorrectly, make themselves ill and blame you". True! THX!!
In a world of hot coffee pots, sharp knives and suffocating plastic bags, please be advised THAT YOU WILL BE SOLELY RESPONSIBLE FOR ANY DAMAGE RESULTING FROM YOUR OWN ACTIONS. EVERYTHING YOU DO WITH THE INFORMATION OBTAINED THROUGH THIS ARTICLE IS DONE AT YOUR OWN RISK.
UPDATE #3: There are of course different types of filtering candles. The one i used is rather cheap and only consists of ceramic and some silver lining inside, although of course of questionable quality. Hence the low price.
An alternative would be to buy bettter candles with higher filtering rates, an anticolloidal silver lining inside and activated carbon. However, such candles cost around Ksh. 1200/= (~ EUR 13,-) which is a bit too much. Also, good (plastic) taps as used on the buckets are expensive and hard to obtain in rural areas.
UPDATE #4: New filter candle + new tap!