1 EUR ==> ~ 90 Kshs.
1 new bed (made from che­a­per mate­ri­als, Embu pri­ce): 1650 /= Kshs.
1 new high den­si­ty mat­tress 6,7 x 4 ft.: 3550 /= Kshs.
1 high den­si­ty foam 20″ x 22″ (to fit in the remai­ning frame the mat­tress does­n't cover — hey, I am tall!): 230 /= Kshs.
1 real­ly huge (72 x 90″) blan­ket: 675 /= Kshs.
2 pil­lows (27 x 18″): 398 /= Kshs.
4 pc bed & pil­low she­ets: 799 /= Kshs.
1 Kikoi to cover the win­dow: 300 /= Kshs.
1 "Per­maNet" pre-trea­ted mos­qui­to net: 800 /= Kshs.
A won­der­ful col­league by the name of Zakayo who orga­nis­ed the bed at this pri­ce, had it deli­ve­r­ed to the room, kicked the landlord to have the room repain­ted in time and just stood in front of the buil­ding when I arri­ved: pri­celess .
Zakayo — then­giu muno!
We rus­hed to Magu­na Andu ("hel­ping peop­le") super­mar­ket here in Embu to buy the mat­tress etc befo­re the shops clo­sed and rewar­ded us with the obli­ga­to­ry Tus­ker and some mbu­zi choma.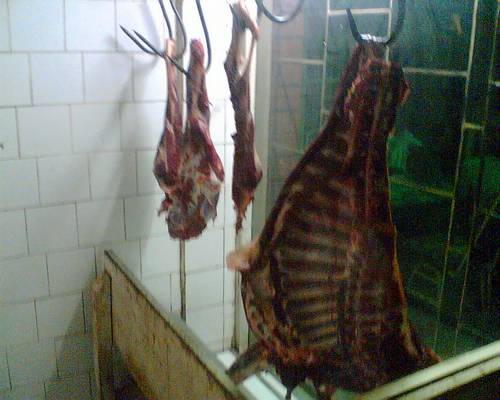 2 kgs of Mbu­zi for 4 people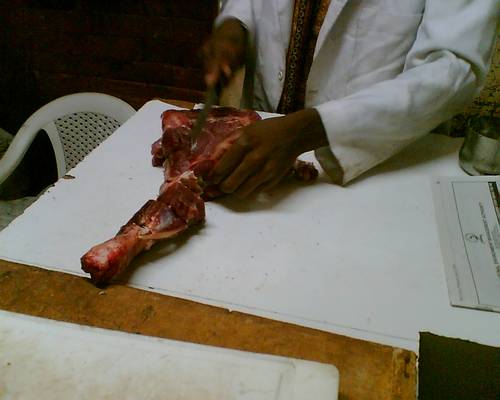 pre­pa­ring the meat for the grill…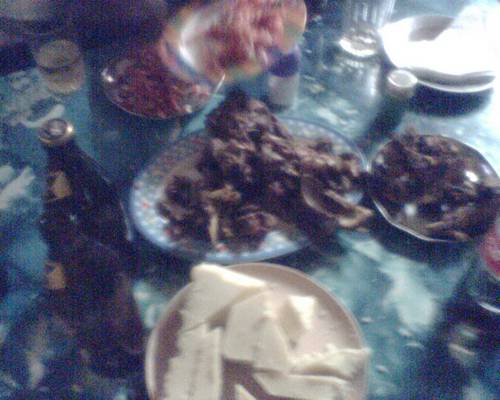 (pole for the weak pic­tu­re quality)
Mbu­zi (goat), Kachum­ba­ri (tomatoes, oni­ons), Uga­li (mai­ze), Salt, Tus­ker (beer) and coke. YEAH!
When I woke up next day, I still smel­led like a goat. Thx god it's a holiday.
My room is approx. 20m away from a bar/restaurant…meaning: I smell fried chips and the meat grill while wri­ting the­se lines, am kil­ling cockroa­ches who want to make their way from the bathroom to my bed, the­re is no water in the "kit­chen" and I have mean­while got­ten used to the noi­ses com­ing from the bar (which opens @ 7 a.m. and clo­ses long after I've gone to bed)…but it's a safe (?) place some­whe­re down­town in Embu, rela­tively cheap, on a tar­ma­cked (sp?) road (less mud during rai­ny sea­son) and right now they are play­ing Dau­di Kabak­a's "Safa­ri Tan­ga­nyika". Could I ask for more?
YES! An inter­net café would be nice… *gg*