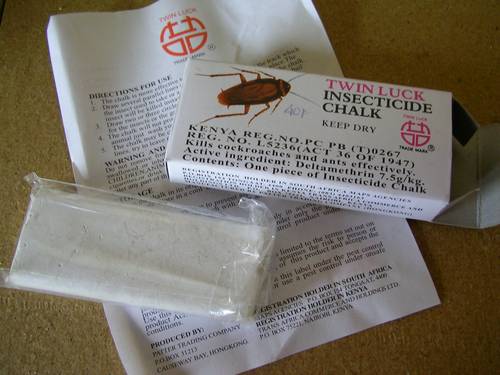 "TWIN LUCK" insec­ti­ci­de chalk.….this stuff actual­ly WORKS!
I was clea­ning the bathroom when a real­ly huge cockroach clim­bed my leg in panic. I think it did­n't like the DETTOL I pou­red on its home­ba­se. Well, bad luck, Mr Cockroach.
After the water dried up, I app­lied this chalk and just after a few minu­tes, I saw a midd­le-sized cockroach run­ning through the drawn chalk lines and instant­ly fal­ling on its back and dying. An ama­zin­gly effec­ti­ve poison.
(Insects kama ants are ok for me, laki­ni the­se cockroa­ches come from the sewa­ge tank and THEN walk over my food & dis­hes. Not nice…).