So I was stuck in the usu­al traf­fic jam some­whe­re down­town and some haw­kers approa­ched me in my (bor­ro­wed) KXM Suzu­ki. The KXM regis­tra­ti­on (~ = 1986/87) should be rea­son enough to skip the annoy­ing "mzun­gu = pesa" equa­ti­on for a pic­tu­re of someo­ne who just hap­pens to be in Kenya long enough not to buy anything from off the streets (alt­hough tho­se things aren't bad — only: who needs a gold­fi­sh bowl INCLUDING food as offe­red the other day for "just" 2.000 Kshs?). In other words: I am just as bro­ke as Whis­pers used to be back in tho­se days. Nai­ro­bi life is expensive.
Haw­ker #1: "Yesss…my friend…you want to buy this magazine?…or this one?.…i give you good price"
me: "Aca."
Haw­ker #1: "Oh…ok.…so you are rrris­tening to Kame­me FM?"
me: "Eh. I like it."
Haw­ker #1: "Oh…so.…your rrrr­lights are on."
me: "..alafu?"
Haw­ker #1: "No, I was just wondering"
me: "Yes, it is alrea­dy 6.20 pm.…I put them on…"
20m fur­ther down the road…
Haw­ker #2: "Yess…my friend…so how is you today? You want to buy this nice stee­ring wheel cover?"
me: "Look, I have one right here, I don't need a second"
Haw­ker #2: "But yours is broken"
me: "yeah.…so what…"
Haw­ker #2: "And the­se cabooools (jump leads, boos­ter cables)?"
me: "No, i alrea­dy have so many tools in my car here and hard­ly ever need them"
Haw­ker #2: "And what about this hedge trimmer?"
me: "ati ??!! Me I don't even have a garden.…"
Haw­ker #2: "Oh…ok.…so you are lis­tening to Kame­me FM? Do you under­stand what they are saying?"
me: "Yeah…well, no, I just like the sound of the words."
Haw­ker #2: "Oh..hehe.…sawa.…oh, your lights are on…"
me (thin­king): wtf?
15m fur­ther down the road…
Haw­ker #3: "Eh my friend…your lights are on"
me: YES, I PUT THEM ON!
etc.

(Accord­ing to what is taught at local dri­ving schools, lights should be on from 6.30 pm until 6.30 am).
The Nai­ro­bi traf­fic jams: makes me think what Half 'n' Half com­men­ted on the Githu­rai issue: "Ken­yans just want to be seen in their cars." How true.
Spea­king about cars, I went to Kiji­ji Mar­ke­ti this morning and saw the­se Rext­on 4WDs from Korea on dis­play in front of the mar­ket. The direc­tor of SYMC Motors (K) Ltd. show­ed me around and.…well.…the black one as pic­tu­red below (left) sells for about 4.5 mill. Kshs. (tax & VAT incl.).
The­se SUVs look like the Mer­ce­des M‑class and are direct suc­ces­sors of the Mus­sos which were sold here some time ago (Mer­ce­des engi­ne and simi­lar parts). Now, I would never buy any SUV if I could go for a real Land­Crui­ser or even Land­Ro­ver ins­tead, but the­se Rext­ons surely offer a lot of com­fort and luxu­ry and should be com­pa­red to Mer­ce­des which actual­ly sell for almost the dou­ble pri­ce. The only thing that real­ly irri­ta­ted me was that the pro­ces­sing qua­li­ty seems to be very low on the­se cars. I would like to see them on Ken­y­an roads for two or three years. Also, the con­trac­tion joints bet­ween the mud­guard and the pas­sen­gers door (espe­cial­ly on the abo­ve pic­tu­red white Rext­on RX 290) whe­re just hor­ri­ble. My fun­di friends back home would cry about the­se fla­wy cars SYMC Motors used for presentation.
I like their low bud­get approach, though. But then, even 4.5 mill Kshs. are A LOT of money.
Money? Yes: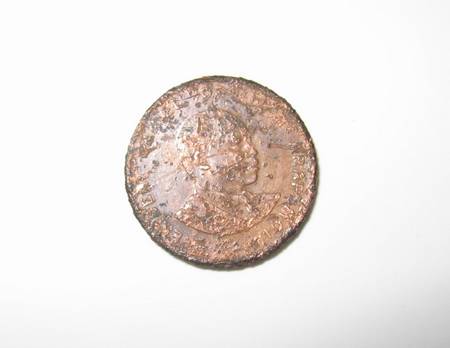 I found this 10 cents coin on the par­king lot of a Minis­try in down­town Nai­ro­bi and show­ed it to a Secu­ri­ty Guard. The guy just threw it back on the ground and said: "ah…useless…".
Tha­t's Nairobi.