Have you ever won­de­red whe­re all this Naku­matt Kitsch goes (I've men­tio­ned ear­lier)? Ever thought about get­ting a tas­te of Dubai without lea­ving the beau­ti­ful City of Nai­ro­bi? Or spen­ding some 800 bob on 60 minu­tes of ice skating?
Well, wait no lon­ger — Ken­ya's "new" Pana­ri Sky Cent­re has it all.

The Ent­ran­ce loo­ks a bit too Dubaiish. But com­pa­red to Grand Regen­cy (which is ano­t­her faux pas in terms of good tas­te) it is even worse. Big doors = big peop­le? When I went insi­de, I saw a fat (very fat!!) Ame­ri­can com­ing out. Hmm…

"Solar Ice Rink" @ 500/= pp under 14, 800/= Kshs. over 14 years and adults. It loo­ks a bit impro­vi­sed, BUT it works and loo­ks gre­at. Even shoes are avail­ab­le in my size 12 (I asked).
Ok ok ok.…the cent­re of cour­se acco­mo­da­tes a Hotel as well — and this is what we came here for. We came for the view. And becau­se I am afraid of heights. The other day, Mbu­zi­mo­ja took me to Safa­ri Tower down­town whe­re we just took the lift to the top floor and sear­ched for a view until we found the fire exit lad­der. I could­n't look down. But take pictures :-)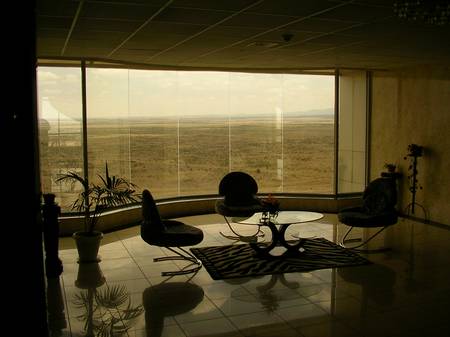 This is the view from one of the floo­rs whe­re the rooms are loca­ted. Nice view. Plea­se have a clo­ser look at the inte­rior design.…hehe…
(=> this is a guests-only area.…we stay­ed the­re until we got kicked out by Dun­can, the secu­ri­ty guy…)

Nai­ro­bi Natio­nal Park in front.

Naku­matt Kitsch, exam­poool 1

Naku­matt Kitsch, exam­pooool 2

Naku­matt Kitsch, exam­poool 3
Just look at this pic­tu­re: impor­ted tiles, an ugly plastic Zebra car­pet, some yel­low & unde­finab­le chairs from ano­t­her space­ship (1970s rock, dude!) and a com­ple­te­ly unfit­ting copy of an old (dut­ch, I pres­su­me) oil painting.
In other words: the Pana­ri Hotel has it all for tho­se who ever wan­ted to get a glim­pse of Dubai and never real­ly deve­lo­ped their own (bet­ter) taste.
P.S.: the swim­ming pool loo­ked nice though, even the Gym. Dai­ly char­ges are 1.250 /= Kshs. pp., mon­th­ly mem­bers­hip 9.000 Kshs.…they even have a Steam Bath!