Have you ever wondered where all this Nakumatt Kitsch goes (I've mentioned earlier)? Ever thought about getting a taste of Dubai without leaving the beautiful City of Nairobi? Or spending some 800 bob on 60 minutes of ice skating?
Well, wait no longer – Kenya's "new" Panari Sky Centre has it all.

The Entrance looks a bit too Dubaiish. But compared to Grand Regency (which is another faux pas in terms of good taste) it is even worse. Big doors = big people? When I went inside, I saw a fat (very fat!!) American coming out. Hmm…

"Solar Ice Rink" @ 500/= pp under 14, 800/= Kshs. over 14 years and adults. It looks a bit improvised, BUT it works and looks great. Even shoes are available in my size 12 (I asked).
Ok ok ok….the centre of course accomodates a Hotel as well – and this is what we came here for. We came for the view. And because I am afraid of heights. The other day, Mbuzimoja took me to Safari Tower downtown where we just took the lift to the top floor and searched for a view until we found the fire exit ladder. I couldn't look down. But take pictures :-)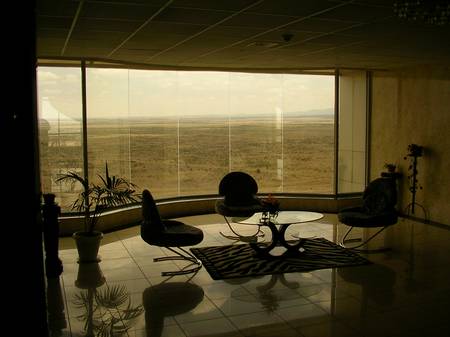 This is the view from one of the floors where the rooms are located. Nice view. Please have a closer look at the interior design….hehe…
(=> this is a guests-only area….we stayed there until we got kicked out by Duncan, the security guy…)

Nairobi National Park in front.

Nakumatt Kitsch, exampoool 1

Nakumatt Kitsch, exampooool 2

Nakumatt Kitsch, exampoool 3
Just look at this picture: imported tiles, an ugly plastic Zebra carpet, some yellow & undefinable chairs from another spaceship (1970s rock, dude!) and a completely unfitting copy of an old (dutch, I pressume) oil painting.
In other words: the Panari Hotel has it all for those who ever wanted to get a glimpse of Dubai and never really developed their own (better) taste.
P.S.: the swimming pool looked nice though, even the Gym. Daily charges are 1.250 /= Kshs. pp., monthly membership 9.000 Kshs….they even have a Steam Bath!