I just rea­li­zed it's only four (4) more weeks for me over here in Ger­ma­ny. Jes­sas! How time goes by the­se days.…four more weeks of working on some papers and stu­dy­ing for an exam in hydro­me­cha­nics. Four weeks left to vaca­te my cur­rent flat, to pack my stuff up again (relo­ca­ti­on No.11), to give away half of the stuff that has been accu­mu­la­ting here and has never real­ly been used (so why keep it?) and to repaint the flat. Four weeks that will get me away from here and back on the road again into UHURU — free­dom and inde­pendance. A lovely, sca­ry feeling!
And then?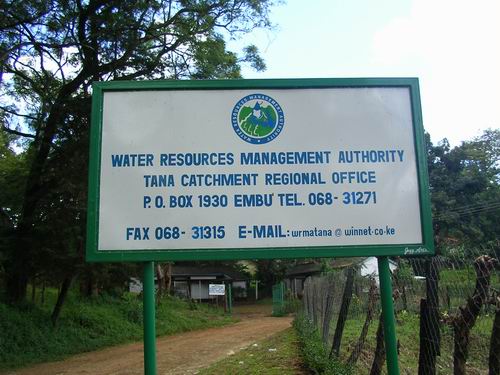 Embu, Kenya. For at least 3 mon­ths until some time in Janu­a­ry 2007. Doing an internship @ a sta­te office on behalf of a Ger­man Agen­cy. Will keep you updated on this as blog­ab­le con­tent comes up — I am real­ly dying to cover this on my blog as it invol­ves some form of nati­on buil­ding, some­thing with a mea­ning and hope­ful­ly a win-win situa­ti­on for both sides invol­ved: Kenya & Ger­ma­ny. For my part­ners at the office, and for me as a student.
The Tana river in Kenya has the big­gest catch­ment area — and Kenya being a coun­try of various land­s­capes, it will be par­ti­cu­la­ry inte­res­ting to see how stra­te­gies for inte­gra­ted water resour­ce manage­ment can be imple­men­ted in rea­li­ty and how to sca­le the­se com­plex and some­ti­mes also con­fu­sing dimen­si­ons on a local level. Con­se­quent­ly, my approach on this isn't the "mzun­gu com­ing to Aaaaafri­ka to chan­ge ever­ything" atti­tu­de, but to lis­ten and learn and help whe­re I know an answer.
Now, for others wazun­gu that have come to Kenya (~you are prol­ly awa­re of the ste­reo­ty­ped pic), this might just be a sin­gle step on their care­er, but as for me — I real­ly tried hard to con­vin­ce the invol­ved agen­cy in pla­cing me to Kenya (and not som­whe­re else) as I would like to take this oppor­tu­ni­ty to con­tri­bu­te some­thing from me to the place whe­re I grew up. And let me be honest — the "Ken­y­an part" in me of cour­se asks why I should lea­ve my comfy nest with 24/7/365 electri­ci­ty, warm water and broad­band inet for such a job. Well, why? Becau­se I can. Becau­se I was given this chan­ce to learn more. And I think tha­t's rea­son enough.
Now, enough tur­gid words — let me go back to my papers and see how this adven­ture turns out…(yes, I am a bit scared :-)
(Ati, four weeks? Hai­yaaaa.….*gulp*)