…so what do you do in bet­ween the games?
Ok, I was a bit bor­red and thought about a small modi­fi­ca­ti­on I wan­ted to do with this awful sun­bu­bu­diu (sun­screen?). After all, Ger­many's Gerol­stei­ner Brun­nen GmbH & Co. KG never paid me for this free adver­tis­ment on my car so some­thing nee­ded to be done about it. I *urgent­ly* nee­ded to pimp my sunbubudiu! :-)
My alter­na­ti­ve choices inclu­ded the fol­lowing Kan­gas, Kikois:

"WATU KWA AMANI".…ehhrr…well, a bit too big + stran­ge, ama?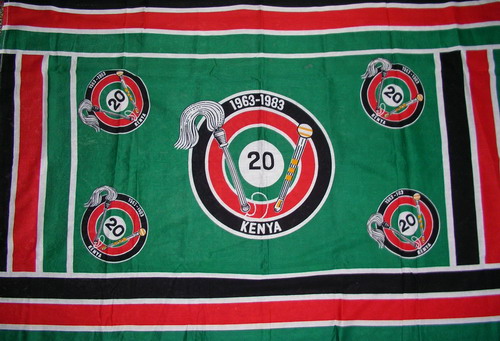 Well…I am cra­zy, yes, but not THAT cra­zy… LOL.… :-)

Per­fect! A blue Kikoy from Kenya I recei­ved some years ago from Chris­ti­ne (5Z4LL).
I just love this colour! The­re are inde­ed so many pur­po­ses for a Kikoi and the next thing I'll do with this mate­ri­al is to refur­bish the inte­rior of an old '88 Suzu­ki Samu­rai…can't wait for that, argh! (you hear me, Mbuzimoja?)

Glue glue glue.…


Finished! :-)