Remember Harrison Munyui of Ruaka? The man I contacted in October 2005 (through his mobile number as painted on the door of his taxi) to get in touch with my Mbuzimoja? Well, I met him earlier this week and he was very excited. Visual evidence will follow asap…
The weekend saw us getting out of Nairobi on a short trip – and where do spoilt Nairobians like us go? Right, to one of those viewpoints behind Ongata Rongai. "Somewhere up there on the hills"…

OLEPOLOS Country Club (~ buy sodas and forget about the picnic fee)

the view from one of those viewpoints / camp sites

So this is the interesting part now – the beauty of the view on one hand, and on the other hand lots of Nairobians who come to these viewpoints to "misbehave" in terms of running their own private disco via the stereo system in their cars when the night sets in…
(ParkplatzRavers, as I call them in German. OMG! :-)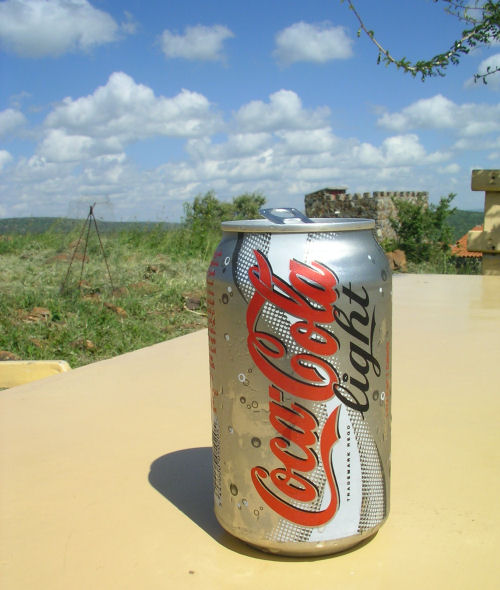 And then we asked for Coke Light and received this tin. Which is of course great, but still: they are transporting all these drinks & stuff to a remote place like this one (remote as in no Safaricom network) and have no waste management at all.
Haven't you ever asked yourself what happens to all the waste which is being produced by the civilisation? Those Maasai herdsman surely don't need to worry when they throw away their (organic) goat bones. But us city people, we bring all this stuff into nature and throw it away.
What happens to the waste? The tins are collected by locals and the rest is either burnt or buried. What a waste of nutrients and resources. I feel so ashamed on this.
Views like this one surely make you forget everything else:


One of the most interesting spots on the planet to have a round of Mancala…
(see it? => follow the yellow arrow :-)
On our way back, we came across this interesting signboard: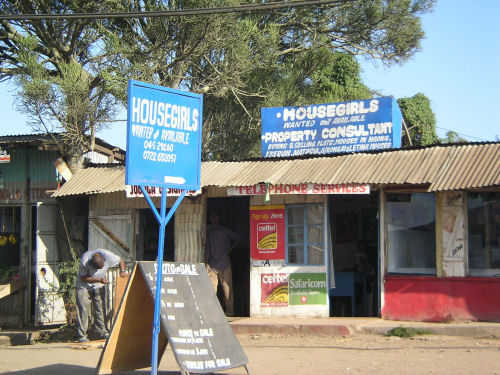 "Housegirls wanted & available" – a commodity?
The visitor at home came in form of a chameleon jacksonii – contrary to what many (traditional) ppl believe on this continent (~ it can bite you, the cham. is a messenger of death, etc etc) – I LOVE these creatures. I love the elegance with which they move forward.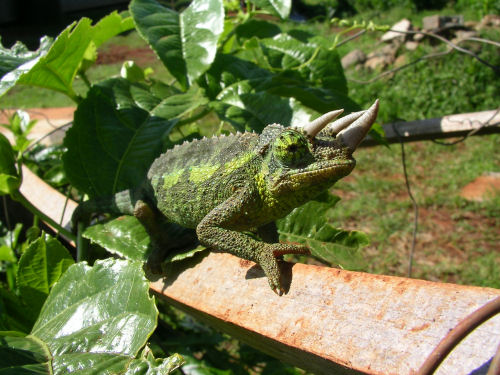 Nature just blesses us with beautiful sights every day.
Passion fruit blossom…
AOB: I went to meet Kenyan painter Evanson Kangethe today at his shamba in Limuru and took some pics of his artwork. He's a Kenyan artists I've mentioned earlier and it was good to see him again after all these years. Plans are to blog some of his artwork soon (though of course he belongs to the older group of Kenyan artists who try to remain in the humble background).
Having spent lunchtime at a very chilling invitation among friends in a very luxurious surrounding, it was once again such a sharp contrast to know about these two worlds (posh NBO home belonging to a KC & Evanson's humble but still very comfy (rural!) home) and trying to get them into one big picture.
Again, it's Binyavanga Wainaina's comment of saying (that) "Nairobi people have learned to have dual personalities"…
At least.
(EDIT: I blogged this on Sunday evening and mysteriously hit the "private" post status button…)