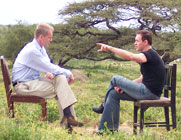 "Then Where Is Your God?"
"Don't worry, all will be well. It's ok. This god is here. That god is in you. That God is what you're going to do about this suffering. God is in this people. The more you live in Africa, the more you realize the power of faith in these countries. That's the wonderful thing. You don't leave Africa overwhelmed with despair, in tears. You leave Africa inspired, because you realize that this continent is so powerful. It's so strong, has so much love, so much energy…"
Dr Michael Meegan, international director of ICROSS, in an interview with BBC Hardtalk's Stephen Sackur sometime earlier in 2005.
I came home from a play at the theater last night and still had some energy left to be wasted in front of tv when I came across this interesting interview on BBC World with Michael who is said to be in Kenya since 27 years now. Despite of the interesting and commendable work he does in assisting the people living or even dying with HIV+, his words and content smile speak for themselves: the man has found his place.
In addition, I think his criticism towards international aid & dev. organisations and their ever changing policies is absolutely justified.

"I have always believed it is our actions, not our thoughts that matter. Tears have never fed a child, pity has never healed a wound. Unless words become deeds, unless dreams are lived, they are mere deceptions".
(Dr. Michael Meegan) (source)
Interesting to note, btw, that people in Germany will be spending around 100 million EUROs on fireworks on the last day of this year (on a single day!). According to ICROSS' donation information, that's a lot of food, vaccinations or mosquito nets. Hmmm….
p.s.: ati, isn't that mzee Thesiger? :-)