She's never been the most per­fect one — but I loved her nevertheless and took good care of her. Four and half years later and this spe­cial rela­ti­ons­hip is slow­ly com­ing to an end…
Ladies and Gen­tle­men — may I intro­du­ce you to my secret love-affair: Miss Tembo.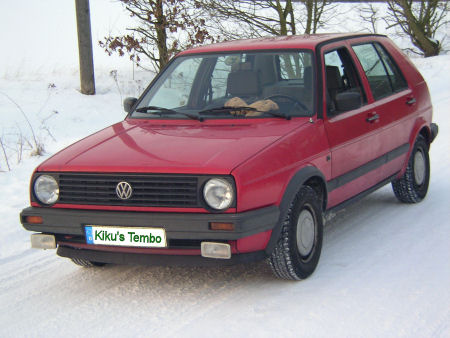 Kiku's Tembo a.k.a. '89 Volks­wa­gen Golf, 1595cc, 70 hp, manual
I remem­ber the day way back in Febru­a­ry 2001 when I first saw you under the dic­ta­tor­s­hip of a very stran­ge woman who had tor­tu­red you for some­thing like 12 years. Dri­ving 60 km/h (~ 37mph) on the 2nd gear, hit­ting walls and sign-posts qui­te often and never (NEVER!) ever loo­king under­ne­ath the bon­net. Moreo­ver, that woman (a reti­red flight atten­dant in her mid-50s) was chain-smo­king and tur­ned you into a moving ash­tray — howe­ver, still wise enough to app­ly seat covers and some real­ly weird sheep skins you'd nor­mal­ly find in dukas on Limu­ru Road.
I saved you from that mise­ry, clea­ned you from insi­de out and out­side in and repai­red A LOT of nor­mal things like new shocks, clut­ch, tyres, air fil­ters, sparks, gas­kets, bea­rings, brakes.….uhhh.…you remem­ber this nas­ty heat exch­an­ger right under the dash­board that fai­led ear­lier this year on Whit Sunday? Yes, and plea­se don't for­get the body works I've been doing on your rear end last year during the sum­mer. Tho­se tur­kish guys in that DIY-gara­ge alrea­dy tried to per­sua­de me into buy­ing ano­t­her car from them becau­se — actual­ly — all the time and money I inves­ted weren't real­ly jus­ti­fied. My dear, you are old. Too old. You were built in Janu­a­ry 1989 and duti­ful­ly ser­ved your dri­vers sin­ce then. I know it's hard to admit, but I think it's about time for you to retire.
You will always be spe­cial to me. You'­re my very first >own< car, I even made spe­cial sti­ckers for you which I had pro­fes­sio­nal­ly prin­ted out and app­lied on each side right behind the win­dows (covering up this stu­pid "Golf Man­hat­ten" spe­cial edi­ti­on logo). Unfor­tu­n­a­te­ly, I had to grind them down when I did tho­se body works and reco­lou­ring, reap­p­ly­ing this dumb red colour that made you look like a shop­ping toy for bored house­wi­fes. Yani, even Schu­ma­cher dri­ves his red Fer­ra­ri, so it's okay.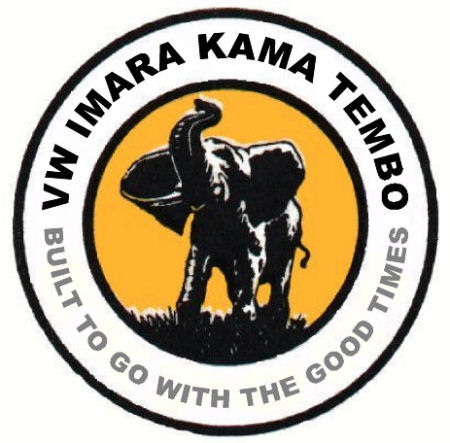 Of cour­se the­re were some days in your acti­ve care­er when things weren't that ima­ra. Like today.
May­be it's due to the cold wea­ther out­side, may­be it's just a bus­ted tem­pe­ra­tu­re sen­sor wit­hin the car­bu­re­tor that needs to be repla­ced — howe­ver, while dri­ving, the engi­ne just went off. Whenever I bra­ked, the engi­ne went back into idle speed and went off. I will take you to a friends gara­ge later on this week and see what we can do, but, honest­ly, my dear, accord­ing to GERMAN stan­dards you'­re old metal, taka taka, histo­ry. Yani, the DIY- jua kali spi­rit (~jua bari­di?) insi­de me argues that you'­re still in per­fect con­di­ti­on, still taking me from A to B (more or less secu­re) and that you'­re hea­ding for an acti­ve care­er in Gha­na or Nige­ria or may­be even in the midd­le east (though they never put a power stee­ring and an auto­ma­tic trans­mis­si­on insi­de you, so you bet­ter for­get about that ara­bi­an future). Also, I know the­re are lots of peop­le out the­re that would love to turn you into a Taxi or may­be even remo­ve some maba­ti in the back and turn you into a pick-up vehi­cle. Who knows?
Being the pre­si­dent of Kikuyu­mo­ja Inc., I had an inte­res­ting con­ver­sa­ti­on with my CFO this last wee­kend and so I was told that funds would be made avail­ab­le to invest into Tembom­bi­li — which is just great!
Now, this coun­try here is very very stran­ge. You can go and buy a real­ly nice & big Mer­ce­des, BMW, Audi, Volks­wa­gen, Ford, Opel (=Vaux­hall), Saab & Co. for some­thing like 2.000,- EUR (~ 2.400 US-$) and still won't be able to dri­ve it. Why? Becau­se of this almost cri­mi­nal thing cal­led insuran­ce cos­ts and taxes. Taxes are some­thing bet­ween 100,- to 300,- EUR / year, depen­ding on the exhaust sys­tem and the size of the engi­ne (ccm). Insuran­ce cos­ts, though, are just dead­ly. And con­fu­sing! I still don't know which car I can buy next becau­se this decisi­on will just be sub­ject to insuran­ce ratings — which chan­ge every year! The rule of thumb is to dri­ve a car with low insuran­ce ratings — one that isn't cho­sen by young dri­vers becau­se they make the most acci­dents, thus rai­sing insuran­ce cos­ts for that par­ti­cu­lar model.
My search has nar­ro­wed in to buy­ing just ano­t­her Volks­wa­gen, most likely a VW Golf 3 Vari­ant (estate/station wagon), a VW Ven­to (=Jet­ta) or may­be a VW Pas­sat. All with around 1800 ccm, ~ 90 hp, anti­lock bra­king sys­tem (ABS), Air­bags, A/C, etc. and — most import­ant­ly — no pre­vious acci­dents so to avoid any fur­ther rust and cor­ro­si­on due to poor repai­ring. And plea­se, no 1989 stone age cars any­mo­re. May­be some­thing like 1990 :-) No, serious­ly, 1996 or younger.

sunshi­ne & rain kill just about any sticker…
So why not a japa­ne­se or kore­an car? Toyo­tas, Maz­das, Nissans…they ain't bad.Yes, they are not bad, but I don't like the way they are built. The advan­ta­ge with tho­se Volks­wa­gens is their qua­li­ty — tho­se old ones like my Golf are almost unbreaka­ble (take them onto a dust road in Kenya and com­pa­re that with any KIA or Dae­woo) and the acce­si­bi­li­ty of the motor. A japa­ne­se engi­ne com­part­ment is just packed with cables and machi­nes so whenever you need to exchan­ge some parts deep down insi­de, you will always have to remo­ve other parts as well. Tha­t's why many japa­ne­se cars do have an expen­si­ve main­ten­an­ce sche­me in Euro­pe, and also becau­se spa­re parts are expen­si­ve. A Volks­wa­gen though will pro­vi­de you with lots of space and accessa­bi­li­ty and also this make is so com­mon here — every litt­le kiji­ji or city has spa­re parts for tho­se models. Ano­t­her anoy­ing thing about tho­se moving rice­coo­kers is their small engi­nes that have high idle speeds and gene­ra­te a lot of noi­ses. Con­sump­ti­on though should be more or less the same.
Awww.….still a dif­fi­cult decisi­on. The­re are some ppl out the­re that buy cars and sell them again after a few mon­ths, but mine is sup­po­sed to last. I am very for­mal & con­ser­va­ti­ve when it comes to the car issue and will always look out for a reli­able, cost effec­ti­ve and qua­li­ty model that will last for a few years ins­tead of chan­ging them every now and then. And then I am always loo­king for the jua kali approach, the Do-it-yourself thing on tho­se cars. The­re isn't much you can do as a hob­by fun­di on most modern cars. Just bring them to a gara­ge and con­nect them to a BOSCH ser­vice ter­mi­nal for trou­ble­shoo­ting. Aww…c'mon, the­re are still a lot of things on a car a com­pu­ter won't be able to iden­ti­fy. I think I am just spoi­led by that Safa­ri thing back in my head — always car­ry­ing a car jack, spa­re parts and lots of tools in the car boot.
Any recom­men­da­ti­ons?
Also, dear car owners, wha­t's the name of your car, btw? :-)