Yours tru­ly has­n't been acti­ve in Blo­gos­phe­ra Esta­te for some days now (not even ans­we­ring e‑mails — sor­ry Hash, Meli­sa, Cari­na, Mshai­ri, …) — main­ly due to some extra stu­dies in some­thing we call hydro­lo­gy: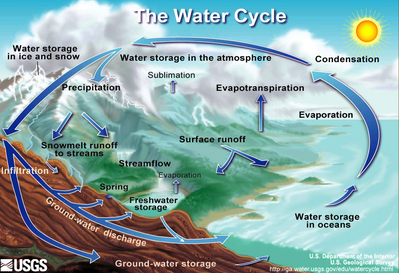 (I know you gals & guys like pic­tures :-)

"Hydro­lo­gy (from Greek: Yδρoλoγια, Yδωρ+Λoγos, Hydro­lo­gia, the "stu­dy of water") is the stu­dy of the move­ment, dis­tri­bu­ti­on, and qua­li­ty of water throughout the Earth, and thus addres­ses both the hydro­lo­gic cycle and water resour­ces." (Wiki­pe­dia)
Being a stu­dent of water and soil manage­ment, which is a healt­hy mix­tu­re of civil & envi­ron­men­tal engi­nee­ring, I am sup­po­sed to know ALL tho­se things. Yani, I am slow­ly get­ting too old for all this. My brain is not like a foam any­mo­re, more like a sie­ve with big holes. And the more you stu­dy, the more you beco­me con­fu­sed and in the end you'­re gra­dua­det and working as an engi­neer, com­ing up with all tho­se nice, high-tech, sophisti­ca­ted & expen­si­ve engi­nee­ring solu­ti­ons that will make this world a bet­ter place to live in and.…blabla bla blub.
STOP!
Wha­t's wrong? The approach. The approach on tech­no­lo­gy is wrong. This is not about high-tech fun gad­gets like mul­ti­me­dia came­ra pho­nes, neat mp3 play­ers or even fri­d­ges that are con­nec­ted to the inter­net but about solu­ti­ons that are simp­le AND important. The world, I think, needs simp­le, sta­ble, low-cost and eco-effec­ti­ve solutions/products. How often did your modern car fail due to electri­cal pro­blems (yes, Mer­ce­des, VW & Co)? How often did your mobi­le pho­ne reset while you were typ­ing an important fupi messagi (sms)? How often were you actual­ly thin­king about simp­ler tech­no­lo­gies that would be more sta­ble? More tech­no­lo­gy = more problems.
This being said, I today came across this nice word "ima­gi­nee­ring" I've found on the web­site of Ves­ter­gaard Frand­sen — this com­pa­ny in Den­mark that deve­lo­ps a prac­ti­cal fil­ter ele­ment cal­led "Life Straw" I've been blog­ging about the other day in August (and I just rea­li­sed they'­re having an office in Nai­ro­bi as well …aiaaaaa.….how do I app­ly for an internship? :-).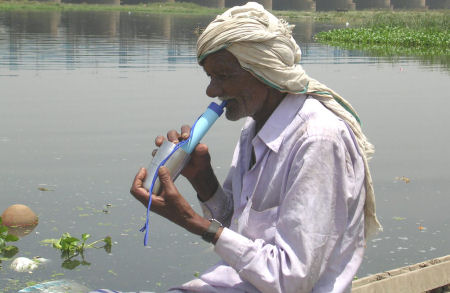 Life Straw is a 25cm long pipe fil­ter tha­t's used to fil­ter dir­ty water and they intend to sell it to the UN & others for world wide use. Ves­ter­gaard Frand­sen are also sup­pliers of spe­cial insec­ti­ci­dal mos­qui­to nets & tents — or as they call it "dise­a­se con­trol tex­ti­les" — so they actual­ly know wha­t's nee­ded in refu­gee camps and have deman­ding cus­to­mers. Gre­at! High-tech pro­ducts that are requi­red world­wi­de, simp­le but effec­ti­ve solu­ti­ons to help tho­se in need. They call it "ima­gi­nee­ring" = crea­ti­ve thin­king (ima­gi­na­ti­on) + engi­nee­ring. Just pure mar­ke­ting bla­bla? Maybe.
What I like, though, is their approach on tech­no­lo­gy. This is not about unim­portant gad­gets that only enter­tain peop­le and gene­ra­te work over at Guang­dong, Chi­na, but about things the world needs. This is what I am inte­res­ted in — tech­no­lo­gy that will make the world a bet­ter place to live in; simp­le but well engi­nee­red (read: unbreaka­ble) eco-effec­ti­ve pro­ducts that DO make a posi­ti­ve chan­ge in the world. And why did I men­ti­on all this? Becau­se "on the job" you'­re often requi­red to cope with com­pro­mi­ses. Make it high-tech and very expen­si­ve or low-bud­get-sty­led and not-so-high-tech?
The empha­sis is often only put on cos­ts and not the tech­no­lo­gy its­elf which often gene­ra­tes fur­ther pro­blems. May­be they are doing this in order to make addi­tio­nal reve­nue on main­ten­an­ce deals but the point is that the­re's just way too much money made on useless tech­no­lo­gy that does­n't get us any­whe­re whe­re­as today­'s pro­blems (health, food, envi­ron­ment, etc.) could be tack­led by put­ting more empha­sis on smar­ter, ima­gi­na­ti­ve engineering.