So I was just track­backing a goog­le search request on kenya+referendum+blog I'd found in my site stats and lan­ded on Ruud Elmen­dor­p's blog — a Dut­ch video jour­na­list who has publis­hed some of his nice vide­os on his web­site. Among tho­se fea­tured vide­os, the­re's one on Ber­tiers — that very spe­cial Ken­y­an "sign­board artist" from Dago­ret­ti, Nai­ro­bi, Kenya.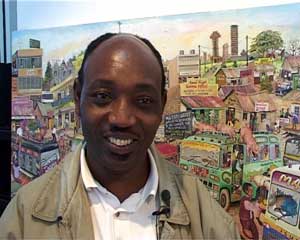 Some time ago I alrea­dy blog­ged about other Ken­y­an artists like Shi­ne Tani, Joel Oswag­go, Mau­be and Evan­son Kan­ge­the (in ger­man, though) and was qui­te hap­py when Bwa­na Shi­ne Tani hims­elf com­men­ted on it two weeks ago. Yes, I like East Afri­can artists and I know the­re are even many more, many talen­ted and uni­que artists that don't need to sell their drawings at such a low pri­ce in order to be pro­mo­ted and accep­ted by the wes­tern world. So, Thank You, Bwa­na Ber­tiers and Bwa­na Elmen­dorp for put­ting even more awa­reness of Con­tem­pora­ry Afri­can Art on the Inter­net. I think it's about time my fel­low Euro­peans rea­li­ze the­re's much more to Afri­can Art than just batics, wood car­vings and Sisal Bas­kets ("kîon­do"). May­be one day soon I'll be able to take more pic­tures so we could at least share them on flickr…
Update: I just figu­red out the song Ruud uses as the intro back­ground tune for this fine (but too short!) docu­men­ta­ry: M'bi­lia Bel's "Nakei Nai­ro­bi" … YEAH!