What is this?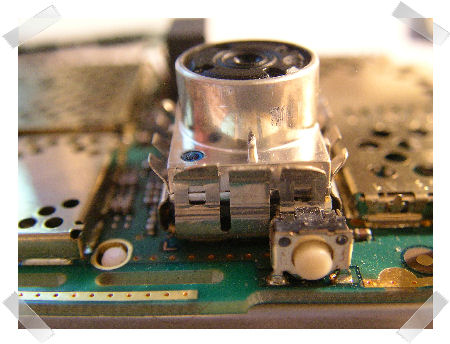 It's the built-in 640x480 (VGA) digi­cam of my Nokia 6230 mobi­le pho­ne.
And?
Pro­blem.… I got a short mes­sa­ge on my mobi­le pho­ne and rea­li­zed that the vibra­ting motor insi­de did­n't work. Of cour­se I che­cked the set­tings, swit­ched it off and even remo­ved the bat­te­ry for a cold start. Still not working. Ayaaaa!
I got this pho­ne a year ago and sin­ce then I always refrai­ned from ope­ning it fur­ther becau­se, well, becau­se it somehow (!) worked. Of cour­se the inter­nal firm­ware (v05.24) still has some bugs and I alrea­dy had it flas­hed with a new firm­ware some time ago (I used to do this mys­elf on tho­se ear­lier DCT‑3 models and even some ear­lier DCT‑4 pho­nes (Nokia 51xx, 61xx, 62xx, 71xx, 83xx) but tho­se seri­es-40 & seri­es-60 pho­nes requi­re bet­ter hard­ware equip­ment for fla­shing the pho­ne's firm­ware and it just does­n't make sen­se to buy such a machi­ne if a) i am just doing this as a hob­by & b) Nokia offi­cial­ly does­n't like any firm­ware chan­ges on the user side — not so Sie­mens, btw). Howe­ver, this thing was LONGING for a small explo­ra­ti­on of its cir­cuits. It silent­ly whis­pe­red into my ears: Kiku, tafad­ha­li, sai­dia mimi.… OH my dear, help is on its way!
I pul­led out my TORX6 screw­dri­ver and remo­ved tho­se six screws.….Jeeeeeeeeeesssaaaaas! Nokia engi­neers — KUDOS to you folks over in that Sau­na coun­try — remem­ber tho­se ear­ly Nokia pho­nes? YOU'VE COME A LOOOONG WAY and — apart from this firm­ware busi­ness and "occa­sio­nal" soft­ware resets while typ­ing an important SMS — the PCB lay­out is just awe­so­me. For instance, tho­se inter­nal RF parts are nor­mal­ly sea­led with a litt­le metal cover which requi­res some pati­ence to be ope­ned. Alas, with this pho­ne though, the cover its­elf is right under the key­pad — which means that you don't have to squee­ze or pull anything open when you are try­ing to dis­mant­le the pho­ne — it just unfolds by its­elf! Per­fect. Wha­t's the big­gest part in a pho­ne? The battery..
So I ope­ned it up, clea­ned the vibra­ting motor and cor­rec­ted some elec. con­ta­cts. Cur­rio­si­ty of cour­se hoo­ked me and I con­se­quent­ly remo­ved the digi­cam of its socket… BAD IDEA … when I tried to put it back, this thing in my head cal­led intel­li­gence somehow went on a litt­le vaca­ti­on (pres­um­a­b­ly becau­se of thin­king about Mbu­zi­mo­ja :-) and I inser­ted it in the wrong way. Well, it loo­ked as if it was okay though — but still, you can even spot the pro­blem in the abo­ve pic­tu­re — tho­se litt­le noses don't cor­re­spond to the metal frame around it. Dumb. Just dumb.
Of cour­se I only rea­li­zed that once I had ever­ything back in place, so that thing had to be reope­ned and bla­bla­bla.… tal­king 'bout Mur­phy's Law, eh?
The bene­fits of this litt­le explo­ra­ti­on, though: a) a nice view on good NOKIA engi­nee­ring and b) SPEED! Upon swit­ching it on again, this thing runs much fas­ter now. What is it? I mean, wth? is the con­nec­tion bet­ween the firm­ware, the accep­t­ance of bug­gy MMC-flash-card-con­trol­lers and a nor­mal hard­ware cleanup?
Tech­no­lo­gy some­ti­mes gives me a lot to think about.