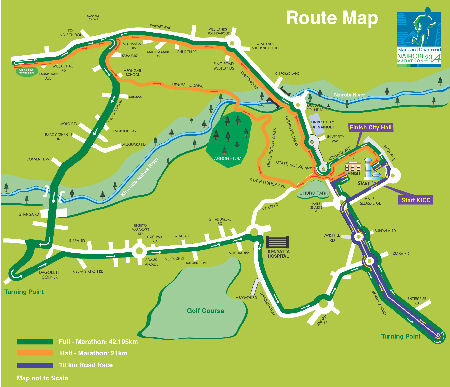 "Any mara­thon par­ti­ci­pant who has not com­ple­ted the cour­se after five hours will be picked up by a trail vehi­cle."

Do I need to men­ti­on more details on the sui­ci­de run­ning busi­ness and a cer­tain Mr. Kikuyu­mo­ja?? — Baaasi.
Now, this fearless litt­le Mbu­zi­mo­ja, also known as Lady Kikuyum­bu­zi, who has recent­ly che­cked the tem­pe­ra­tu­re up on Mount Kenya and who loves strol­ling Gikomba(a) mar­ket for sty­lish GOLA foot­we­ar and other goo­dies at a good bar­gain pri­ce, today told me that she thinks about taking part in Nai­ro­bi's Mara­thon. The Half-Mara­thon, that is.
Weeeh.…Wot kind of woman is zzzaaaaht? Is she some sort of Wanga­ri Maat­hai? Now wha­t's next? Will she con­quer Lake Vic­to­ria and swim to Ugan­da one day?
I'm such a man. Give me a Mugu­mo tree and I will find a place to sleep. — Women? Ati? Aren't they the ones sup­po­sed to be doing the work?
Now, lea­ve me alo­ne and don't bother with such sil­ly ques­ti­ons. I am a hard working thin­king man and I'll need to find some sleep. And yes, if you hap­pen to be on your way any­ways, (plea­se) make sure to get a nice beer for me. Yes, tho­se cold ones from out­side. Sasa, ûka!.…ndûrehe maî!
Women. You give them uhu­ru and they start con­quee­ring the world.…and the­re's no way we can stop them! And you know what? While they are busy plan­ting trees, fet­ching water, rai­sing the child­ren and basi­cal­ly run­ning the coun­try (every coun­try!), we'­re still loo­king for the key­chain that opens the door to our well-polis­hed NYAYO car. Wha­t's our role? Mbu­gi ndî­kîrî­te mûriha! :-)
(@Kikuyumbuzi: I wish I'd be in NBO now…as for the mara­thon, DO IT. I am your man. I'll mas­sa­ge your feet when you'­re back, I will cook for you and play some music for you. At least some­thing that I can do as well. Mimi.. me i am expert! :-)