The blogosphere, it seems, is a net of links that link to each other. Sometimes there isn't much text to add to an existing entry, as it might have been mentioned elsewhere. My blog being an instrument of (for?) my thoughts is written in English and German – whereby I try to use the language according to my targeted audience. This being said, I have to tell you about this very exotic cigarette advertisement I've just come accross in a german blog. In fact, Riemer commented on my blog today and while going through his blog, I found this nini and another blog where he got it from…ayaaa! Confusing? Pole.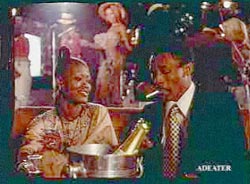 Now, this surely isn't about promoting cigarettes and I guess we all know about their insalubrious (wth?) effect on health (and hey, I AM a smoker and currently trying to get rid of this nasty habit – having started with brands like Rooster (!), Sportsman and Embassy Mild ~15 years ago…). This short 4 MB mpg spot is about a man enjoying his sigara and beating up 3 Kîrîmus. It's just plain fun and in great 1970's Blaxploitation style.
If you like those Shaft movies, don't miss out on this one. And, while writing these words, I just can't hide my burning affection for THIS fantastic music compilation created by a man (of my age) called Duncan Brooker a few years ago. He literally went through ALL those little music shops in Nairobi & Mombasa (while working as a runner for Mohammed Amin back in those days) and collected thousands (!) of plates (=records) from the most forgotten musical history of East Africa. He even tracked down the then famous Steele Beauttah of MATATA (as pictured below on the cover)!
Ndiyo. Please correct me if I am wrong on this one, but I think Kenyans don't really appreciate their cultural heritage (and yes, they have lots of memorable stuff, not only heroes like D.Kimathi or intellectual jewels like the late Wahome "Whispers" Mutahi) for they MIGHT (???) think it won't get them anywhere. Also, you might call me an idealistic mzungu, but if I'd have enough pesa for just doing what I'd love to do, then I'd go and visit those KBC/VOK archives and try to preserve their old recordings (obtaining a LICENCE for doing so with some office desk employee at a Ministry first of all :-). Or, as Duncan Brooker put it: "If I didn't save this music no one else would".
(I got my copy of Afro Rock via Ebay as they didn't have it on Amazon.de any longer, but over in the U.S. they still seem to have some copies in stock.)
p.s.: "The Legends of Afrobeat"… :-)