The blo­gos­phe­re, it seems, is a net of links that link to each other. Some­ti­mes the­re isn't much text to add to an exis­ting ent­ry, as it might have been men­tio­ned else­whe­re. My blog being an instru­ment of (for?) my thoughts is writ­ten in Eng­lish and Ger­man — wher­eby I try to use the lan­guage accord­ing to my tar­ge­ted audi­ence. This being said, I have to tell you about this very exo­tic ciga­ret­te adver­ti­se­ment I've just come accross in a ger­man blog. In fact, Rie­mer com­men­ted on my blog today and while going through his blog, I found this nini and ano­t­her blog whe­re he got it from…ayaaa! Con­fu­sing? Pole.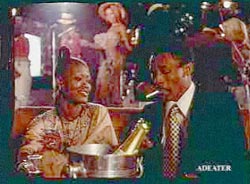 Now, this surely isn't about pro­mo­ting ciga­ret­tes and I guess we all know about their insalu­brious (wth?) effect on health (and hey, I AM a smo­ker and cur­r­ent­ly try­ing to get rid of this nas­ty habit — having star­ted with brands like Roos­ter (!), Sports­man and Embas­sy Mild ~15 years ago…). This short 4 MB mpg spot is about a man enjoy­ing his siga­ra and bea­ting up 3 Kîrî­mus. It's just plain fun and in gre­at 1970's Blax­plo­ita­ti­on style.
If you like tho­se Shaft movies, don't miss out on this one. And, while wri­ting the­se words, I just can't hide my bur­ning affec­tion for THIS fan­tastic music com­pi­la­ti­on crea­ted by a man (of my age) cal­led Dun­can Broo­ker a few years ago. He liter­al­ly went through ALL tho­se litt­le music shops in Nai­ro­bi & Mom­ba­sa (while working as a run­ner for Moham­med Amin back in tho­se days) and collec­ted thousands (!) of pla­tes (=records) from the most for­got­ten musi­cal histo­ry of East Afri­ca. He even tra­cked down the then famous Stee­le Beauttah of MATATA (as pic­tu­red below on the cover)!
Ndi­yo. Plea­se cor­rect me if I am wrong on this one, but I think Ken­yans don't real­ly appre­cia­te their cul­tu­ral heri­ta­ge (and yes, they have lots of memo­r­able stuff, not only heroes like D.Kimathi or intel­lec­tu­al jewels like the late Wahome "Whis­pers" Mutahi) for they MIGHT (???) think it won't get them any­whe­re. Also, you might call me an idea­listic mzun­gu, but if I'd have enough pesa for just doing what I'd love to do, then I'd go and visit tho­se KBC/VOK archi­ves and try to pre­ser­ve their old record­ings (obtai­ning a LICENCE for doing so with some office desk employee at a Minis­try first of all :-). Or, as Dun­can Broo­ker put it: "If I did­n't save this music no one else would".
(I got my copy of Afro Rock via Ebay as they did­n't have it on Amazon.de any lon­ger, but over in the U.S. they still seem to have some copies in stock.)
p.s.: "The Legends of Afro­beat"… :-)