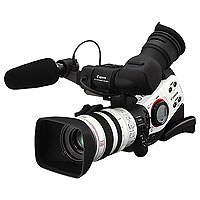 "So, tell us, how did you actual­ly learn how to make tho­se vide­os?" — "Well, I went to this web­site cal­led current.tv and had a quick look at the VC2 sur­vi­val gui­de, went to a shop, got a decent cam, a bet­ter mic, a tri­pod and a nice bag and …well, you know, I just let go, maaa­an?!" — "Ah.…is it that simp­le?" -
"Yeah of cour­se, maaa­an… I mean, look, many of us are of the so-cal­led MTV genera­ti­on and have been spoi­led by sit­coms, so we kin­da know what the view­ers wan­na see.…you know?.…we got the right timing it takes to make the point. …This is espe­cial­ly important if you just have 30 seconds for a spot. It's all a mat­ter of timing." — "Ah…and how did you pro­mo­te your vide­os?" — "Simp­le. I star­ted off with video­blog­ging in my blog and peop­le would actual­ly recom­mend to upload my stuff on current.tv. So the­re I went, pro­mo­ting my spots on the world wide web and only paying for my inter­net con­nec­tion fees, no needs for an agent or somethin'…it's so simp­le, I tell ya, you just get your gear tog­e­ther, point that damn cam at some­thin', edit the shots on your mac and upload them!" ——
Fic­tion, dear rea­ders, I am far far away from Vlog­ging or even making my own litt­le film. Of cour­se I wish to have some cash cow in my sham­ba that coughs up enough dough every morning, but till then, I'll have to stick to my litt­le San­yo Xac­ti digi­cam and use it's 30fps (at least!) movie func­tion to pro­du­ce short clips for this third-rated blog. One day.
In the mean­ti­me, I will enjoy good docu­men­ta­ries like the one on Wanga­ri Maat­hai or ano­t­her one on how to make fire in the wild (Kudos to afro­mu­sing for blog­ging about this the other day + Mar­tin for giving me this nice hint!).
P.S.: And while you'­re at it, plea­se make sure not to miss out this video on a mas­sa­c­re which has taken place in Turbi/Marsabit. Or as Men­tal­A­cro­ba­tics has put it the other day: "Show me; and I will remem­ber."…