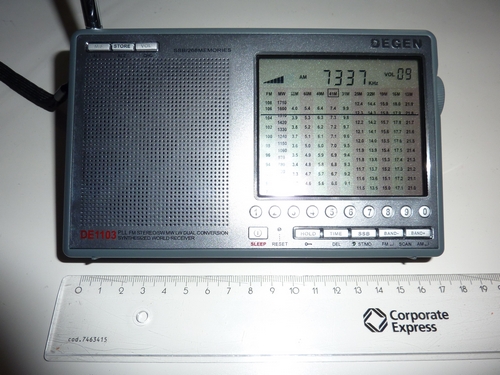 I've already mentioned the arrival of this sweet gadget on my posterous blog earlier this week, but I am so pleasantly surprised by the qualities of this world receiver that I decided to mention it on my main blog.
For technical details, pls see this full review or google for "Degen DE1103". The Degen DE1103 is a Chinese world receiver that covers the 76.0 – 108.0 MHz range in FM and 100 – 29999 KHz in AM & SSB. It sells for about 50,- EUR including shipping, directly from eBay / China, and comes with a cord, a charger (!), rechargable batteries, headphones, an external wire antenna and a pouch.
I am a bit late to the party as this model has already been introduced in ~ 2005 and every serious SWL and radio ham probably already had his hands on the Degen – for comparison reasons or because they couldn't resist the offer like me – but this little DX goddess beats my other receivers (Commtel COM610 and Sony ICF-7600 DA + some home built equipment) hands down.
If you are looking for a good & light radio receiver with SSB & a new FM station every 150-200 kHz (yes, it's that good) – this is the one to buy. Seriously. Highly recommended.