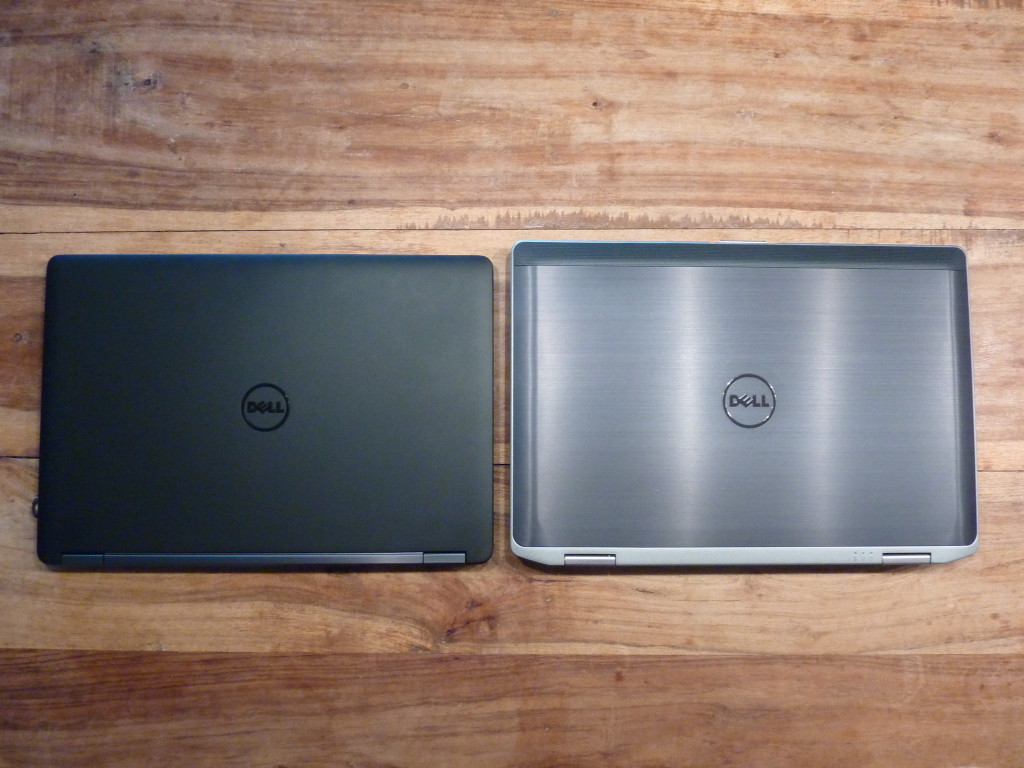 My Dell Latitude E6430 has a great performance, has enough room for an extra SSD, has never let me down during the last two years and came as a refurbished, 1yr-old laptop from a dealer in the UK. It also shares the same birthday (date) with me and is just a very, very solid workhorse. The keyboard is great, it has extra keys for volume control, the touchpad does support two-finger scrolls, it has a very durable frame and to clean the vent, I just need to remove 5 screws. Even it's bulky size and waste of space (= 14″ laptop in the body of a 15″ machine) are okay in the end. I don't care about that extra inch or the weight. I am a tall person and small laptops look stupid on me.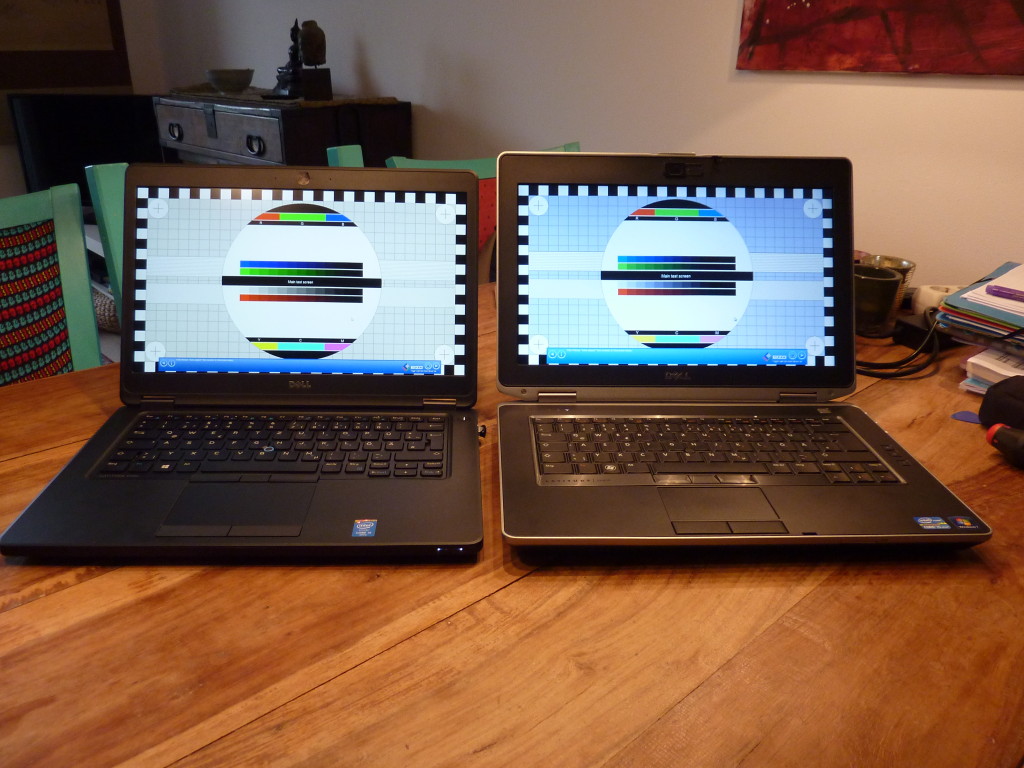 However, it doesn't have an IPS screen. And there is no way to install any IPS panel on this laptop, simply as there are no IPS panels at 14″ size available for the LVDS cable. It already has the best screen that's available for this laptop (LED, matte, high-resolution @ 1600×900), but for picture editing it just doesn't do it for me. I need an IPS laptop. THE SCREEN and THE KEYBOARD are the interfaces between humans and machines, so they need to be good. CPU performance? Srsly, who cares. But keyboard and screen need to be top notch. IPS IPS IPS!!!! 1!11 The laptop runs on a Dell docking station with an external Dell U2415 IPS monitor most of the time – also due to the lack of an integrated IPS panel so far.
The alternatives
The Lenovo T440s and T450s have both been on my list of desired hardware, but I ended up buying another Dell this time, also because of the build quality on the Dell which is just so much better than on the Lenovo machines. What I like about the T440s is the even smaller size and that it comes with an extra mSata port. The other alternative would have been a Dell E7440, which I still consider a true successor to my E6430. The successor to my E6430 is the E6440, and maybe later the E7440, but when we look at lifefycles and how hardware is usually exchanged after three years, the direct switch from an E6430 to E7440 or even E7450 seems plausible. Alas, most second hand Dell E7440 on the German market only have a simple, low resolution screen and are still too expensive.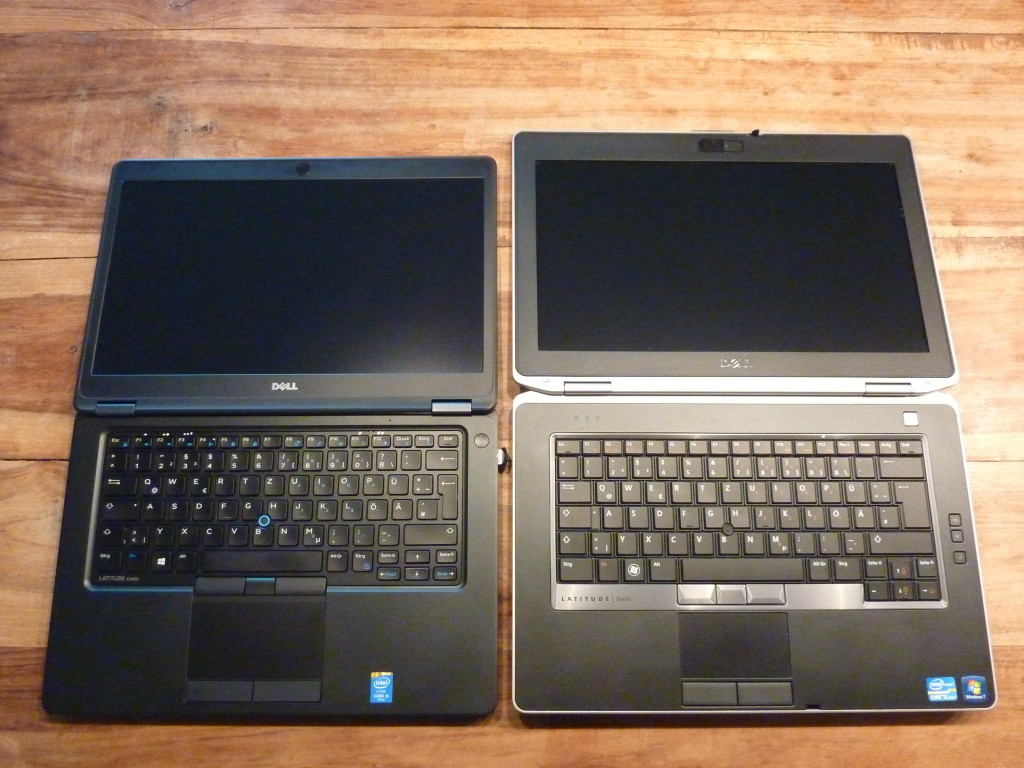 The decision
A dealer in the US found some special outlet deals for the E5450 (with and without Nvidia GFX) the other day, so I ended up buying a 2015 Dell Latitude E5450 from him which is just as expected: 1920×1080 IPS, i5-5300U CPU @ 2.30GHz, 1x 8 GB RAM, Intel GFX. So basically just what I wanted: a Dell E5450 or E7440/7450 for a relatively low price, with the IPS panel and no Nvidia graphics card (because Linux.) And it was cheap – like really cheap. Below 400 USD (plus S&H + customs charges of course, but still). It has an IPS panel (LG LP140WF3 on mine – which is also on the Lenovo T450s) and it reminds me of modern cars: lots of plastic and just the right amount of everything to get the job done.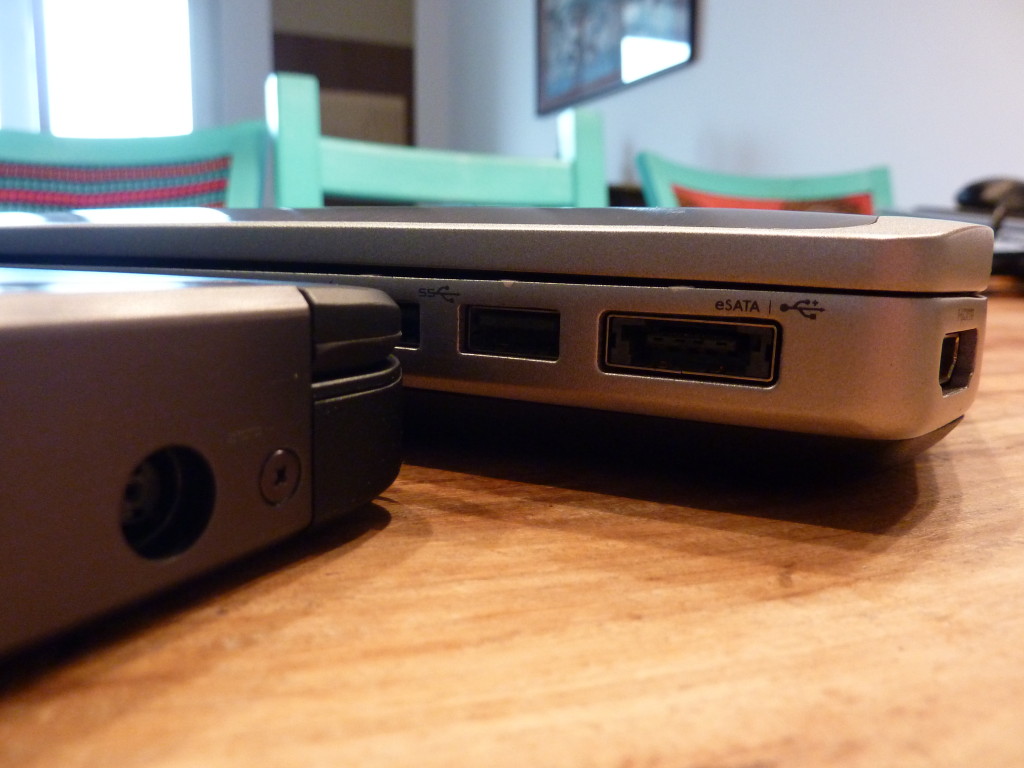 It may be a bit unfair to compare an E64xx series laptop with an E54xx one. The E64xx is just very durable and reminds me of older Volkswagen. It will last forever but also comes with no extras. The E54xx is like a Ford: computing power and a sexy body, but everything is plastic. You get what you pay for. Having seen cheaper consumer Dell laptops that sell for as low as 260 EUR on the local Dell outlet, even plastic comes in different qualities, and the one on this E5450 is excellent. For instance, I believe that the screen bezel on the E5450 is the same as the one found on the E7450. And contrary to this review, the display back on my E5450 is pure plastic – not magnesium alloy. I know this because the first thing I did on mine was to remove the display bezel to eliminate any light bleeding in the corners (edit: I am not really sure about this magnesium alloy display back cover. It looks very much like plastic on the inside, so my guess is that it is a magnesium alloy with a rubber coating outside and a plastic layer inside. Dell confirms that not all E5450 come with a magnesium alloy display cover, some magazines just quote that it is only available on touchscreen models.). Now, light bleeding is – imo – often caused by wrong tension within the frame. Removing the display bezel may help to identify the cause of this phenomenon. Probably also a reason why the machine was sold as a refurbished item.
The disadvantages
Many reviews online often only mention the positive reasons why product A is so much better than B. The interesting reviews are those that mention any disadvantages or drawbacks. And this E5450 has quite a few. I have been aware of these prior to my buying decision and would still like to mention them here:
The plastic body. If you are used to a metal frame on your laptop (E62xx, E63xx, E64xx, E65xx), the plastic covers are a bit irritating. It's not as bad as on a cheap consumer laptop, but it could be a bit better. Especially since these laptops were made for the business world. Even the feet are plastic with a rubber coating.
USB ports in the back. Two of three USB ports are in the back, which is okayish, BUT they get deactivated when you insert the laptop on a docking station. There is no way to change this. Meaning: anything you'd like to run via USB needs to be connected via an external USB hub. Because there's just one USB port at the right side (that already handles a 64GB USB 3.0 key on mine). Who designs something like that??
The gap between the laptop and the docking station. There is a subreddit on this topic and while it is nice that you can reuse most docks even for this generation of laptops, the gap is ridiculous. You can buy a spacer from Dell which costs extra, or print one – but still: the spacer is just a piece of plastic (again!) that is supposed to ease the inserting process. And while we have this gap because the dock connector is located at the edge of the frame, it also means that there's enough room for USB gadgets to be attached while the laptop is docked. So there's enough space for USB gadgets. Why deactivate them? Why couldn't this be part of any BIOS settings?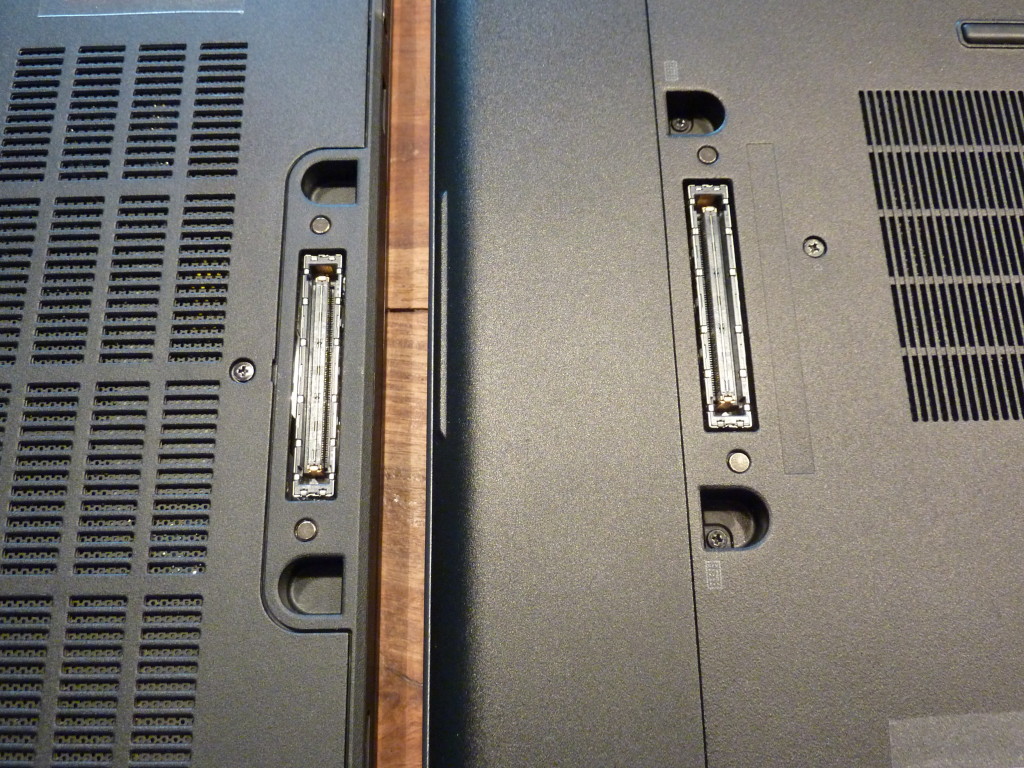 Fortunately, I also upgraded my USB 2.0 docking station to one with USB 3.0. They also look the same, the ones with USB 3.0 have blue USB ports. I wonder why Dell never issued different part numbers for the USB 3.0 docks when they are already good at issuing part numbers to every single iteration of items in the Dell universe. Again, confusing.
A rough touchpad. The multitouch-capable touchpad is a bit rough. Other laptops have smoother surfaces. Why is that so? Only Dell knows. It's a very nice touchpad though, which also applies to the marvelous keyboard. The keyboard is a joy to type on!
No dedicated volume keys, instead you have to press a Function (Fn) key and F1-F3 to set the volume. I know this was available on the E7440 and it would be a nice reason to switch to an older E7440 one day (when they are cheaper).
Awkward positioning of the SD-card reader. The card reader is almost at the bottom of the frame, so inserting SD-cards is a bit tricky.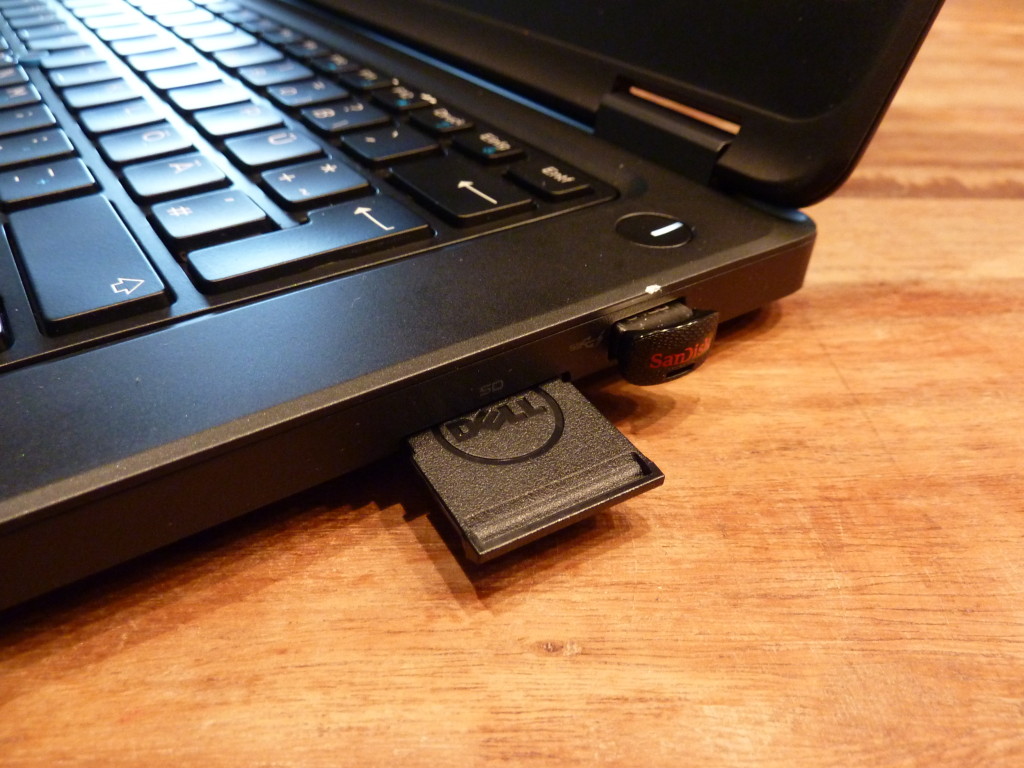 One year of warranty. Which probably says a lot about these laptops. I expect to see some more on eBay soon.
Sealed battery: you will need to remove a few screws to unplug the battery from the mainboard. Is this a real issue? The BIOS has some extra settings on how the battery may be charged, following a usage pattern. I like that. The thing is that the E6430 is a bit wobbly when inserted on a docking station without a battery. So when I took this to a forum somewhere, ppl replied and asked why I would remove the battery in the first place. It then occured to me that I should just leave it inside as it will not overcharge and also be available when required. So the battery only is an issue on the E5450 when you need to quickly remove any power source. This has also never been an issue for me on my iPhone and other devices with non-removable batteries (besides, I am an EDC-nerd that usually carries a set of screwdrivers for those what-if-situations).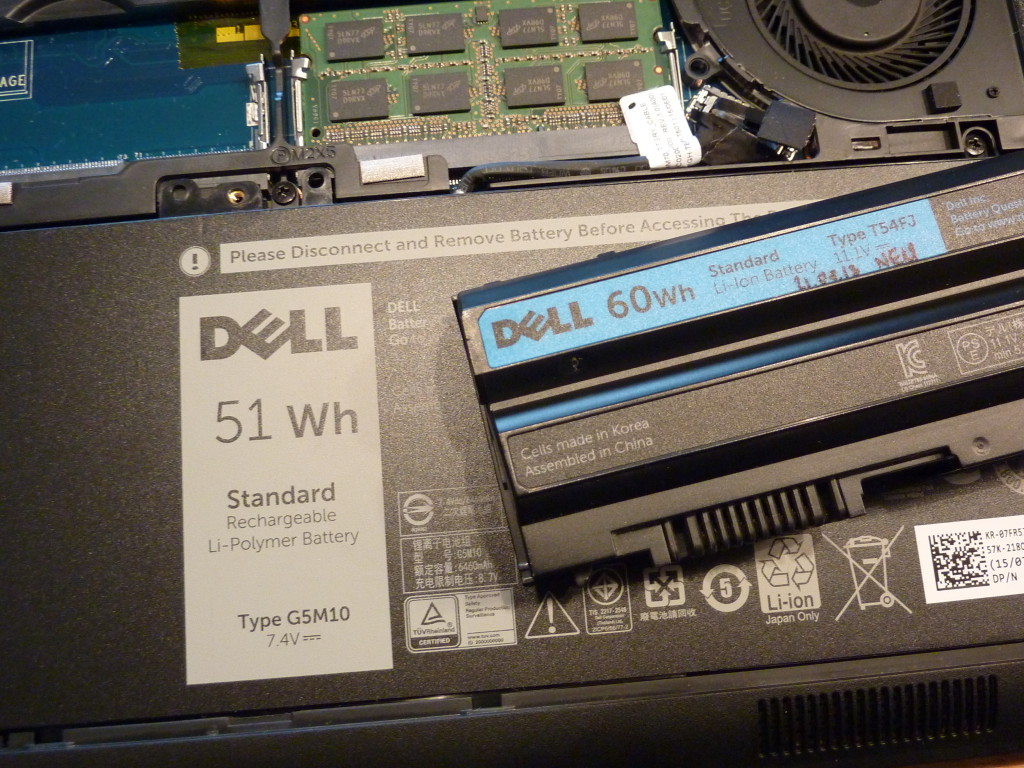 Vent intake. As far as I know, only older ThinkPads had this design where the vent intake is at the side of the body, so that you could use the laptop on your – yes – laps. It may be a patent issue and the reason why everyone else only has the vent intake on the bottom – which is usually covered. Fortunately, with the lower Thermal Design Power (TDP) of this CPU, the CPU doesn't really run as hot on this machine. It also is a reason why I didn't pick a laptop with a dedicated Nvidia graphics card. The Intel 5500 chipset is just fine for me.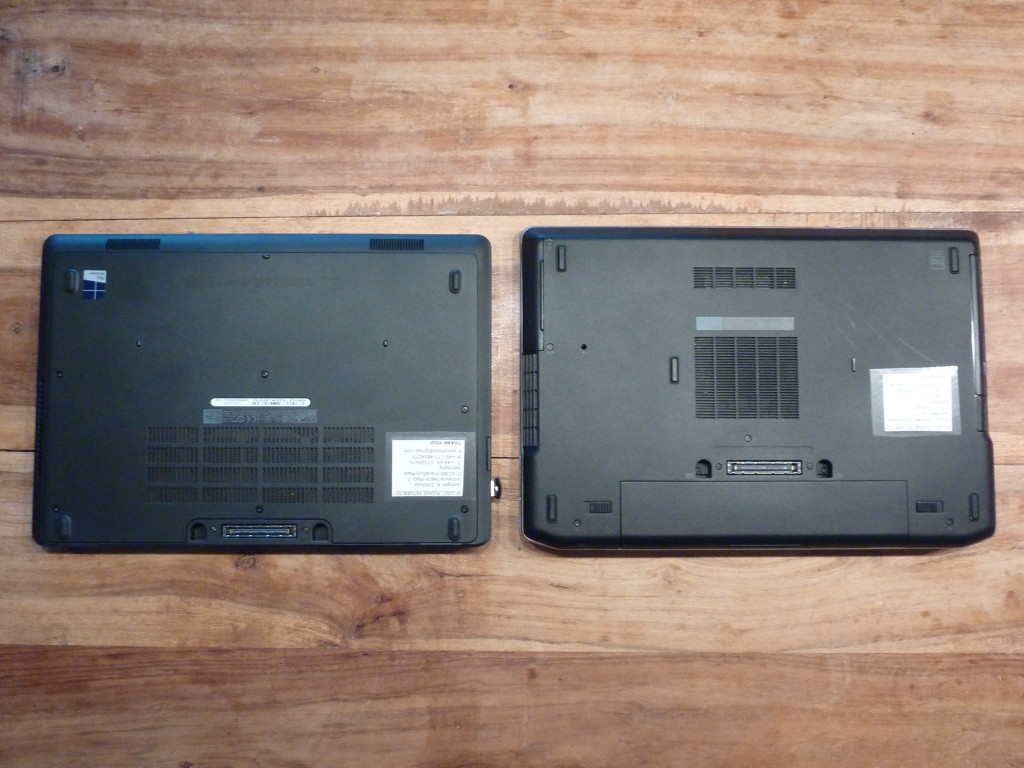 Verdict
I am glad that I finally got a laptop with an IPS panel, and I am glad that didn't have to spend too much money on it. I would buy it again, especially from that dealer in the US. Also with the recent BIOS updates, some issues from the past have been resolved. I am curious what the succesor to the E5450 and E7450 will look like, and what will be improved.
The keyboard is already perfect, the touchpad has the right size, the keys on the keyboard are perfect. Maybe an extra mSATA port inside (like on the T440s)? Or dedicated volume keys?
I used to be a user of HP products, but the purchase of an older CCFL 2209WA 22″ IPS panel some years ago introduced me to the world of Dell, and I have to admit that I am sort of a fanboy these days. My current setup is this E5450 on a 24″ Dell U2415, and I couldn't be happier about it. Everything is refurbished hardware, and still great. (~ the downsides of freelancing = you are your own IT department. And the rest buys Apple products…).
Talking about Apple products, this E5450 greatly reminds me of 13.3″ MacBooks, and I would bet that they are also targeted at those users who have a Latitude laptop in the office and a MacBook at home. As I am typing this on the new laptop with reduced display brightness and in power saving mode: 6:37 hours or 87% battery power are still remaining. Not that bad when I compare this with my E6430 which also had 4-cell batteries and an even higher wattage – but with a TDP of 35W (TDP 15 on the E5450) and a maximum battery runtime of about 3hrs. I will still need to get my hands on an original Dell power supply, a small 65W one, as my refurbished Dell only came with a dumb OEM one that doesn't even have an illuminated cable.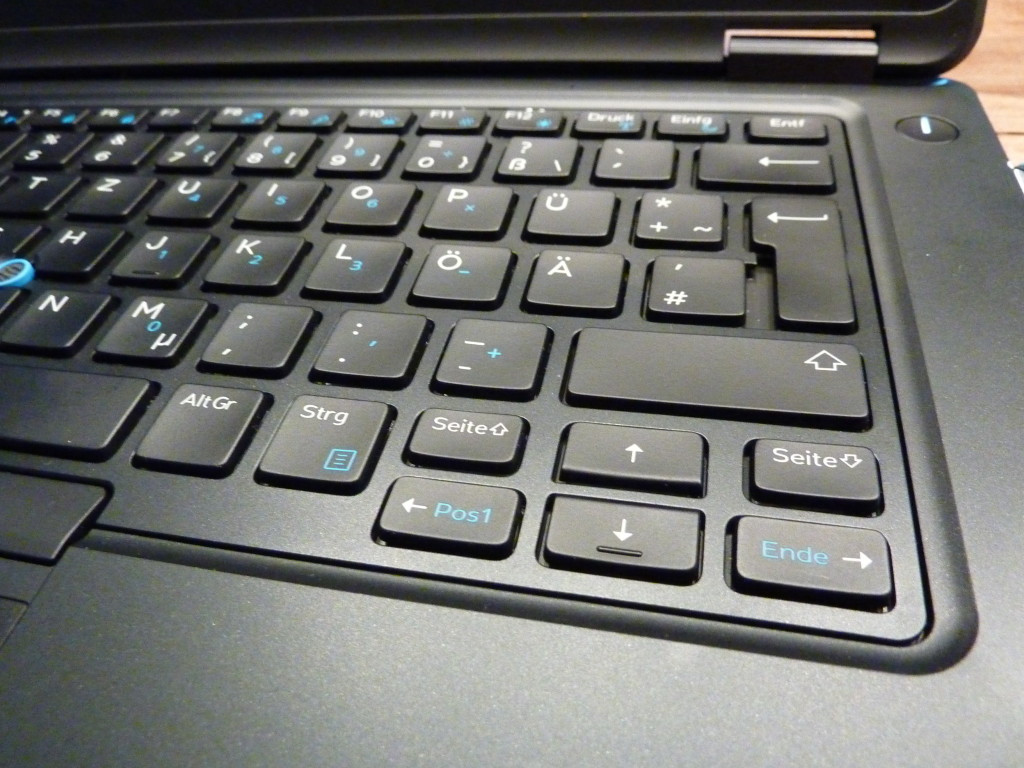 So is this E5450 any good? Yes, very. With a very similar E7450 as a direct competitor, I guess that the driving force for the success of the E5450 will be the price. Probably very similar to previous Dell Latitudes from the E5xxx series: they are cheaper and you feel it, but also won't let you down on performance and also get the job done. And now with the latest iteration where the E5450 really resembles the E7450 (contrary to the E7440 vs. the E5440), deciding between the E5450 and the E7450 may be the hardest part.
Kwaheri E6430, Karibu E5450!