I recent­ly had the chan­ce of com­pa­ring the HP Eli­te­Book 6930p with the Dell Lati­tu­de E6400, both 14,1″ busi­ness lap­tops (note­books) for pro­fes­sio­nal use.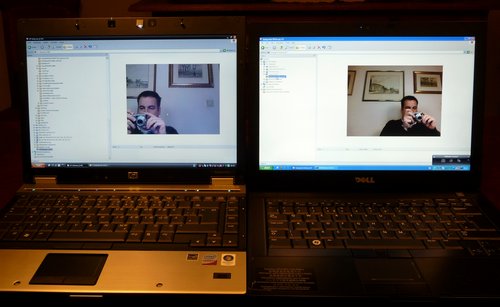 Kilon­zo, a friend of mine from uni­ver­si­ty, had asked me a few weeks ago for some help with the purcha­se of a note­book. The choice quick­ly came down to a busi­ness note­book — even though you may get more high-tech details on the con­su­mer ran­ge of note­books, which are often a che­a­per alter­na­ti­ve. The busi­ness note­books, though, usual­ly have a desi­gna­ted life span of 5 years (as oppo­sed to 3 yrs on the con­su­mer ran­ge) and are of bet­ter qua­li­ty. Plus, if you are buy­ing refur­bis­hed machi­nes any­ways, the busi­ness ran­ge of note­books almost gua­ran­tees a sup­ply of (used) spa­re parts after 3–4 years on eBay & Co as most com­pa­nies are retur­ning their lea­sed machi­nes. The suc­cess of IBM Think­Pads and cor­po­ra­te Dell note­books is part­ly based on this, I'd say.
I belie­ve that a screen size of 13.3″ to 14,1″ is the best size for a note­book as it then still is small enough to be car­ri­ed in a bag and big enough to be balan­ced on your lap (!) e.g. while in a con­fe­rence. I've rea­li­zed that net­books are real­ly nice and can alrea­dy do most tasks in com­pu­ting, but it actual­ly loo­ks qui­te ridi­cu­lous when a 6 ' 4″ tall man uses his fin­ger­tips to hit the keys on a 10,2″ net­book. So the 13–14″ screen size ran­ge works best for me — even 15,4″ note­books are ok but I've used them in the past and now pre­fer the 14.1″ range.
The choice quick­ly nar­ro­wed down to my three pre­fe­red candidates:
I do have an HP 6930p which I am using on a docking sta­ti­on (as blog­ged on ear­lier) and qui­te like it. It has almost ever­ything I need and I had even recom­men­ded it to Kilon­zo becau­se it is real­ly strong. If you'­ve ever felt the plastics on a Leno­vo T400, you'll quick­ly go for the Dell E6400 or HP 6930p, which are almost all metal.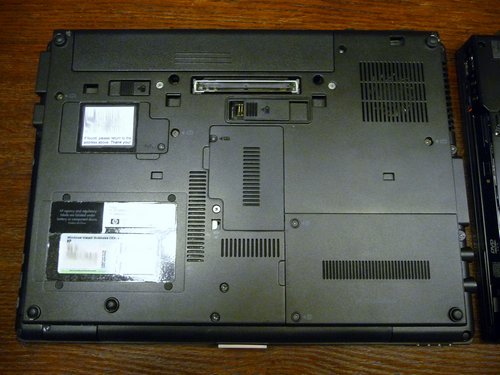 HP bot­tom

Dell bot­tom
Body
The bot­tom pla­te on the 6390p is real­ly mas­si­ve. Not hea­vy, but strong enough to with­stand any exter­nal pres­su­re from car­ry­ing it around. If you are a fre­quent tra­vel­ler or for­ced to car­ry your lap­top with you almost every day, you may want to pay spe­cial atten­ti­on to this. The E6400 comes clo­se to the 6930p, but it only has a rela­tively slim (metal!) cover on the bot­tom which also pro­vi­des access to all com­pon­ents (as visi­ble in this image). The­re also is an ATG ver­si­on avail­ab­le of the E6400 (the E6400 ATG) which may even be as strong as the 6930p as it appar­ent­ly also sup­ports the MIL-STD 810F stan­dard (which obvi­sou­ly is more or less a mar­ke­ting gag but nevertheless, good build qua­li­ty is always appreciated).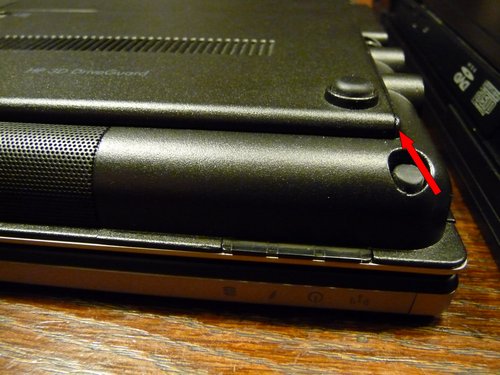 HP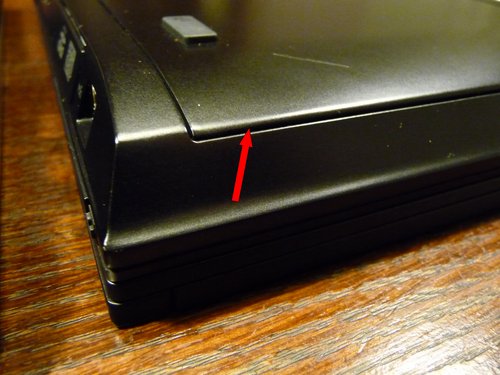 Dell
My method of buy­ing expen­si­ve hard­ware is to get it "refur­bis­hed" from dea­lers on eBay who make a living out of sel­ling almost new hard­ware from Dell, Leno­vo or HP. Tha­t's how I got our (real­ly good) HP Office­Jet 7210 All-In-One prin­ter, how I got my HP 6930p and how I also bought the DELL E6400. The­re's a dea­ler in the UK on eBay who's spe­cia­li­sed in sel­ling refur­bis­hed Dell com­pu­ters. The offer was qui­te good for Euro­pean terms, even though it would obvious­ly be much che­a­per to buy the lap­top in the US. We'­re hoping to get a V.A.T. refund though once the lap­top is expor­ted to Kenya.
The risk of buy­ing refur­bis­hed hard­ware is that it comes with litt­le dents or small scrat­ches which are ok as long as they aren't in a visi­ble area. I had recent­ly also bought an LED ver­si­on of the 6930p which came with some mas­si­ve dead pixels and which I had to return. My CCFL 6930p — the one I am cur­r­ent­ly using — came with a faul­ty docking sta­ti­on con­nec­tor and a faul­ty dis­play lock, so I had to send it in to JABIL in Poland (ser­vice cen­ter for HP, see sto­ry) whe­re they exch­an­ged the mother­board and actual­ly fai­led to repair the dis­play lock. I later on fixed the dis­play lock mys­elf, which means that I had to com­ple­te­ly dis­as­sem­ble the 6930p up to the very last screw. Took me an hour but now it is ok.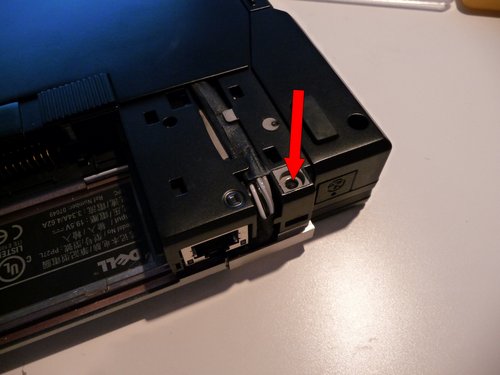 mis­sing hin­ge screws on the Dell… (now fixed)
Even the E6400 came with some pro­blems: a lon­ger dent just behind the dis­play, on top of the bat­te­ry and — real­ly annoy­ing — with a loo­se dis­play. You'll obvious­ly loo­se any war­ran­ty by the dea­ler if you remo­ve the dea­ler's sti­cker on top of the main screw, but tho­se covers that pro­vi­de access to the dis­play hin­ges weren't sea­led with a sti­cker. Turns out the screws which hold the dis­play hin­ges in their posi­ti­on whe­re com­ple­te­ly MISSING! Mis­sing screws becau­se someo­ne for­got to replace them after chan­ging the dis­play — tha­t's a clear no-go to me. Pro­blem is: the dea­ler is in the UK, my frien­d's wai­t­ing in Bel­gi­um and I wan­ted to get on with this. So I quick­ly ope­ned it up mys­elf and inser­ted two M2.5 x 4 screws. Issue sol­ved. But, again, this must not hap­pen with a refur­bis­hed devices. Goes to show how much they real­ly care about their pro­ducts, I guess.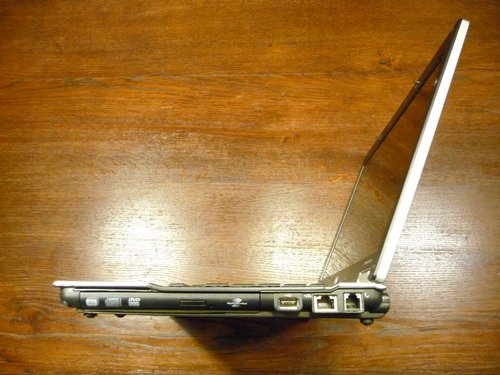 HP 6930p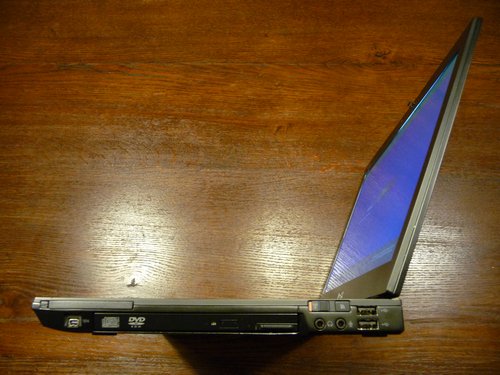 Dell E6400
Apart from the­se usu­al pro­blems you encoun­ter while get­ting a refur­bis­hed note­book — you know the­re's a world wide 3yrs pick-up war­ran­ty on my HP 6930p — the first impres­si­on on the Dell E6400 is: WOW!
Unfor­tu­n­a­te­ly, most busi­ness note­books are built-to-order or at least not dis­play­ed in show­rooms, so while buy­ing one of tho­se note­books, you clear­ly depend on user reviews. I always had the impres­si­on that the E6400 comes with a lot of plastic parts. But while the 6930p is real­ly stron­ger as it comes with a metal hand rest around the touch­pad, the E6400 is also good. Good enough, that is. And abso­lute­ly suf­fi­ci­ent. And less plastic parts than expec­ted. The HP still is stron­ger though — no flex of the body, almost stron­ger than a Mac­Book which imho is total­ly over­hy­ped and over­ra­ted. But it also is HP's own fault becau­se they just fail to ship ALL of their note­books with this build qua­li­ty and never put them on dis­play, so when peop­le are tal­king about HP note­books, many con­su­mers think of the con­su­mer models "HP Com­paq Pressa­rio" and others. Tho­se are real­ly shit­ty and not sub­ject of this review.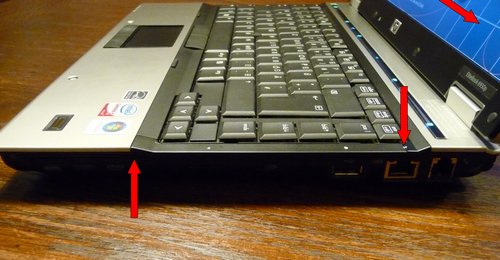 Litt­le gap on the top cover of the HP, just next to key­board. Hel­ps to absorb the mecha­ni­cal ten­si­on while ope­ning or moving the display.
Plastic covers are an important issue, becau­se the­re always is some sort of ten­si­on on the sur­face next to the key­board when you open the dis­play. The moment you flip the dis­play back­wards (HP = opens > 180°, DELL = ~ 160°), you see how the top cover (that acco­mo­da­tes the key­board) bul­ges upwards. This is nor­mal on almost every note­book and depends on the hin­ge strength and how it is con­nec­ted to the rest of the note­book. Go to the next com­pu­ter store and check this "flex" with cheap Acer lap­tops and you'll see what I mean.
On the HP, this is sol­ved via a gap, but on the DELL it's one long pie­ce of plastic which could break one day or at least lose up the cover. Both dis­play hin­ges are gre­at though — the one on the DELL being slight­ly bet­ter (less play).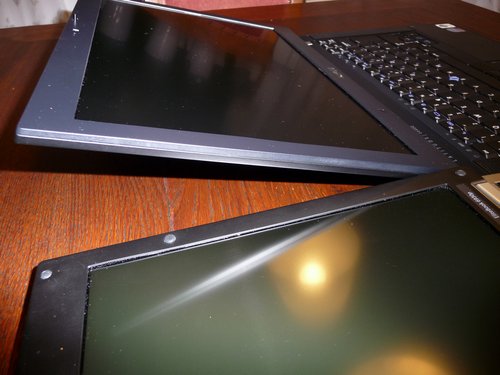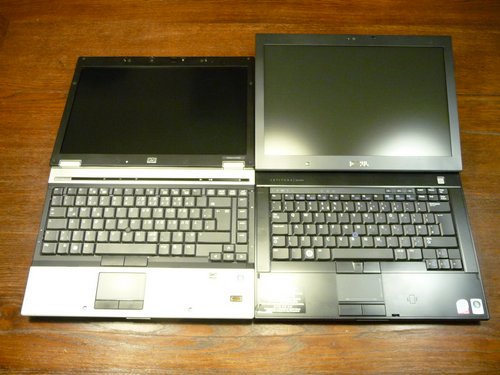 Maxi­mum ope­ning angles
Dis­play
The WXGA+ (1440x900px) LED dis­play on the E6400 actual­ly is the big­gest and most important dif­fe­rence bet­ween both note­books becau­se the WXGA+ screen on the HP 6930p is only CCFL. It's the screen the HP should have come with.

Maxi­mum bright­ness @ HP (left) & Dell (right)

Mini­mum bright­ness @ HP (left) & Dell (right)
For some unknown rea­sons, HP is just unab­le to sell the­se WXGA+ LED screens on their "Eli­te­Book" note­books as the 6930p is also known. What HP offers are "Illu­mi-Lite" LED screens at WXGA (1280x800px) only. I did a com­pa­ri­son bet­ween the­se two screen types the other day and pos­ted my expe­ri­ence here. The WXGA LED and CCFL screens on the­se HP com­pu­ters are just crap. They of cour­se do the job for most busi­ness (read: office) jobs, but are useless when it comes to image edi­t­ing and/or ver­ti­cal viewing angles. Ima­gi­ne you'll have to pre­sent a docu­ment to your col­leagues at work and they'­re having pro­blems see­ing it on the dis­play becau­se viewing angles are so nar­row. Well — tha­t's what the­se HP screens are alike.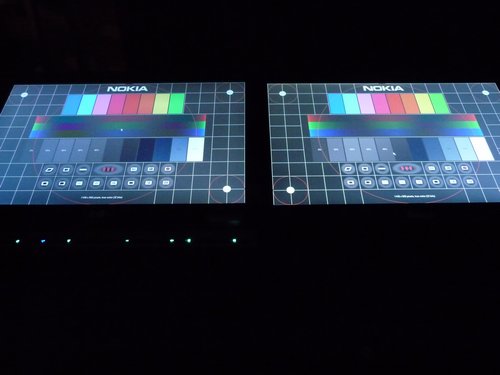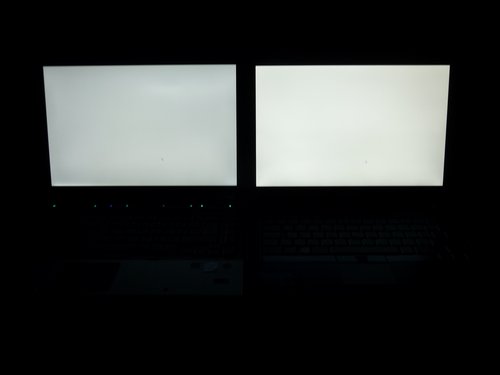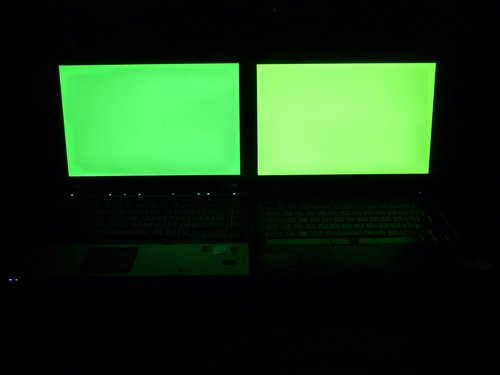 HP (left) & Dell (right)
Colour satu­ra­ti­on seems to be bet­ter on the CCFL-screen, the green colour is almost per­fect on the HP but the white is fog­gy, viewing angles are almost the same, bright­ness is bet­ter on the Dell.
The dis­play is also one of the rea­sons why I told Kilon­zo to "let's go for the Dell". It may not be the ulti­ma­te screen, but best I've seen on a 14,1″ so far next to the one on the new Leno­vo T400s.
The WXGA+ CCFL on my 6930p though isn't thaaaaat bad. It's a typi­cal CCFL screen with uneven illu­mi­na­ti­on and hig­her power con­sump­ti­on than an LED screen, but it still has bet­ter, or let's say: more satu­ra­ted colours. Both screens still have the usu­al grey or fog­gy touch to it. They will never be as bright as the one on my (low-bud­get) 22″ desk­top TFT from LG.
Once dis­play bright­ness is set to a mini­mum, you can see the dif­fe­rence as the CCFL-type will always be a bit dar­ker. The Dell note­book will be expor­ted to a coun­try with fre­quent power cuts, so bat­te­ry run­ti­me and dis­play bright­ness in a dark envi­ron­ment are important issu­es and per­fect on the Dell.
The dis­play lock on the HP is.….well, it is a night­ma­re. It's sup­po­sed to be much bet­ter sin­ce the begin­ning of 2009, but at least mine had this issue that the lock would­n't clo­se as the hin­ges crea­ted too much mecha­ni­cal ten­si­on, resul­ting in a dis­play lock that ope­ned by its­elf. I've mean­while fixed it but it is still far away from the simp­le solu­ti­on on the DELL, which may not be as strong as the one on the HP, but at least the dis­play just beau­ti­ful­ly clo­ses and is very flat.

Ope­ned & repai­red dis­play lock on the HP 6930p
HP: matt, bet­ter colours on CCFL, uneven illu­mi­na­ti­on, dis­play lock a clear failure
DELL: matt, nor­mal colours on LED, even illu­mi­na­ti­on, dis­play lock good
Keyboard/Touchpad
Both key­boards come with a touch­point stick and extra mou­se but­tons — the Dell has three but­tons, HP only two. Some GNU/Linux users pre­fer three but­tons — me and Kilon­zo both being WinXP users, this does­n't real­ly mat­ter. The grip is slight­ly bet­ter on the HP, and feels a bit more sta­ble, even though it has less key drop. The Dell key­board feels like a mix­tu­re of IBM Think­Pads and Acer Time­li­ne key­boards — a bit noi­sy and huge lift of keys, but good to press.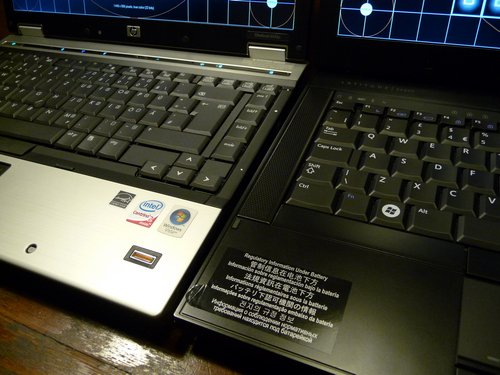 Key­boards (HP & Dell)
The­re also an opti­on for a back­lit key­board on the Dell (the HP "only" has a litt­le light abo­ve the dis­play, very simi­lar to IBM Think­Pads, but bet­ter), simi­lar to Mac­Books — but we cho­se this opti­on of a nor­mal key­board becau­se it would have taken lon­ger and cost ano­t­her EUR 30 to add a bet­ter key­board. Howe­ver, if I had to choo­se bet­ween both key­boards, I would­n't know which one I pre­fer as both are more or less equal­ly good. The ESC key on the HP is in the top left cor­ner which may be an advan­ta­ge. Also, both key­boards have the CTRL key in the bot­tom left cor­ner which is the set­up I pre­fer (on Leno­vo key­boars it's the FN key). I also like the key­board on my old HP nx8220 and if I could choo­se bet­ween all of them, then I would clear­ly go for the old HP type. Still have to test the back­lit ver­si­on though.

The HP "Cla­vi­lux" :-)
The indi­ca­tor lights abo­ve the key­board are much bet­ter on the DELL — less obtru­si­ve, not as flas­hy and the user is pro­vi­ded with real keys for volu­me con­trol. A lot of users are having pro­blems with the uneven volu­me con­trol touch sli­der on the HP (simi­lar to the unlo­cking sli­der bar on the iPho­ne screen) and/or mis­took the sli­der-design for an actu­al sli­der-bar. But it isn't. If you know how to set the volu­me on the HP Eli­te­Books (= just hold your fin­ger on the — or + to adjust volu­me), the­re are abso­lute­ly no pro­blems with it. The Dell solu­ti­on loo­ks bet­ter though, even though the­re is no visu­al feed­back for volu­me on the display.
The touch­pads on both machi­nes are equal­ly good, I'd say. In the past I've often assu­med that a lowe­red touch­pad may pre­vent the user from any acci­den­ti­al use of the touch­pad (=> you'll touch it with the palm of your hand while typ­ing and end up over­wri­ting text, huge pro­blem on some Sony note­books), but the Leno­vo T500 I've tes­ted the other day show­ed me that even a well-adjus­ted flat touch­pad will be ok. So this real­ly depends on the touch­pad its­elf and how it reacts to input. Both poin­ting sticks in the midd­le of the key­board are ok. Of cour­se, the IBM/Lenovo solu­ti­on is bet­ter, but else they will also do the job. I think that most users will adjust to any key­board wit­hin 3 days, so this real­ly only depends on what you'­re used to.
Heat / noi­se / BIOS
The Dell came ship­ped with a 250GB HDD from Fuji­tsu which is OK — at least com­pa­red to the 500GB HDD from Wes­tern Digi­tal I added to my HP the other day and which is a bit lou­der (!). And this alt­hough I've alrea­dy acti­va­ted Advan­ced Power Manage­ment on the WD HDD. Strange.

Fan inta­ke on the HP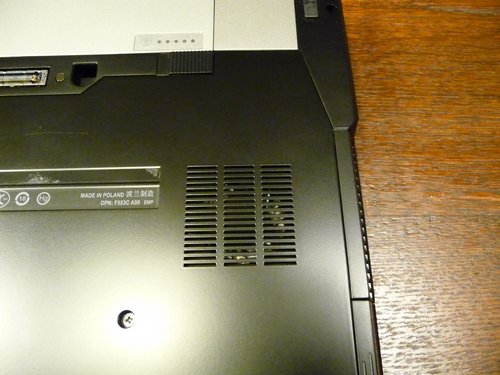 Fan inta­ke on the Dell
Fan inta­ke unfor­tu­n­a­te­ly also is on the bot­tom on both note­books. See IBM/Lenovo and their Think­Pad ran­ge whe­re the inta­ke is in the back on the side. Tha­t's a much bet­ter coo­ling sys­tem. The rub­ber feet on the HP are a bit hig­her though, so we'­re tal­king of about 1mm incre­a­sed distance to the table on the HP, resul­ting in a slight­ly bet­ter air circulation.
I know that others have in the past com­p­lai­ned about the noi­se / incre­a­sed fan speed on the DELL, but I just can't figu­re out why. It is very silent on this E6400 (latest BIOS revi­si­on instal­led) and even when fan is on full speed it isn't lou­der than the one on the HP. You can set a "FAN always on" opti­on on the BIOS of the HP, but it only worked nice­ly with my old HP. My HP 6930p runs bet­ter without this opti­on acti­va­ted (plus you will need to deac­ti­va­te it any­ways if you'­re run­ning GNU/Linux on it like I do).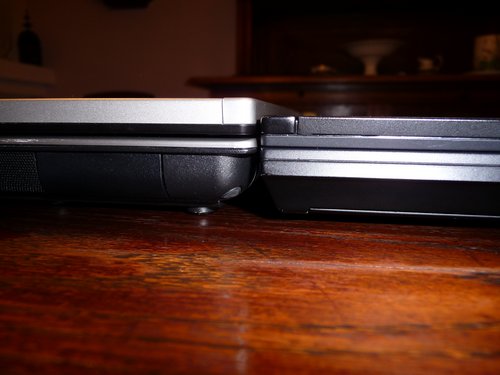 HP note­book is slight­ly higher
The BIOS opti­ons on the Dell are gre­at, much bet­ter than the rather limi­ted ran­ge of set­tings on the HP. HP should update the BIOS and at least install an opti­on like Dell or Leno­vo whe­re you can adjust when the bat­te­ry may be recharged.
Con­nec­ti­vi­ty
One of the rea­sons I am not com­pa­ring the usu­al spe­ci­fi­ca­ti­ons on both machi­nes (CPU, RAM, etc.) is becau­se both come with a simi­lar CPU, RAM, HDD, Giga­b­it­LAN, WLAN, MODEM (which may be selec­ted during online order any­ways) and both may also be equip­ped with an inter­nal WWAN modem (~ UMTS). I did this on my HP note­book and it works — but only with MS Win­dows and only when the bat­te­ry is inser­ted. Tha­t's so stu­pid! Don't know about the DELL though, may be a simi­lar sce­n­a­rio. As a con­se­quence to the WWAN capa­bi­li­ty, both note­books come with a SIM-card hol­der under­ne­ath the bat­te­ry and are equip­ped with WWAN anten­nas on top of the dis­play (insi­de a plastic cover on top of the dis­play). While it's nice to have an inter­nal WWAN modem for an extra 80 — 150 EUR, I actual­ly pre­fer exter­nal UMTS modems. They are che­a­per and may be swap­ped bet­ween lap­tops. Makes more sen­se to me.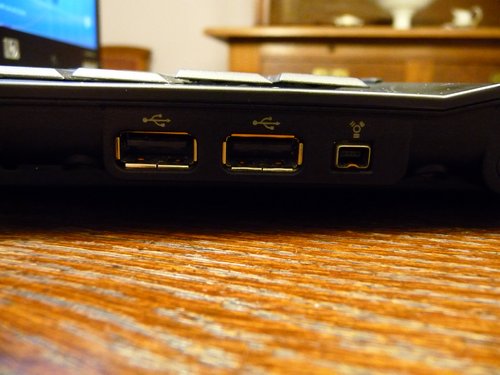 Hori­zont­al­ly ali­gned USB ports on the HP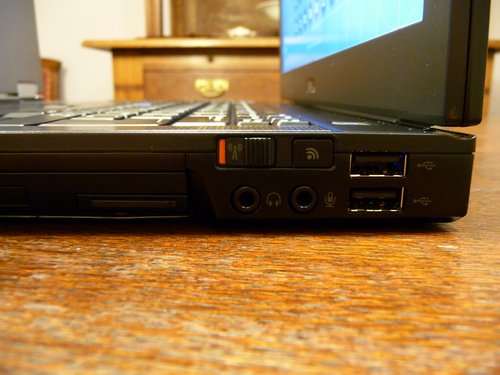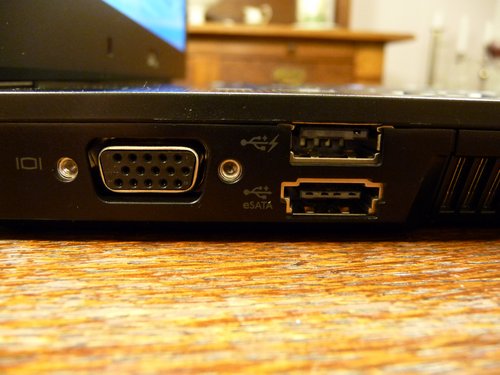 4 USB ports on the Dell
The DELL comes with 4 USB ports, of which one is a powe­red USB port and one is an eSA­TA port. Tha­t's REALLY gre­at! The align­ment of the­se ports is a bit bet­ter on the HP though as they are hori­zont­al­ly ali­gned so that you may use bul­kier USB plugs (some USB keys aren't as slim as they could be). It real­ly depends on what you need them for, but I belie­ve that it's bet­ter to have 4 than 3 USB ports. It's the ones you need the most. You can also set USB PowerSha­re on the BIOS of the DELL which enab­les you to char­ge exter­nal USB devices (iPods, Pho­nes) while the com­pu­ter is off.
Fur­ther­mo­re, you'll also find an SD-card and Smart­Card rea­der on both lap­tops, a Fire­Wire socket and — what a sur­pri­se — a mecha­ni­cal switch for the WLAN on the DELL + a "WiFi Cat­cher" button.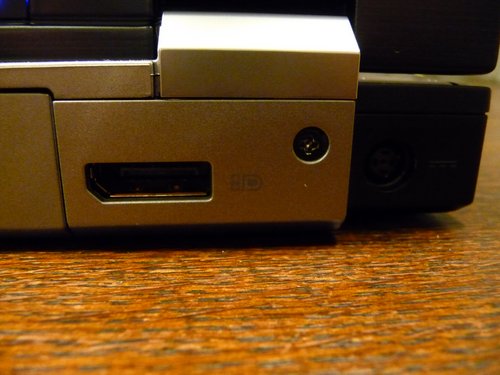 Dis­play­Po­rt on the Dell
The DELL also has a Dis­play­Po­rt on the back — some­thing the HP does­n't have at all. Both have a VGA port though — and a DVI‑D port on the docking sta­ti­on to which it con­nects via the docking con­nec­tor on the bot­tom. Ano­t­her dif­fe­rence is the ExpressCard54 on the HP and an older PCMCIA port on the DELL. I have in the past used a PCMCIA UMTS Modem on my old HP but now haven't found a use for the Expres­s­Card slot. May­be once USB 3.0 is released we'll find USB 3.0 cards for the­se slots. Unless you have a real need for the­se devices, both are just bat­te­ry drai­ners so they remain unused most of the time.
The­re also is a web­cam on the DELL which is said to only have 0.3 mpx reso­lu­ti­on (com­pa­red to the 2.0 mpx on the HP), but I just can't see why this should be worse. Ins­tead, the came­ra on the DELL is just BRILLIANT com­pa­red to the one on my HP. It also comes with some DELL soft­ware aka Crea­ti­ve Live!Cam tools that add some fun­s­tuff to this device. I wish the web­cam on my HP had the same luxu­ry and I am still to find out why the per­for­mance of this web­cam here is so bad. So.…DELL being a clear win­ner here.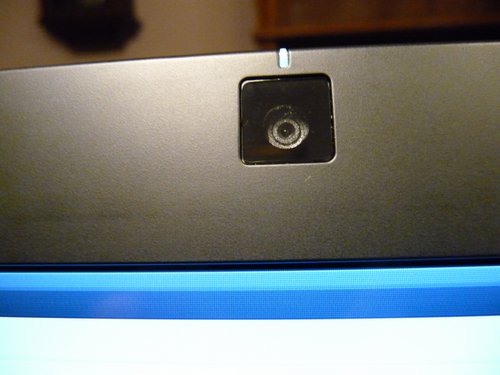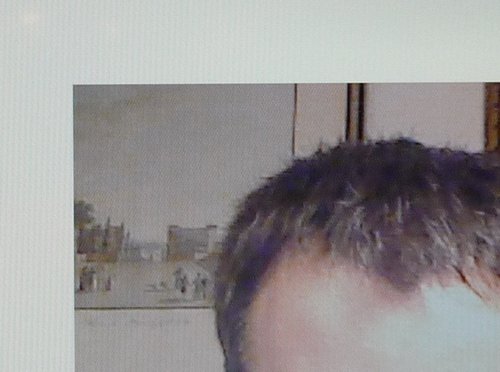 2.0 mpx Web­cam on the HP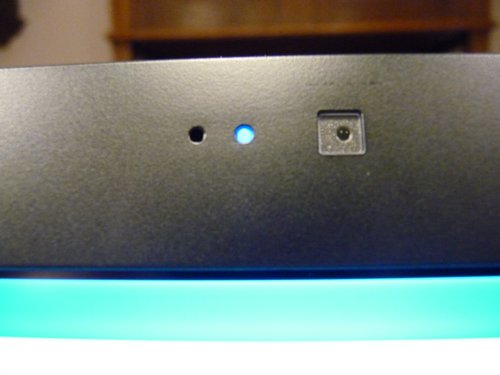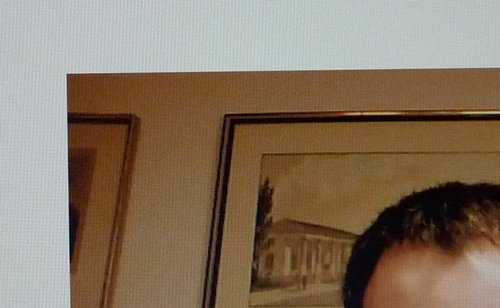 0.3 mpx web­cam on the Dell
The HP also comes with a small slot for busi­ness cards and spe­cial OCR soft­ware which allows you to use the web­cam for taking snapshots of busi­ness cards and saving the addres­ses on your per­so­nal infor­ma­ti­on manage­ment tool (~ Out­look), but I've only used it once so far. It's a nice gimmick.
You'll also find a fin­ger­print rea­der on both machi­nes, even though this DELL did­n't have one. Who needs a fin­ger­print rea­der that isn't ful­ly inte­gra­ted into the OS? May­be with Win­dows 7 this is an inte­res­ting fea­ture, but let me be honest: HP Pro­tect Tools, the soft­ware suite from HP used for the fin­ger­print rea­der and other TPM secu­ri­ty chip rela­ted issu­es, delay­ed boot up pro­cess on my HP for 2 minu­tes — which is why I had to deinstall it and haven't mis­sed it sin­ce. Again, this may chan­ge with Win7, but until then: good riddance!
Oh, and both audio ports are on the right side of the DELL — which is whe­re I pre­fer them. As for the spea­kers on both note­books — well, they work, but I've heard bet­ter spea­kers on note­books in the past. The sound on the Dell spea­kers is real­ly thin, only deli­vers high tones, almost no bass.
Power Sup­ply
The power sup­ply on the DELL is ligh­ter (450gr) and big­ger (!) than the one on the HP (519gr) — and comes with an LED that shows acti­vi­ty. The HP ps does­n't have an LED. Why? It's such a simp­le thing to add an acti­vi­ty LED on the power sup­ply and most other power sup­plies have such an LED.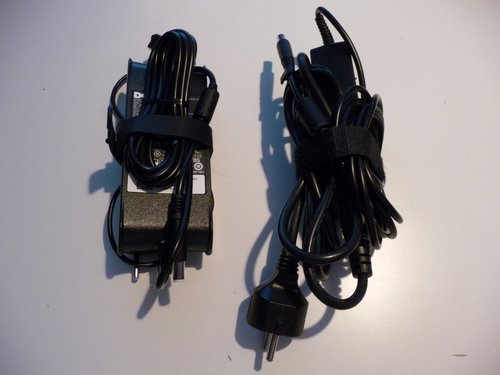 Left: Dell power sup­ply + cord // Right: HP power sup­ply + cord
The power cord that came ship­ped with this DELL is for the Ger­man mar­ket (I orde­red the UK ver­si­on though) and is as slim as pos­si­ble. I had actual­ly scan­ned eBay for power cord alter­na­ti­ves for my HP the other day becau­se this simp­le power cord adds weight to the power sup­ply. So the advan­ta­ge of the slim­mer HP ps is gone just becau­se it came ship­ped with this bul­ky & stubborn cable. Argh…
I wish the­se note­book manu­fac­tu­rers would come up with smal­ler & ligh­ter power sup­plies. They will pro­bab­ly never have the magne­tic plug as seen on recent Apple Mac­Books due to Apple not licen­sing this to others, but any pro­gress on the size, plugs and weight would be high­ly appreciated.
Ano­t­her gre­at fea­ture on the Dell are the sta­tus LEDs on each Dell bat­te­ry. In case of doubt, just press the but­ton and the­se LEDs will ini­di­ca­te the char­ging sta­te. You won't find this on HP batteries.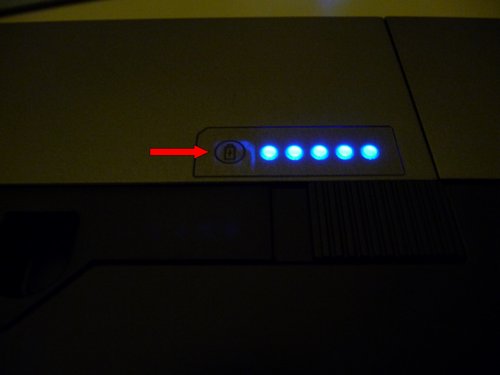 LEDs on the Dell battery
Ver­dict
Now that I've used both note­books I am temp­ted to go for the DELL. The 4 USB ports, the LED screen (= bet­ter bat­te­ry run­ti­me), less weight (DELL = 2.273gr, HP = 2.424gr) and third mou­se but­ton are qui­te a tempt­ati­on. It also has the necessa­ry soft­ware solu­ti­ons to adjust this note­book to much more spe­ci­fic tasks, e.g. how the bat­te­ry should be char­ged (and when it should­n't!) and what you can set wit­hin the BIOS (as com­pa­red to the HP which is rather basic com­pa­red to the DELL).
I think the only rea­son that pre­vents me from swap­ping note­books is that I like my HP and have lear­ned to live with its flaws. It's alrea­dy ful­ly adjus­ted, I do have a docking sta­ti­on and chan­ging ever­ything would inde­ed take some extra time. The HP also feels bet­ter built with almost no flex on the body which is qui­te important to me. You will noti­ce the thin metal pla­te on the DELL that makes the bot­tom cover. It just isn't as rock solid as the one on the HP.
For ever­yo­ne else who's still loo­king for a nice lap­top that needs to come along on tra­vels, is "power­ful enough" and who­se user has­n't been infec­ted with the Apple Mac­Book virus, the Dell E6400 may be the bet­ter alter­na­ti­ve. Espe­cial­ly sin­ce the­re are dea­lers online who sell refur­bis­hed note­books for almost half the pri­ce of a new notebook.
In any case: for a coun­try like Kenya, any note­books with a matt LED screen may be bet­ter than one with a matt CCFL screen. Glos­sy screens are a no-go and *may­be* only accep­ta­ble on MacBooks.
The reviews I've lin­ked to abo­ve rated the Dell at 87% and the HP at 86%. This rating is very simi­lar to what I felt while reviewing this Dell as it is slight­ly bet­ter than the HP (main­ly becau­se of the con­nec­ti­vi­ty and the LED screen).
Dell Lati­tu­de E6400
+ real­ly bright LED dis­play, average viewing angles, nor­mal colours
— bot­tom cover a bit too thin
+ opti­mi­sed bat­te­ry runtime
+ bat­te­ry rech­ar­ge point can be set
+ good weight, small size
+ light power supply
+ decent key­board, touch­pad and touch­point stick; third mou­se button
+ good web­cam @ 0.3mpx
+ wwan capabilities
+ mul­ti­ple BIOS set­tings possible
+ both RAM slots acces­si­ble from the bottom
+ fin­ger print rea­der next to the key­board (if installed)
+ 4 USB ports!
+ dis­play port
+ char­ge meter on the battery
— no icons next to the key­board that indi­ca­te the posi­ti­on of ports
— illu­mi­na­ted key­board only avail­ab­le with spe­cial key­board (+ 30 EUR)
HP Eli­te­Book 6930p
+ stron­ger body, almost no flex, real­ly nice to handle
+ average CCFL dis­play with good colours but nar­row viewing angles, has some light leaka­ges on the bot­tom row
+ two (ste­reo) micro­pho­nes (with holes on both sides of the display)
+ decent key­board, touch­pad and touch­point stick; touch­pad but­tons could be more responsive
+ (good) web­cam @ 2.0mpx, but without any addi­tio­nal soft­ware except for a simp­le HP web­cam application
— HP Pro­tect Tools = bloatware
— only avail­ab­le with a bul­ky power cord
+ wwan capabilities
— wwan (umts modem) only acti­ve while main bat­te­ry inserted
— dis­play lock is a failure
— irri­ta­ting indi­ca­tor lights (LEDs) on top of the keyboard
— 1 RAM slot hid­den under­ne­ath the key­board, the other RAM slot acces­si­ble via a bot­tom cover
+ cross­tip screws on the bot­tom indi­ca­te the parts that may be exch­an­ged without losing war­ran­ty, all other screws Torx
+ 3 USB ports
— too much play on the battery
— no icons next to the key­board that indi­ca­te the posi­ti­on of ports
+ illu­mi­na­ted key­board, bet­ter than on the Leno­vo T400 as it does­n't blind the user
+ ope­ning ang­le of the dis­play > 180°
+ HDD case pro­tec­ted & G‑Fall sensor
Bat­te­ry run­ti­mes can't be com­pa­red as both machi­nes come with simi­lar, but still dif­fe­rent spe­ci­fi­ca­ti­ons (both on 6‑cell bat­te­ries), whe­re­as the big­gest dif­fe­rence is the inte­gra­ted gra­phics chip and an LED screen on the Dell while the HP comes with a dis­cre­te ATI gra­phics card and a CCFL screen. Tha­t's a dif­fe­rence of around 2–3h bet­ween both machi­nes. So if you'­re into maxi­mum bat­te­ry run­ti­me, go for a note­book with a matt LED screen and inte­gra­ted gra­phics card (Intel Gra­phics Media Acce­le­ra­tor 4500MHD).
The dis­cre­te gra­phics chip on my HP is an ATI Mobi­li­ty Rade­on HD 3450 which is sup­po­sed to be bet­ter, but then: you won't noti­ce the dif­fe­rence unless you'­re play­ing games (and this does not inclu­de recent games which won't run on the HP). So in doubt, I'd recom­mend the Intel GMA 4500MHD over to the ATI. You'll be rewar­ded with a lon­ger bat­te­ry runtime.
I also made sure that the Dell comes with a WXGA+ screen. This hig­her reso­lu­ti­on may not be sui­ta­ble for every user as dots per inch are around 127dpi, but you'll be able to dis­play much more con­tent at once. With Vis­ta or Win7, fonts on the dis­play may also be adjusted.
The­re are docking sta­ti­ons avail­ab­le for both machi­nes — the one for the Dell even has two sepe­ra­te DVI‑D ports, so you could actual­ly con­nect two desk­top screens to the notebook.
The Dell or the HP? I'd say it depends on what you need the­se com­pu­ters for. The real­ly inte­res­ting part about the­se note­books though is that they'll be around for the next 2–4 years, while a fan­cy low-bud­get Acer Time­li­ne note­book won't. Which means you can buy eit­her the Dell or the HP, take them to Afri­ca and get spa­re parts even after the first bat­te­ry died. If the­re is only one thing I could chan­ge on both machi­nes, then I would pro­bab­ly chan­ge the fan inta­ke from the bot­tom to the side of the frame — and also make it acces­si­ble for the user so that it may be clea­ned anytime.
(Dis­c­lai­mer: pic­tures taken in the living room of our landlord… :-)