Anyo­ne remem­bers Ire­ne's old (refur­bis­hed) DELL Lati­tu­de C600 (750 MHz, 256 MB RAM, 20 GB HDD, 14,1″ TFT) laptop/notebook ?
Well, one day it fell down and the hin­ge + cover bro­ke at the right side — a pro­blem a lot of note­books have as parts like the hin­ges, their covers and the TFT dis­play often bra­ke on note­books. As a con­se­quence of this, spa­re parts for such pro­blems are avail­ab­le on Ebay & Co. but requi­re a litt­le invest­ment in terms of at least US-$ 30 and if the bat­te­ry is also run down, it does­n't make sen­se to invest more money in an older machi­ne. In case you have no other (sta­tio­na­ry) use for such an inmo­bi­le com­pu­ter (print/file ser­ver, rou­ter, etc.), it is wiser to sell it as a bro­ken item for tho­se guys who are wil­ling to refur­bish it again or use the remai­ning parts to repair other notebooks.
Sin­ce Ire­ne did­n't have any pro­per use for it, and sin­ce she did­n't have the time to sell it local­ly, she gave it to her mother who took it back to Kenya and from the­re I picked it up and took it with me to Ger­ma­ny. Ima­gi­ne this note­book has tra­vel­led many many miles just to be repaired!
Hin­ges for DELL note­books are expen­si­ve — I fol­lo­wed some auc­tions on Ebay and rea­li­zed that I'd be too gree­dy to invest some­thing like EUR 30,- ++ for a (2nd hand!!) hin­ge — a part which con­sists of poor alu­mi­ni­um and isn't that big. The jua kali spi­rit in me sug­gested some­thing different…
While chat­ting with Hash last night, I rea­li­zed I could use a TUSKER bot­t­le cap to repair that hinge.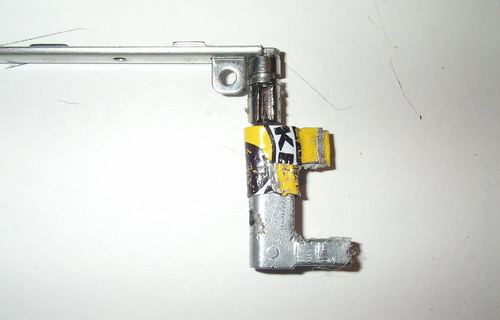 The bot­t­le cap of cour­se pro­ved to be too small — alt­hough I have to admit I was dying to see a TUSKER item being used for the repa­ra­ti­on of the bro­ken hin­ge. Well, may­be next time.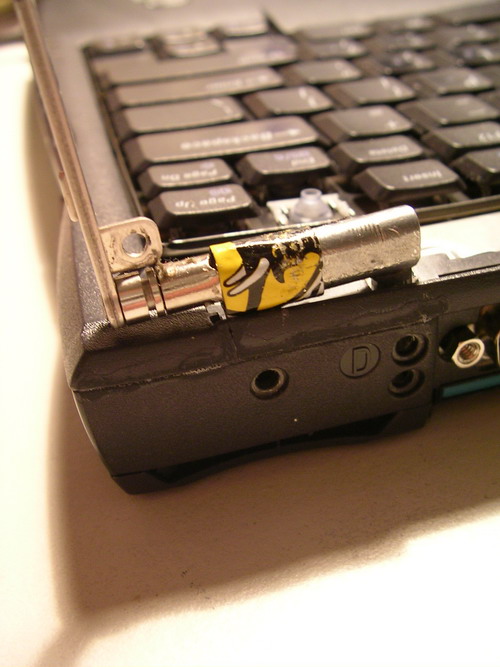 The next pie­ce of (ma)bati I sigh­ted in the kit­chen was an old coo­kie box — for some ppl tha­t's just rub­bish but for me it equals a source of clean, thin sheet metal that I could use for the repair.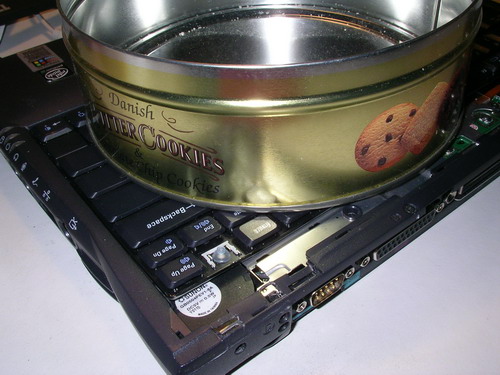 I cut out the desi­red size, dou­ble-laye­red it (to impro­ve stability).…
…and used flat pliers to mold it around the remai­ning parts of the hinge.
After some small adjus­t­ments, the "new" hin­ge just fit in per­fect­ly well:
Two screws and some glue add to the stability…
It isn't THAT strong of cour­se, but com­pa­red to what it loo­ked like befo­re, it just works and tha­t's all I wan­ted to achieve.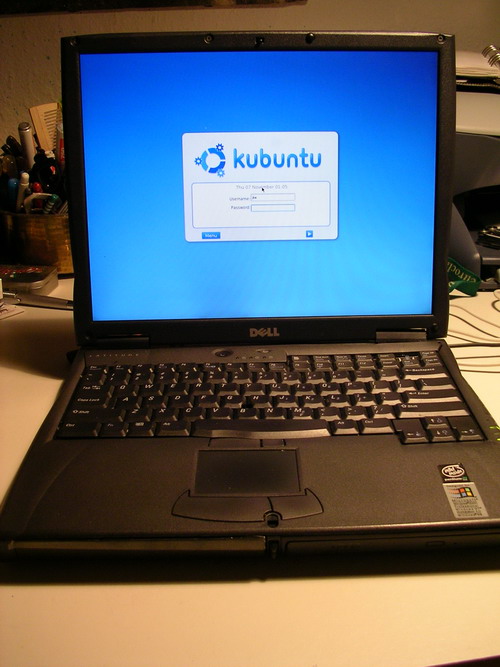 DELL Lati­tu­de C600 + Kubun­tu. Per­fect!
Now, anyo­ne in need of a refur­bis­hed notebook? :-)