Anyone remembers Irene's old (refurbished) DELL Latitude C600 (750 MHz, 256 MB RAM, 20 GB HDD, 14,1″ TFT) laptop/notebook ?
Well, one day it fell down and the hinge + cover broke at the right side – a problem a lot of notebooks have as parts like the hinges, their covers and the TFT display often brake on notebooks. As a consequence of this, spare parts for such problems are available on Ebay & Co. but require a little investment in terms of at least US-$ 30 and if the battery is also run down, it doesn't make sense to invest more money in an older machine. In case you have no other (stationary) use for such an inmobile computer (print/file server, router, etc.), it is wiser to sell it as a broken item for those guys who are willing to refurbish it again or use the remaining parts to repair other notebooks.
Since Irene didn't have any proper use for it, and since she didn't have the time to sell it locally, she gave it to her mother who took it back to Kenya and from there I picked it up and took it with me to Germany. Imagine this notebook has travelled many many miles just to be repaired!
Hinges for DELL notebooks are expensive – I followed some auctions on Ebay and realized that I'd be too greedy to invest something like EUR 30,- ++ for a (2nd hand!!) hinge – a part which consists of poor aluminium and isn't that big. The jua kali spirit in me suggested something different…
While chatting with Hash last night, I realized I could use a TUSKER bottle cap to repair that hinge.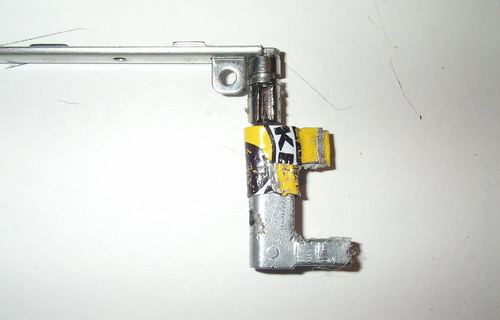 The bottle cap of course proved to be too small – although I have to admit I was dying to see a TUSKER item being used for the reparation of the broken hinge. Well, maybe next time.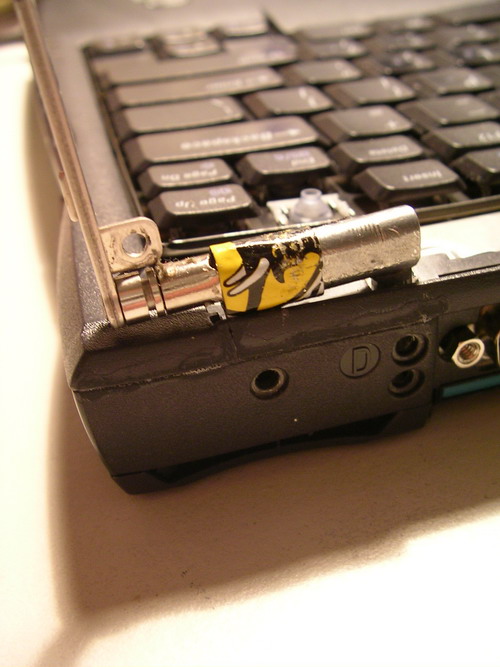 The next piece of (ma)bati I sighted in the kitchen was an old cookie box – for some ppl that's just rubbish but for me it equals a source of clean, thin sheet metal that I could use for the repair.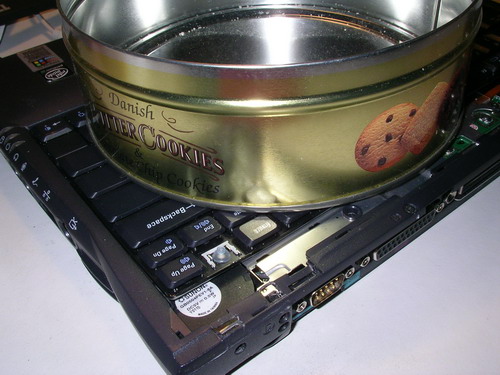 I cut out the desired size, double-layered it (to improve stability)….
…and used flat pliers to mold it around the remaining parts of the hinge.
After some small adjustments, the "new" hinge just fit in perfectly well:
Two screws and some glue add to the stability…
It isn't THAT strong of course, but compared to what it looked like before, it just works and that's all I wanted to achieve.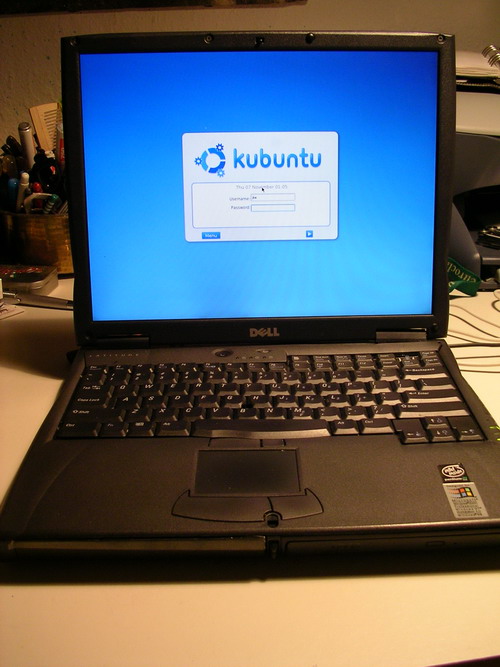 DELL Latitude C600 + Kubuntu. Perfect!
Now, anyone in need of a refurbished notebook? :-)