I've even­tual­ly sett­led for a decent machi­ne and mana­ged to secu­re this (new!) note­book via Ebay (DE) — a HP nx8220 (PY522ET) with the fol­lowing specs:
cpu & chip­set: Pen­ti­um 750 M (1,86 GHz, Dothan) & Mobi­le Intel 915 PM Express Chip­set (Sono­ma)
hard disk dri­ve: 80 GB (Fujitsu…well.…at least they tried..) with shock adsor­bers in form of a rub­ber frame (simp­le but effective)
ran­dom access memo­ry: 2x 512 MB = 1024 MB
Gfx: ATI Mobi­li­ty Rade­on X600 with 128 MB RAM
dis­play: 15,4″ Wide­s­creen with 1280x800 (WXGA) with light sensor
con­nec­tions: 3x USB, Fire­Wire, Modem, Gb LAN, WLAN b/g, Blue­tooth 1.2, IR, VGA, TV-out, spea­kers, line-out, head­pho­nes, mic (!), PCMCIA II, Smart­Card rea­der (online banking)
media: DVD/CD Bur­ner (no dou­ble-lay­er though), SD/MMS card rea­der (2in1 only),
weight & size: 2.8 kgs, 2.8 x 35.5 x 25.9 cm (1.1″ x 14.0″ x 10.2″)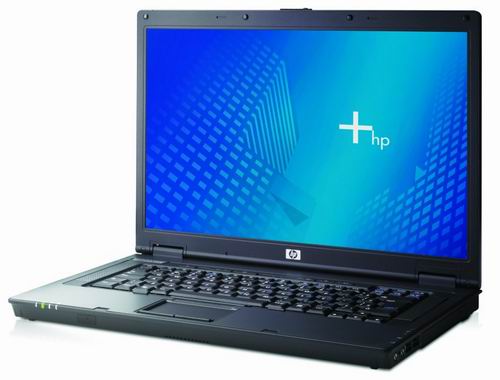 I bought this note­book for the fol­lowing reasons:
key­board: the initi­al rea­son why I nee­ded to sett­le for an HP note­book — they just have the best key­board on their note­books as the CTRL and FN keys aren't swap­ped like on Think­Pad. For tho­se die-hard Think­Pad users, the BIOS also allows to chan­ge the key set­tings. Every key is in it's place and whe­re I'm used to it from my desk­top PC.
size: it's com­pa­ra­tively thin and not too hea­vy with the power supply
qua­li­ty: the hin­ges are made of steel — just like on Think­Pads (IBM/Lenovo) and the frame insi­de is made out of alu­mi­ni­um. Of all com­pe­ti­tors, this one comes clo­se to IBM quality.
dis­play: no glare/shiny dis­play that dis­tracts me from con­cen­tra­ting on the screen's content
bat­te­ry run­ti­me: 3–5 hrs are pos­si­ble with this note­book — it even has a built-in light sen­sor that detects the sur­roun­ding light-sources and adjus­ts the bright­ness of the screen accordingly
cpu: I actual­ly wan­ted to go for a new Intel Duo Core but soon figu­red that — alt­hough they are bet­ter — the­se new CPUs drain more ener­gy from the bat­te­ry. I think I'd have to wait ano­t­her year until the sys­tem beco­mes opti­mi­zed. A Pen­ti­um M machi­ne should do as well. After all, it's still fas­ter than my desk­top PC (AMD Ath­lon XP 2000+ @ 1.66 Ghz + 1024 MB RAM).
packa­ge: "Don't over­buy tech­no­lo­gy", as Ste­ve put it. I think tha­t's true and while I real­ly con­si­de­red going for a used, light-weight IBM Z61t (2,0 GHz Pen­ti­um M, 1280x768, 80 GB HDD, 512 MB RAM) for just 900,- EUR or even a Duo Core machi­ne for some­thing like EUR 1200,-, I found this machi­ne for even less. And it's new — no old machi­ne with an over­char­ged bat­te­ry to deal with and a valid XP Prof licence (no free MSDNAA stu­dents licen­ces avail­ab­le at my facul­ty any more). Ubun­tu also runs on this machi­ne, alt­hough I was thin­king about put­ting it in a vir­tu­al envi­ron­ment only.
pri­ce: for some­thing under EUR 900,- inclu­ding ship­ping a rea­son­ab­le pri­ce via Ebay as it still sells for some­thing slight­ly abo­ve EUR 1.000,- (alt­hough out of production!).
etc: A well-docu­men­ted, often sold machi­ne for the busi­ness user — spa­re parts are avail­ab­le world-wide, a hig­her qua­li­ty than low-end con­su­mer note­books (with even more mul­ti­me­dia func­tions). I might also chan­ge the dis­play if the nor­mal WXGA reso­lu­ti­on does­n't suf­fice in the long run — spa­re dis­plays with WSXGA+ (1680 x 1050) are avail­ab­le for some­thing like EUR 150,-. Sin­ce it has been on the mar­ket for qui­te some time, I expect this machi­ne to be trou­ble-free to some extent and being able to down­load matu­red dri­vers and BIOS soft­ware from HP's web­site. Blue­tooth func­tio­n­a­li­ty has been important to me as it's this way that I con­nect my mobi­le to the com­pu­ter and I am tired of car­ry­ing extra USB don­gles around with me. Manu­als are avail­ab­le for down­load, even tho­se on "how to dis­mant­le" ever­ything — upgrading won't be a pro­blem (alt­hough one memo­ry modu­le is right under the key­board — the other one at the bot­tom side) and the DVD Bur­ner even comes in form of a Mul­ti­Bay dri­ve = can be remo­ved any­ti­me and even exch­an­ged with a bet­ter model. Due to its good sales per­for­mance in the past year, this model is still high­ly appre­cia­ted on the mar­ket for 2nd hand note­books — so even sel­ling it by next year might return at least 60% of the investment.
The only (hard­ware) down­si­de I've expe­ri­en­ced so far is that the inter­nal card-rea­der does­n't like SONY's Memo­ry Stick Duo Pro, so I'll have to stick to a Nokia mobi­le in future as the newer Noki­as come with a (smal­ler) RS-MMS card (and Sony Erics­son mobi­les with this Memo­ry Stick). But sin­ce I am a fan of Nokia any­ways, this should­n't be a problem.
I am hap­py that I even­tual­ly deci­ded for a note­book and that it works the way it's sup­po­sed to be. Good qua­li­ty and trans­por­ta­bi­li­ty are important issu­es for me as well as a decent bat­te­ry run­ti­me. The­re's no need for a fan­cy mul­ti­me­dia machi­ne, if it only lasts for 2h maxi­mum while without any exter­nal power sup­ply. And if you'­ve ever expe­ri­en­ced a power fail­u­re, you'll defi­netely appre­cia­te a bat­te­ry run­ti­me of 4hrs. Now I am curious to see how it works under dai­ly hea­vy use and if the­re are any tem­pe­ra­tu­re pro­blems. The­re's a BIOS set­ting that enab­les the fan to run at low speed right from the start — which seems to be good to keep tem­pe­ra­tures down in the long run. Also, I am hap­py that I resis­ted from buy­ing too new tech­no­lo­gy and ins­tead went for this older machi­ne. Buy­ing some­thing for such an amount is a lot of money for someo­ne without a regu­lar inco­me and you never know — it might get sto­len or even bra­ke so I am hap­py I did­n't invest too much money. I know the­re are a lot of ppl that just buy lap­tops becau­se they like to have their com­pu­ter with them alt­hough they actual­ly don't need to do much on the machi­ne — at least, not­hing real­ly important they could­n't do in an inter­net café. I'll need this machi­ne for run­ning GIS and CAD progs and use Excel for some hydro­lo­gi­cal data. The wide­s­creen comes in han­dy for working with spreads­heet data as it allows to dis­play even more colum­ns. Ano­t­her use will be pic­tu­re edi­t­ing, some web­de­sign rela­ted stuff and 2–3 games, so I think this machi­ne will be used to reve­al its full potential.
Instal­la­ti­on: The note­book came pre­instal­led with a sin­gle par­ti­ti­on (wth??!) and lots of bloat­wa­re such as Nor­ton Anti­vi­rus and other con­su­mer stuff. For­tu­n­a­te­ly, they left out any AOL add-on which would have been a rea­son to send this back to HP. Will have to make a clean WinXP set­up and install my own progs.
What I real­ly LIKE about this machi­ne is the inter­nal Blue­tooth. It even sup­ports a head­set pro­fi­le — mea­ning: I can talk to someo­ne while using BT = the mobi­le can be some­whe­re else in the room and I'll be using the BT con­nec­tion to use the MIC and spea­kers of the note­book to com­mu­ni­ca­te. A per­fect tech­no­lo­gy when you'­re in remo­te are­as whe­re the­re are only limi­ted cel­lu­lar net­works / poor recep­ti­on of the base signals. Put your mobi­le some­whe­re up on the win­dow and use the note­book to pho­ne. Simp­le as that! ==> It even trans­mit­ts MY VERY OWN ring­to­ne from the mobi­le onto the spea­kers of the note­book. Ok, call me out­da­ted, but this works MUCH bet­ter than any USB BT don­gle. Cooooooooooooooool!
@Steve: pole, no Think­Pad this time :-D