Why do ppl use the calen­dar on Micro­soft (Office) Out­look? — Becau­se it runs on their place of work and syn­cs with their PDAs.
In my case: I use MS Out­look under WinXP (at home) to sync the address book on my mobi­le pho­ne (des­pi­te of online ser­vice as men­tio­ned ear­lier). I could just as well use an alter­na­ti­ve e‑mail cli­ent, but I am using MS Out­look (under XP, that is).
The­re's this col­league of mine who uses an MS Excel sheet to mana­ge his appoint­ments. Need­les to say that the­se she­ets are on his com­pu­ter only and remain there.
We reques­ted him to open up his calen­dar to the who­le team but he has­n't done so sin­ce then.
I am not the one to com­p­lain about this becau­se I am also hard­ly ever using that MS Out­look calen­dar at work.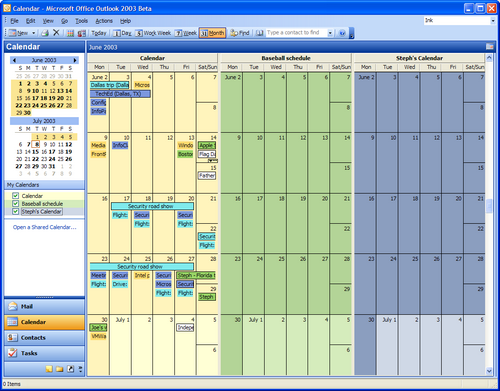 screen­shot of a calen­dar @ MS Out­look 2003
The other day an old friend of mine (who hap­pens to work in the same orga­niz­a­ti­on) asked me if I'd like to have lunch with him. Now, ins­tead of just accep­t­ing my "OK", he then pro­cee­ded and sent me a request for the Out­look calen­dar. Sin­ce we both work at the same com­pa­ny, sin­ce we'­re both using Out­look to orga­ni­ze our sche­du­les, sin­ce he has a com­pa­ny pho­ne that syn­cs with our MS Exchan­ge ser­ver — all of this makes sen­se (for him).
Howe­ver — I am not using a com­pa­ny pho­ne. And I do pre­fer run­ning a paper ver­si­on of my calen­dar. If it had to be an elec­tro­ni­cal ver­si­on, I would love to have one that:
syn­cs with just about any pho­ne / PDA / etc.
syn­cs with any cor­po­ra­te IT struc­tu­re & their regulations (!!!!)
is an all-in-one solu­ti­on for pri­va­te and pro­fes­sio­nal contacts
has a public and pri­va­te section
Goog­le Calendar…is it a sui­ta­ble alter­na­ti­ve for my needs?
And: a request for an open syn­chro­ni­sa­ti­on — is that due to MS Exchan­ge or the ina­bi­li­ty / unwil­ling­ness of our IT dept. to unlock this spe­cial mode due to secu­ri­ty rea­sons & co? What is MS Exchan­ge capa­ble of and what kind of ser­vices are used? What is requi­red so that users from dif­fe­rent orga­ni­sa­ti­ons can have one tool online that mana­ges their sche­du­les and still syn­cs with all dif­fe­rent sys­tems? Which sys­tem does­n't requi­re one sin­gle ser­ver but ins­tead just syn­cs dif­fe­rent ser­vers & user data to a glo­bal net­work? Which sys­tem (mabye Zim­bra?) enab­les me to sent a request for an appoint­ment to a user that isn't con­nec­ted to our MS Exchan­ge server?