There's this lady who was recently forced to buy a new mobile phone as her old one had decided to go into early retirement.
With the option of storing names + numbers on a SIM card, the transition between two phones should be relatively easy. Storing capacities for SIM cards depend on what the network provider estimates as being sufficient for it's customers: whereas Vodafone Germany for some particular reason keeps on issuing SIM cards that can only store 200 names + numbers, Safaricom in Kenya (which is partly owned by the Vodafone empire) gave me one for storing up to 250 names and numbers.
Being able to store 100, 150, 200 or even 250 names+numbers on your phone, most ppl will argue, may be enough for the average user. On my phone, for instance, I used to have around 240 entries, whereby some contacts come with 2-3 different numbers and an e-mail address. Copying such a telephone book from the phone's internal memory onto the SIM card results in having one entry for each number:
e.g. Kamau Njoroge ; +254720123456 ; +491701234567
would turn into something like
Kamau Njoroge1 ; +254720123456
Kamau Njoroge2 ; +491701234567
Obviously, such a scenario (and the reality with most phone users!) isn't very user-friendly. Another option is installing the synchronisation software that comes with most phones and creating a backup from the old phone, which is then copied onto the new one. And if you're changing from brand A to brand B, compatibility issues may appear, as not all synchro programs are compatible. This actually is one of the reasons why many ppl out there are using MS Outlook – the common denominator for most Personal Information Manager (PIM) needs, as most mobile phone synchronisation programs are (at least) compatible with MS Outlook.
Another possible scenario is that your phone is lost or even stolen: while a phone is exchangeable, valuable contacts and important numbers often aren't.
So instead of being forced to live with a crooked telephone book on your phone that is vulnerable to a) strange storing options on an relatively old system of SIM cards (which just allow one number per name), b) the loss of important data in case of theft, loss of equipment and c) the dependency on a commercial PIM solution (~ MS Outlook is shipped with MS Office), there's another beautiful workaround: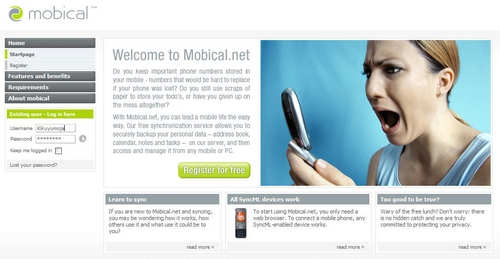 While not all phones are compatible with these services, what mobical.net and zyb.com actually offer as a basic + free service is that they allow you to completely backup your private data such as contacts, calendar entries, bookmarks, etc (no multimedia content) over the air with a synchronisation service.
Earlier last week, my new N95 had developed a problem where I had to return it to a Nokia Service Center for an exchange of the display. Fortunately, I still had an old phone around – but with an empty telephone book. This used to be a problem in the past, as I had already given up on using the SIM card as an interim storing option due to the simple fact that the SIM card was way too small for my +370 entries on the phone. The last time I synchronised my N95 with the computer, I eventually merged the phone book with the e-mail address book on my computer, resulting in a huge directoy of entries on both my phone and the computer which isn't compatible with any SIM card and it's limited storing options.
Now, while using mobical.net (and zyb.com as a much more interesting alternative), I was able to restore MY address book (with numbers, email & postal addresses) within 2 minutes. No need to connect the different phones to my computer (whereas the N95 wasn't working after all, so this option wasn't available at all), no need to install the different software packages that came with the phones – all I did was surfing on the website, selecting my phone model, asking for the synchronisation settings which were sent to my phone over the air (ota) and hitting the "synchronise now" button. The beauty is that these services actually work!
In a world where we are witnessing an almost logarithmic increase of digital data every day (~ managing e-mails, documents, contacts, etc.), it makes sense to draw a clear line between your personal data and any used hardware.
That lady I mentioned earlier was completely grounded for a few days as her old phone (an old SE 610) had a faulty joystick (a typical SonyEricsson "disease") which, on this particular model, is directly soldered to the printed circuit board and wasn't exchangeable. She eventually managed to access her old phone book, though, using some strange shortcuts on the still-working keypad. It took her something like 2 to 3h writing down all important numbers and another 2 to 3h re-entering those on the new phone.
With the use of a service like mobical.net (Update: now called everdroid.com), this could have been done within 2 minutes.
—————-
I am actually wondering why the two global players Google and Yahoo! still haven't added this function to their web-based freemail services. Considering the mobile phone sector being such a fast growing market and the actual need to further develop more useful applications for this IT platform, such a service would really add value to the otherwise great services online and be a great help to the many, often already frustrated customers.
Me thinks that this is due to the "walled garden" policies we are witnessing online these days: he who controls the (user) data, also controls the market (e.g. facebook). A pity, actually, as the import and export interfaces of most applications still suck big times (im-/exporting bookmarks, im-/exporting feeds, im-/exporting contacts, etc).
Usability vs. marketing strategies?
Update August 2011 (yes!): Mobical.net is now called Everdroid and I'd recommend using them (especially if you're on an older S40 Nokia phone that doesn't support MS Mail for Exchange). Zyb.com was at one point in 2008 or 2009 (?) acquired by Vodafone which has since then sucked it into their empire. Whatever. So if you're still using an older phone and/or do not yet sync your contact data with your Gmail account (MS Exchange on Nokia and the iPhone, or natively on Android devices), Everdroid may be your best option. I trust them (since 2007).
Please remember that a service like Everdroid is not the same as directly syncing your phone with Gmail. If your phone is listed here http://www.google.com/mobile/sync/, try these options. If not, then you're better of with Everdroid (which is based on the sync protocol, unlike this Gmail mobile sync thing which is rather insufficient in my mind. Hey, we're having 2011 now…).