Kenya.
I do not under­stand why ppl are was­ting their time online at various forums, sprea­ding hate­ful comments on this or that group. Just like KP, I've also dele­ted some comments here which were just too insul­ting. I take it that tho­se who have mana­ged to get online are smart enough to draw a line bet­ween the things that need to be said and tho­se that aren't shared with the rest of the world. If you are having some aggre­ga­ted anger — keep it to yourself or go and do some sports.
And belie­ve me, I am also extre­me­ly pis­sed at the (cur­rent) situa­ti­on in Kenya. Hell, ever­yo­ne is! Rela­ti­ves are tel­ling me: Thx God you'­re not in EAK the­se day, JKE. Oh, well.… what do you do when things are brea­king up and you'­re fee­ling so damn hel­pless becau­se all you can do is dona­ting money and pray­ing that this "cri­sis" will soon come to an end?
"Ger­ma­ny", my Aus­tri­an landlord told me today, "is a coun­try whe­re ppl aren't direct­ly hel­ping each other. Only through anony­mous donations…upon which they will recei­ve a (tax exemp­ti­on) rece­i­pt." Hmm­mm. I know many other cases whe­re this assump­ti­on doesnt app­ly to — but com­ing back to Ger­ma­ny, I am remin­ded of this issue ppl had after WW2 when the fol­lowing genera­ti­on asked the same ques­ti­ons: what did YOU do to pre­vent this? Real­ly nothing?
Fast for­ward in 2008+. Let's hope that moods will have sett­led a bit by then and that busi­ness is "back to usu­al". What will hap­pen to tho­se who did cri­mes? Will they be able to live with this guilt? Or will they come up with the infa­mous "i was obses­sed with dae­mons" phrase?
And what will hap­pen with tho­se who lost rela­ti­ves and pro­per­ty during the recent "post election"-violence? For­gi­ve and forget?
…
Fuck.
I wan­ted to blog my new Lea­ther­man sheath and I end up tal­king about Kenya again.
Ok. *cough*
Remem­ber my Lea­ther­man Wave 2004 sheath issue? Well, in 2005 I had bought a suc­ces­sor to my old LM Wave (pre 2004 model) which came with a bits­et. Unfor­tu­n­a­te­ly, both the LM Wave mul­ti-tool and the bits­et do not fit into the sheath that came deli­ve­r­ed with the tool (or rather: it was way too bul­ky), so I ended up making my own version: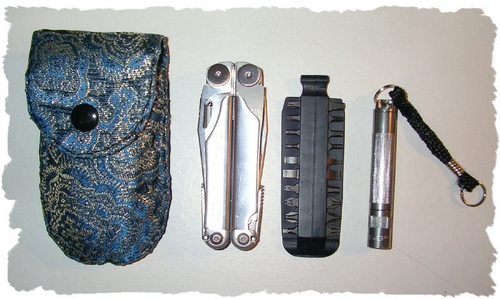 #1 attempt (the­re's Ken­y­an can­vas under­ne­ath the blue brocade!)
As for the AAA­ma­g­li­te: who needs this in times of lumin­ous LEDs? Dismissed.
#2 attempt i've used this ver­si­on up to today.
After almost two years of dai­ly usa­ge and various trips, this very same cover now loo­ks like this: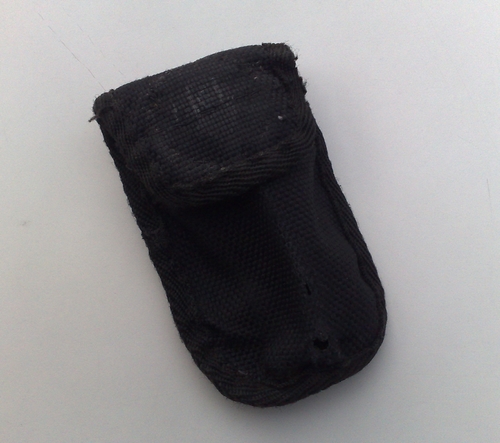 Can you see dim holes, maa­an? Pret­ty useless like this, as the front cover may fall apart any day soon. So I was in dire need of a sui­ta­ble sub­sti­tu­te. Che­cked the inet again for alter­na­ti­ve solu­ti­ons, but not­hing see­med to be right. Then i pop­ped into a bun­du­ki-sel­ling shop in Frank­furt Kai­ser­stra­ße today (which is like buy­ing arms in East­leigh) and found the right sheath bet­ween all tho­se Hato­ri Han­zo Samu­rai swords, air rif­les, hun­ting kni­ves and sca­ry 9mm pis­tols (btw, the­re's a new law in Ger­ma­ny the­se days which requi­res stric­ter set­ups — simi­lar to what used to be the rule @ the Fire­arms Depart­ment in Nbo ~ gun safe @home + having the OCS of the nea­rest poli­ce sta­ti­on com­ing over for inspec­tion, etc — so that many ppl are now desper­ate­ley try­ing to sell their rif­les & pis­tols for which they will never mana­ge to obtain a pro­per licence…):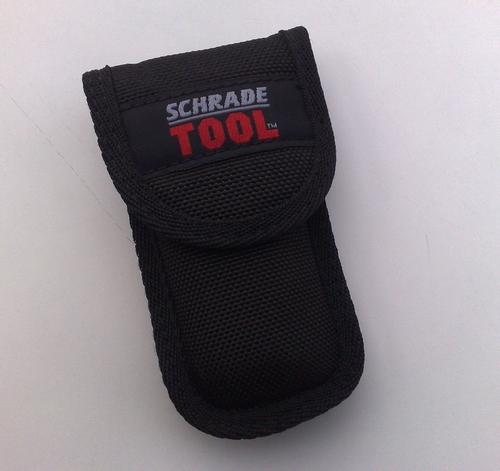 Voil? , attempt #3 in my quest for the ulti­ma­te tool sheath!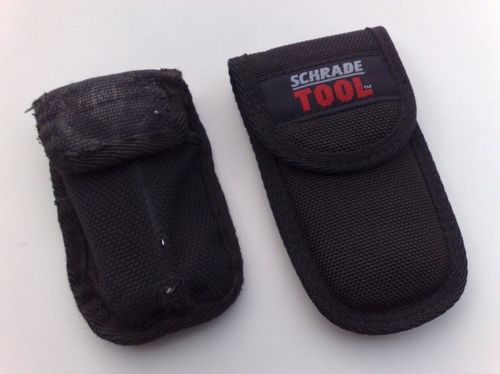 Old and New.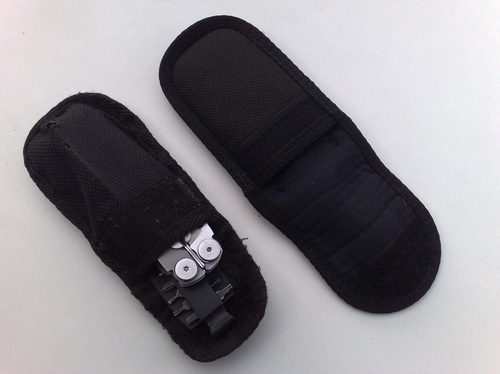 It fits, it works, it wins.