There are a million subjects one could blog about – and while I prefer those that add a value in some way or another, I sometimes get carried away to turn this page into a tumbleblog.
Social networking services like Twitter, Facebook or even the commented links on Delicious often help to substitute these tumbleblog-tendencies in me, but there's this question I've asked myself lately which just requires some feedback:
What's the best baggage (luggage, case, travel bag)?
Yeah, what kind of travel bag(s) are you using for your travels? Non-wheeled luggage? Wheeled luggage? 2-wheeled? 4-wheeled? Backpacks? Duffels? wheeled duffels? Sports Bags? Trolleys? Spinners?….aiii – the classification in itself is confusing to a point where you just end up thinking: no way, maaaan, anything spacious will do.
Well, does it?
Now, let me pls rule out that I am by no means going to use those *insert politically incorrect term here* bags for my luggage. At least not for my next flight! :-)
Having said that, let me tell you about my Koffer-history. I grew up on using 4-wheeled upright Samsonite lightweight suitcases. My father for some reason one day decided to go for more durable cases, and back then during the early 1970s, he decided to switch from old-fashioned, fibreglass 1960s styled cases to modern Samsonite suitcases.
These Samsonites used to be nice up until the early 1990s when more and more people started travelling and suddenly even the local supermarkets starting selling decent trolley systems. And while my old Samsonite actually weighs around 6kg alone when empty (!), it weighs around 30kg when filled with normal clothes. And hey! I am tall. Tall people have bigger clothes = need for space = *should* be allocated a higher luggage weight quota. Reaching those 20kgs is a pain whenever I pack my stuff together for a longer journey, and while I often end up having around 23kgs, I am always extremly annoyed about the fact that the box actually consumes a 1/4 of the allocated weight quota.
Clearly, something needs to be done about this.
Way back in 1997, I spent my first salary on a 2-wheeled Eastpak Warehouse travel bag like the one below.
This bag is just awesome as it offers a volume of 140 liters at a decent size of 84x45x38 cm. Yes, 38 cm width which means you can comfortably pull this bag on a narrow train aisle.
The downside of course is that there's a chaos in this bag (you can actually just throw everything in it and move on) and that the pulling-mechanism is somewhat annoying. If you're 6ft4 tall, all you want is long enough luggage so that you don't have to dislocate your shoulder whenever you want to reach for your luggage. And: this is Germany. We do have a lot of US-American brands on our market here, but there are many more interesting products from the States which aren't available here. The backpack for my 15,4″ notebook actually is a High Sierra model I was given by a friend last year who bought it in the States. Imagine I had checked ALL available laptop backpacks on sale in Germany, and none of them was good enough. Again, if you're a tall person, finding the right luggage that uses the space provided by a longer back may sometimes be a tedious taks.
Back to my bag which has been used intensively since 1997: Just the other day while flying to Sweden, I saw this older US-American couple in front of me who were apparently touring Europe and who had very nice trolleys. This trolley technology is just perfect, and when you look at how the market for travel accessories developed over the recent years, you'll see that more and more shops are offering those trolleys in different sizes, shapes, materials and weights.
So I started my search with the typical "what if I had enough money" question so see what's the best product out there – and then move on to a more affordable solution.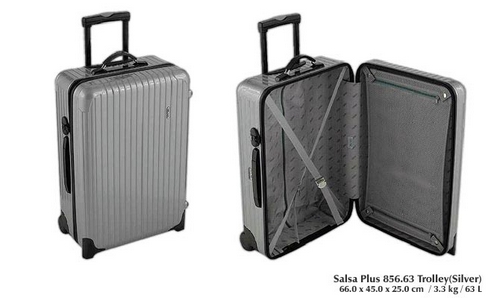 These RIMOWA trolleys, either made out of aluminium or polycarbonate are sexy indeed, but while the alumium ones only look good (and still weigh almost as much as their fibreglass counterparts from Samsonite, Delsey & Co), the polycarbonate ones are a wobbly affair. I just don't trust their stability as I've seen quite a few "refurbished" polycarbonate RIMOWAs for sale on ebay that all had the same problem: a broken corner. Quality? Well, RIMOWA gives a 30year guarantee on their products – which explains why you would spend at leat EUR 270,- on a 82l suitcase which just weighs 3,5 kgs. Nice gear, but not for me.
So I continued my search and came across this model by Eastpak (huuuh! again?) which basically looks like my older Eastpak bag with the difference that it's a little bit smaller (105l vs 140l) and comes with a few smart details such as the trolley function and separated compartments:

Eastpak Godfather L, 78x40x30cm, 105l, 3.8kg 4,8 kg! It's 4,8 kg instead of 3,8kg as declared on Eastpak's website & the flyers/badges that came shipped with this bag.
Is this my next bag for the coming years? Will my 3-weeks-luggage fit into this system and be my ultimate travel gear which I can pull from here around the rest of the world? That is: travelling for me includes everything from a comfy taxi ride, small aisles in trains, careless luggage handlers at airports to carrying this bag through never-ending stair cases and having it on my laps for a 5h ride in an over-crowded matatu. And then of course there's this hotel across town, which means I'll have to pull this baby through the neighborhood on never-ending streets with questionable sidewalks…
Obviously, trying to find the perfect equipment for a mixture of all those tasks is worth blogging – and a perfect distraction from other, much more important tasks that I am good at procrastinating (and which have kept me away from blogging lately, damn it..).
So what does your luggage look like? Any feedback is appreciated! :-)