Oh my…instead of finis­hing this one paper on sewa­ge sludge tre­at­ment pro­ce­du­res, I just can't stop thin­king about my new back­pack (!) and how gre­at it is that I've even­tual­ly sett­led for the right thing. Rea­sons for blog­ging this are a) no note­book deal would be com­ple­te without men­tio­ning other access­ories (like pcmcia tv cards, yeah!!) and the pro­per note­book case, and b) I had spent about three weeks in August sear­ching for a real­ly good, reli­able, spa­cious bag / case which would be good enough for my note­book & other items. Some­thing that needs to be a han­dy all-in-one solu­ti­on and come with me whe­re­ver I go. Some­thing that loo­ks good, but does­n't look like a note­book case. Sear­ching took a long time + I tor­tu­red most of my clo­ser friends with con­stant asking about what they think about this and that model. To make it short: I was obses­sed with loo­king for the per­fect bag.
I've found it.
Well, actual­ly I did­n't do that — it's MB who I had sent over the Atlan­tic, fly­ing to the US and spy­ing for inte­res­ting deals which aren't avai­la­boooool over here in Euro­pe. She cal­led me the other day from IL and said: "Look, we'­ve spent a who­le week sear­ching for a decent lap­top back­pack that matches your cri­te­ri­as, bought two, retur­ned both of them after some time and ended up with a sim­pooool Dico­ta neo­pren sheath. You are busy with some­thing else now and I've just found a very nice bag for you which cos­ts US-$ 49,99 plus IL-taxes. Shall I buy it for you?" — "Hell, yeah, of cour­se!".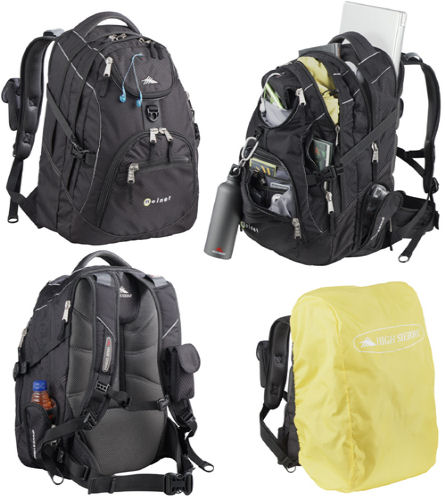 She bought the High Sier­ra "Access", car­ri­ed it from the US to DE and for­war­ded it to me. Ohhhhh, nice. You see, it isn't THE most per­fect back­pack, but it matches the fol­lowing important cri­te­ri­as that I could­n't find with avail­ab­le models over in DE and the­se are points which aren't men­tio­ned in pro­duct descriptions:
With 20″ x 15″ x 9,5″ it's LONG enough to fit my back. I am 6.3 feet tall and don't want to car­ry a brick on my back, but ins­tead some­thing long and slim which does­n't make me look like one of tho­se retar­ded & fat 30something still-living-at-home nerds (damn it, i am as picky as Paris when it comes to such issues)
2743 cubic inches equal some­thing around 45 liters. Now THA­T's much more than what I'd found over here. The only com­pe­ting model from Ger­man manu­fac­tu­rer Deu­ter, aptly named "Giga Office", only offers 32 liters, is shor­ter and loo­ks like a brick (see above).
It has many small pockets with dou­ble zip­pers = can be locked to pre­vent theft e.g. when someo­ne is wal­king behind you and try­ing to open the zips without you noti­cing it
It has a rain cover which also works as a pad­ding for valu­a­be items like the notebook.
Up to 17″ (or 15,4″ wide screen) note­books fit insi­de a pad­ded com­pu­ter sleeve
Comes with the usu­al pad­ded back and tuck-away waist belts which most modern back­packs have. Howe­ver, this one has good pad­ding — not too thick (= pre­vents swea­ting) and mas­si­ve. It also does­n't come with a stiff back like most other alter­na­ti­ve models have (the one I had bought befo­re was very nice with a mas­siv pla­te in the back but could­n't secu­re­ly pro­tect the com­pu­ter inside).
When you are car­ry­ing this model on only one — the right — shoul­der, the­re are moments you just want to pull it for­ward to access some pockets. Now this one has a zip­pe­red side water bot­t­le pocket and ano­t­her side zip­per which makes it qui­te easy to actual­ly use this back­pack effi­ci­ent­ly. Tha­t's one of tho­se points you only noti­ce once you are actual­ly using it and are for­ced to live with the pro­vi­ded back­pack design. Good!
It has a zip­per clo­se to the back side which allows you to ver­ti­cal­ly enter the note­book without pushing or even for­cing it insi­de. Most back­packs are nice and bla­bla­bla but lack this very simp­le zip­per — the user is for­ced to make room first of all until he can put the machi­ne insi­de his back­pack. With the zip­per in the back, the­re is direct access to the com­pu­ter sleeve.
It's small enough to fit into any cabin lug­ga­ge com­part­ment (important!) but still big­ger than my pre­vious BREE hand lug­ga­ge bag which has ser­ved me sin­ce 1993.
Any­ways, nice back­pack, good choice, gre­at pri­ce and big up to MB for sai­dia­ning mimi on this matter!