Oh my…instead of finishing this one paper on sewage sludge treatment procedures, I just can't stop thinking about my new backpack (!) and how great it is that I've eventually settled for the right thing. Reasons for blogging this are a) no notebook deal would be complete without mentioning other accessories (like pcmcia tv cards, yeah!!) and the proper notebook case, and b) I had spent about three weeks in August searching for a really good, reliable, spacious bag / case which would be good enough for my notebook & other items. Something that needs to be a handy all-in-one solution and come with me wherever I go. Something that looks good, but doesn't look like a notebook case. Searching took a long time + I tortured most of my closer friends with constant asking about what they think about this and that model. To make it short: I was obsessed with looking for the perfect bag.
I've found it.
Well, actually I didn't do that – it's MB who I had sent over the Atlantic, flying to the US and spying for interesting deals which aren't availaboooool over here in Europe. She called me the other day from IL and said: "Look, we've spent a whole week searching for a decent laptop backpack that matches your criterias, bought two, returned both of them after some time and ended up with a simpooool Dicota neopren sheath. You are busy with something else now and I've just found a very nice bag for you which costs US-$ 49,99 plus IL-taxes. Shall I buy it for you?" – "Hell, yeah, of course!".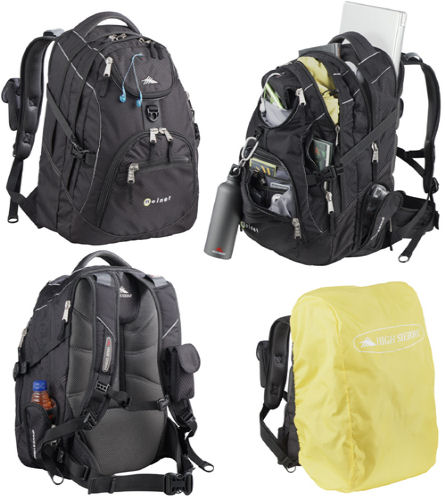 She bought the High Sierra "Access", carried it from the US to DE and forwarded it to me. Ohhhhh, nice. You see, it isn't THE most perfect backpack, but it matches the following important criterias that I couldn't find with available models over in DE and these are points which aren't mentioned in product descriptions:
With 20″ x 15″ x 9,5″ it's LONG enough to fit my back. I am 6.3 feet tall and don't want to carry a brick on my back, but instead something long and slim which doesn't make me look like one of those retarded & fat 30something still-living-at-home nerds (damn it, i am as picky as Paris when it comes to such issues)
2743 cubic inches equal something around 45 liters. Now THAT's much more than what I'd found over here. The only competing model from German manufacturer Deuter, aptly named "Giga Office", only offers 32 liters, is shorter and looks like a brick (see above).
It has many small pockets with double zippers = can be locked to prevent theft e.g. when someone is walking behind you and trying to open the zips without you noticing it
It has a rain cover which also works as a padding for valuabe items like the notebook.
Up to 17″ (or 15,4″ wide screen) notebooks fit inside a padded computer sleeve
Comes with the usual padded back and tuck-away waist belts which most modern backpacks have. However, this one has good padding – not too thick (= prevents sweating) and massive. It also doesn't come with a stiff back like most other alternative models have (the one I had bought before was very nice with a massiv plate in the back but couldn't securely protect the computer inside).
When you are carrying this model on only one – the right – shoulder, there are moments you just want to pull it forward to access some pockets. Now this one has a zippered side water bottle pocket and another side zipper which makes it quite easy to actually use this backpack efficiently. That's one of those points you only notice once you are actually using it and are forced to live with the provided backpack design. Good!
It has a zipper close to the back side which allows you to vertically enter the notebook without pushing or even forcing it inside. Most backpacks are nice and blablabla but lack this very simple zipper – the user is forced to make room first of all until he can put the machine inside his backpack. With the zipper in the back, there is direct access to the computer sleeve.
It's small enough to fit into any cabin luggage compartment (important!) but still bigger than my previous BREE hand luggage bag which has served me since 1993.
Anyways, nice backpack, good choice, great price and big up to MB for saidianing mimi on this matter!