Being extre­me­ly bored by wri­ting a paper on water qua­li­ty assess­ment gui­de­li­nes, which btw is some­thing I'd rater lea­ve to tho­se who get a kick out of inter­pre­ting the Euro­pean Water Frame­work Direc­ti­ve and it's app­li­ca­bi­li­ty in order to clas­si­fy water bodies in Ger­ma­ny, I cho­se some­thing else that I had been pro­cras­ti­na­ting for the last…uhmm.…20 years?
Fixing a woo­den cover on a Japa­ne­se stone lan­tern .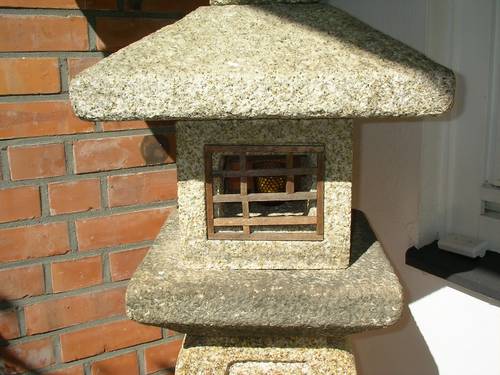 The­se Japa­ne­se lan­terns actual­ly come without such covers, but it somehow loo­ks bet­ter and also reminds us of the sho­ji, a tra­di­tio­nal "room divi­der or door con­sis­ting of trans­lucent washi paper over a woo­den frame" as found in tra­di­tio­nal Japa­ne­se architecture.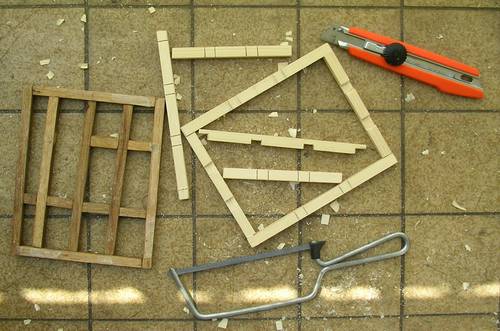 I love working with natu­ral mate­ri­als, and I some­ti­mes think I should have cho­sen ano­t­her path in my life. Doing an appren­ti­ce­ship on car­pen­try, for instance, ins­tead of lear­ning to beco­me an indus­tri­al mana­ger & stu­dies in water and soil manage­ment. Ever­yo­ne can sell and work as a bro­ker, but not ever­yo­ne enjoys working with his hands. The­se manu­al jobs are a per­fect retre­at for tho­se who are for­ced to work in an office envi­ron­ment, and, sad but true — I've seen qui­te a few com­ra­des in civil engi­nee­ring who could per­fect­ly cal­cu­la­te the sta­tic equi­li­bri­um of a fixed end beam, but were hopel­ess­ly swam­ped with the simp­le task of ham­me­ring a nail in a per­pen­di­cu­lar way into a wall. Obvious­ly, such spe­ci­mens of the aca­de­mic world never enjoy­ed buil­ding their own toys during child­hood .
The last time I built this woo­den cover some 20 years ago, I actual­ly did­n't give a damn about phi­lo­so­phy. That is: I was appar­ent­ly using some fan­cy glue and nails. The result was and still is a hor­ri­ble *thing* that used to work as the inte­rim solution.
And now, after the Stone lan­tern tra­vel­led with us from Japan to Ger­ma­ny to Kenya and back to Ger­ma­ny, I thought it would be nice to even­tual­ly sub­sti­tu­te this with some­thing more ade­qua­te­ly fit­ting the Japa­ne­se phi­lo­so­phy of per­fec­tio­n­ism. Just as the Stone lan­tern is a pie­ce of art, per­fec­ted into every detail, any addi­tio­nal cover should be made out of natu­ral mate­ri­als and pro­per joints such as the T hal­ving and Cross hal­ving as seen in the pictures.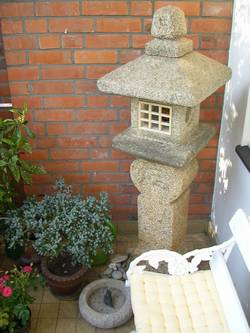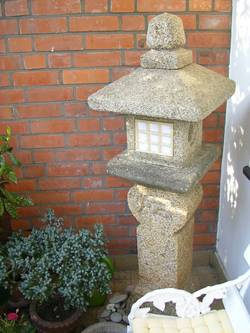 the woo­den frame + cove­r­ed with paper
When darkness sets in, the cand­le behind the sho­ji (let me just call it a sho­ji, ok?) begins to illu­mi­na­te ever­ything and tha­t's exact­ly when the lan­tern is in per­fect har­mo­ny with… loo­ks good.
I some­ti­mes wish to have a small Japa­ne­se gar­den somewhere.