A good way to finish a hectic day is to enjoy a few drinks with one of your colleagues who tells you about the old times – especially if that jamaa has been working all over Kenya during the last 25 years, and has lots of stories to tell.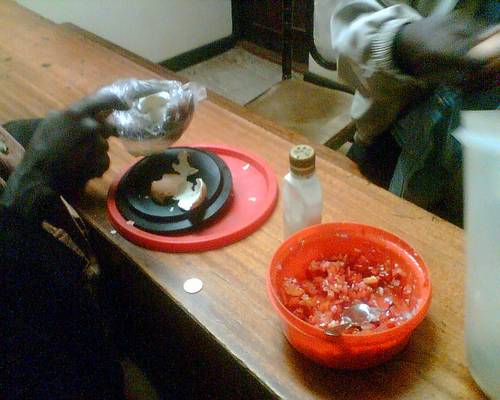 And then you head home, meeting this one guy who sells cooked boiled eggs for 10 bob – an artistically peeled fresh egg, served in a small plastic bag with kachumbari and salt. I always wanted to taste those ones, and now I just did. Delicious.
Next time I am waiting for my matatu in Nbo, I'll opt for a quick snack and buy one those delicacies.
It has been a hectic day, because the Embu town council decided to extend the main road. In the process of cutting all the trees by the roadside, one of the trees feel on the street, so traffic was diverted to go along in front of our office – with the result that a passing lorry cut the telephone wires and we were left without telephone, fax and internet for the rest of the day.
How are you supposed to dial "997" to report a faulty line if your line is faulty?
So I went online via SafCom GPRS and traced the numbers of their Embu office. Upon calling them (twice!), these TerrorkomKirimus told our secretary something like "tomorrow…..maybe".
And there you go, wondering why so many ppl in Kenya have a mobile phone.
Customer Service? Hmm. Our boss had problems keeping me from fixing the lines myself. And I already had this *ggrrrrrrrr* attitude. TerrorkomKenya – you just suck! Period.
—
Soooo…any lasting impressions from Kenya that I will take abroad? Many. Too many actually.
But one thing remains, and that's the diversification of business. Small deals here and there that shall secure my future. I mean, I actually did my apprenticeship and learned how to be a business man, but then: I do too many jobs and small things free of charge. Atereere…..now where's the Kikuyu influence? There should be a reason why I am called Kikuyumoja, but until now, I just can't see this mbeca influence.
Anyways. When I grow up Once I have enough money, I'll return and buy a plot with good soil somewhere upcountry. And I would like to become a chicken farmer. Chicken farming is just great! Harry of AEM recently showed me his small 1-day old chicks that he plans to rear into broilers. You know, you buy them at 30 bob and sell them after 7-8 weeks for 250 bob. Minus the food and other costs, there's still enough money to be made. Also, this is something that can work without much attendance. Great!
"He just wouldn't understand it..", my colleague Francis told me this evening, "this guy had been an Administrative Policeman up there in Moyale where I was working in 1985/86 and just pocketed a small salary of Ksh 4000/=. He was my escort."
"One day, he just asked to be taken home and then I realized he could be a millionaire! He had 2000 or 3000 goats, 150 milk cows and some other lifestock. All he wanted is to show his neighbours his big herd, but didn't want to manage it wisely. He could have sold some of the goats – now that would have made about 5M – and also some cows for about 1M, get a nice plot in town, build some houses there, rent them out, and just live on that. But he just wouldn't understand how to invest and extend his business. All he wanted was to show off his herd…".
Different places, different people.
But that diversification thing still remains. I'll need to invest into different smaller things in future, and be more serious about it. Free of charge working ("pls help me with this and that computer problem") is nice, but it doesn't secure anything. Damn altruism. Kenya has taught me a few lessons on how to think more about income generating projects and opportunities, and that it actually is a lot of fun and pleasure to think in agricultural and livestock terms. At least, working with my hands has always been more satisfying for me than pure mental work – and as far as I can date back my family, no one ever worked in the field or did chicken, cow, etc. rearing. Time to make a difference? We'll see…
—
Snapshot of the week! SUPERMATCH! :-)
(yes, Steve, I tried to take some pics of Embu, but you know it's hard to take pics of the town if you're constantly surrounded by folks – so I chose to use my mobile phone's cam instead….will upload some of them on Flickr soon!)