A relatively short visit @ nyumbani over the weekend proved once again how much this "City in the Sun" differs from shaggz, which I've btw already started to appreciate. After all, there are some things you'll never find in Embu: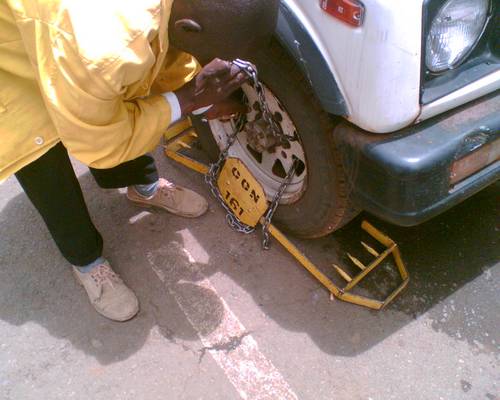 1. City Council thugs that hide behind other cars and wait just until you've left your car. This happened to a friends car on Sato asubuhi in downtown – we had just left the place for 2 minutes and the front wheel was already clamped. And there was no one in sight to whom we could pay the 70 bob parking fee.
Fortunately, it just took a little bit of the "JKE-going-really-mad"-show (aka kelele mingi) to persuade these yellow folks to promptly unclamp the car. He even didn't want to be paid: "No, it is ok, me I don't even have a receipt book". But clamping is ok or what? What a ******* *********.
@CityCouncil: IMAGINE I COULD BE A TOURIST VISITING NAIROBI AND I DON'T KNOW ABOUT THIS PROCEEEEDJAAAH. How do I know what to do next? To whom do I have to speak to? Where is the office(r) that takes responsibility for such actions? Who will pay me for the time I've lost to clear this problem? ==> Customer Service??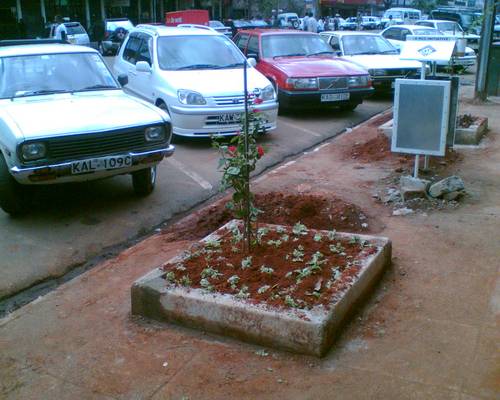 2. The Tree Planting & Beautification Programme, if I may remind you. I really like this word…"Beautification".
I saw an older woman planting little seedlings next to the young trees on Moi Avenue and congratulated her on her important work. I really appreciate what these people are doing for the city. For us. ASANTE SANA!
(And you might well imagine what kind of job groups they are having….A?, B?)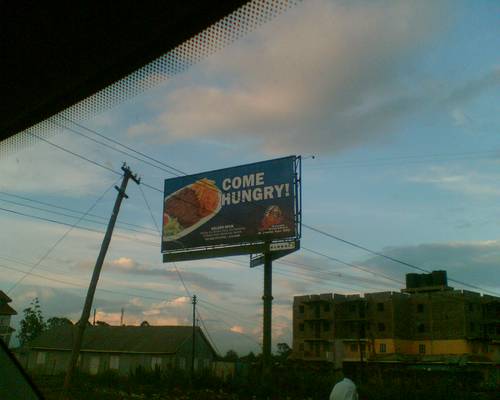 3. Oh boy, we were SOOOOO hungry today. And besides, I really wanted to eat a real + a really gooood steak – just as pictured on this typically oversized billboard.
Nairobi is the only city, I guess, where they don't feel irritated by putting such mouth-watering advertisments next to low income areas. I feel a bit irritated by this add.
(btw, anyone knows a good place in Embu where I'll get a medium done steak which chips and salads that doesn't feel like eating old rubber and tastes like Omo? thx!)

(@CG: kuja, bwana, your car is already here! :-)
4. Bwana Harrycane and I went to see Mzeecedric's parents in Mbagathi to show them GPRS via Safaricom – and we even managed to chat with Mzeecedric in Europe via Skype (VoIP!).
Sitting on the veranda, watching over Nairobi National Park and being able to actually chat with someone who is ~ 6600kms away over a wireless gprs + voip telephone connection still fascinates me. This GPRS thing really is a step forward from the awful 951 dial-in procedure, and I am very curious to see how reliable and fast UMTS (WCDMA) will be once it is fully deloyed nationwide.
Still, the best place to surf the net for free is JavaHouse. Yani, the one at Junction didn't have Inet as "we switch it off during peak-hours (= till 8 pm)". Why?? The one at Adams "Oh, it just doesn't work…but only today…". Yeah, right.
Gigiri was open though, and next to downloading some software for the office, I even chatted for a short moment with our sista Kui in Abuja. Nice!
Nairobi really is this city of different worlds.
And now from all this luxury back to the rural comfort…aterere..