I caught a cold ear­lier this week and kil­led it with some Pana­dol Cold­cap. To fight the upco­m­ing cough, I bought "Good Morning — Lung Tonic".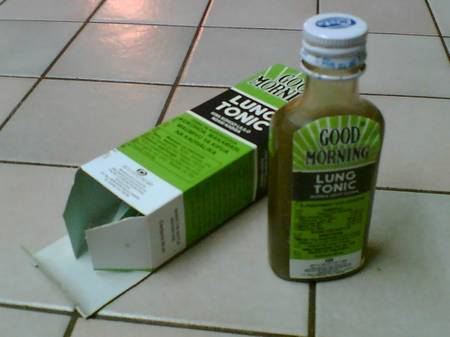 "Good Morning Lung Tonic is (a) greyish brown Syrup — dawa ya kup­onye­sha kuko­hoa, maka­ma­si, mau­mi­vu ya kifua na kad­ha­li­ka. Each 5ml con­tains: Tolu Solu­ti­onn BPC 0.56ml, Cap­si­cum Tinc BPC 0.25ml, Creoso­te BPC59 66.65mg, Ani­se Oil BP 13.89mg and Liquo­ri­ce BPC 25.00mg."
Liquo­ri­ce, yeah! Lakini.…
Dear Par­ents,
plea­se plea­se plea­se NEVER ever think about buy­ing "Good Morning — Lung Tonic" for your child­ren. Your child­ren would other­wi­se instant­ly hate you for the rest of your life.
Ver­dict: ‑4 out of 10 points, but only sin­ce it only cos­ts 55 bob which is ok for medicine.