The down­si­de of this blog­ging busi­ness is that the­re are a lot of things hap­pe­ning ONLY online — like the fol­lowing quiz:
I found this via Andre­as, who also blogs on the Spree­blick plat­form, and — alt­hough it says to be copy­righ­ted as ear­ly as 2002 — the quiz is qui­te new to me. So, do YOU know your eco­lo­gi­cal footprint?
Exact­ly.
I took the quiz and it says for me that if ever­yo­ne on this earth lives like me, we'd need at least 1.3 planet(s) earth.
Ano­t­her pecu­li­ar trou­vail­le is The Living Libra­ry — an event that took part in Ber­lin, Ger­ma­ny on Sep­tem­ber 9, 2006 with 112 wri­ters, artists, acti­vists and social entrepe­neurs from around the world and who gathe­red around a vast Table of Free Voices whe­re they dis­cus­sed our ques­ti­ons. Our?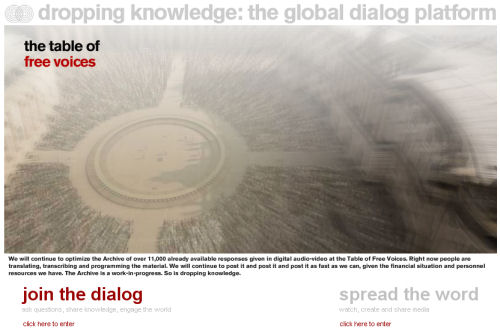 I remem­ber I recent­ly picked up this one free post­card which asked for my eco­lo­gi­cal foot­print and pro­vi­ded a url to the Living Libra­ry event. How come I only lear­ned of the­se events now? Becau­se I am living upcoun­try, in a small vil­la­ge in Nort­hern Ger­ma­ny with about 3.000 inha­bi­tants (hell, what brought me here in the first place?!)? Well, I do have inter­net — so how come an inte­res­ting event like this one has been hid­den from the mas­ses? You know, I found this adver­ti­sing post­card in Munich — 700kms away from home. And Ber­lin is about 300kms away. Wawa­wee­wah! — Stron­gly reminds me of the Clue­train deba­te which star­ted in 1999 and never real­ly reached the mas­ses, only the usu­al suspects.
Also, pls check out this awe­so­me 360° pan­ora­ma view of the event. [via]
==> And make sure to check out the alrea­dy exis­ting user input — a search for the usu­al key­words (Kenya, Nai­ro­bi, etc.) reve­als some inte­res­ting details…

(click to enlarge)