The other day, while loo­king for a local music cd in Kenya, I was offe­red LOTS of video CDs. Video — as in Multimedia.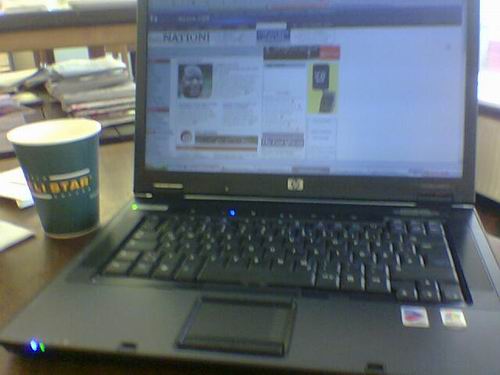 And while I remem­ber how cra­zy I went in 1996 for anything mul­ti­me­dia and rip­ping boring mul­ti­me­dia con­tent from CDs just becau­se I could­n't ima­gi­ne that it was pos­si­ble to watch moving pic­tures on a com­pu­ter, the idea of watching vide­os has just bored me lately.
In fact, I even sold my por­ta­ble video/audio play­er and hard­ly ever watch tv/videos/movies etc the­se days. It's not that I don't like it but ins­tead time is too valu­able. And I know a lot of ppl feel this way.
What I find inte­res­ting, though: real free­dom (uhu­ru) comes with a mobi­le com­pu­ter and time to relax, enjoy and surf or even blog. And while this is just very nor­mal for some ppl out the­re, for me it's still a maxi­mum plea­su­re and I enjoy it just as much as the­se video cds in 1996.
Tal­king about 1996: it has been exact­ly 10 years now that I've swit­ched from Ata­ri TOS to MS-Win­dows. Except for the mul­ti­me­dia bene­fit, I am still loo­k­fing for the rea­son why I swit­ched back then. Note: I am at this inter­net café right now and out of 7 sur­fers, 2 are using an Apple Mac­Book / alter­na­ti­ve OS.