Well, tal­king about dis­play pro­tec­tion foils in my pre­vious post, I thought about try­ing some non-dest­ruc­ti­ve methods on my own book — also with the inten­ti­on to crea­te some­thing dead simp­le, low cost and easy-to-rebuild for anyo­ne inte­res­ted. After all, what I was loo­king for is a simp­le solu­ti­on to an exis­ting problem.
ATTENTION:
the fol­lowing mod is VERY jua kali and is for demons­tra­ti­on pur­po­ses only!
I first tried to use a rather huge sti­cker I've found in one of my dra­wers (btw, THX DED!) to "mold" the frame…
Cut­ting and fol­ding this one requi­res decent tools and lots of pati­ence and the right adhe­si­ve on the sti­cker. So I skip­ped it and used nor­mal fab­ric tape to make the frame in which the simp­le cover is sup­po­sed to gli­de around.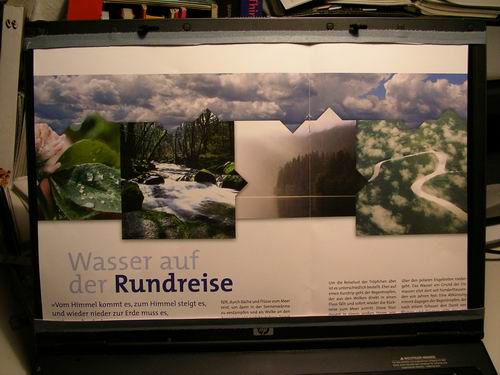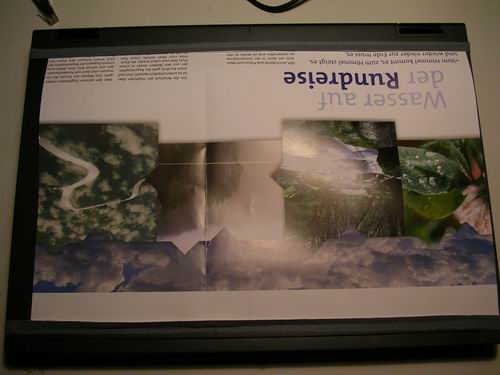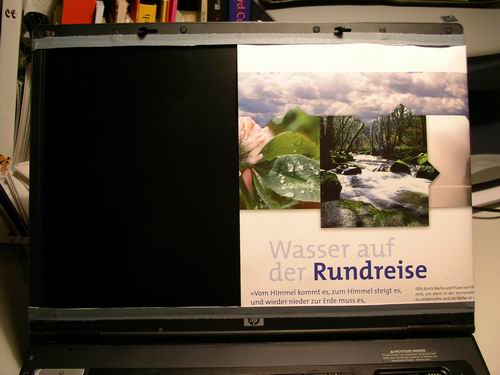 Obvious­ly, this is just a demons­tra­ti­on to show you what I meant in my pre­vious post. Some­thing that pro­tects the screen when the note­book is clo­sed, and what is stored away — but not com­ple­te­ly remo­ved! — when the screen is in use.
I was loo­king for a stron­ger material/foil/paper that could be fle­xi­ble enough to move around the edges of the screen and ended up using some pages from a brochu­re on water pro­blems (~maji ni mai­sha).
Now, this is the sweet part of the who­le idea: ADVERTISEMENT! Com­pa­nies could print their ads on this and give it away for free + a detail­ed instal­la­ti­on instruction.
May­be ins­tead of glu­eing this onto the dis­play frame, it could just as well be some sort of sili­co­ne skin which would then be pul­led over the dis­play and add a pro­tec­ti­ve and moveab­le shield (and yes, we'­re not tal­king about Best­SkinE­ver bubu­di­us or 3M® Vikui­ti dis­play pro­tec­tion). Just a fast and simp­le add-on for the 2nd most important user-inter­face (next to the key­board) on a com­pu­ter: the display.
Or as Hash nor­mal­ly puts it with his Web 2.0 recommendations:
"It's fast, it's simp­le, it wins. Try it!" :-)