Earlier this week, I tried to connect my Nokia 6230 mobile phone to a friend's notebook computer via Bluetooth and dialed 951 – which is the official dial-up number for Safaricom's Online Network.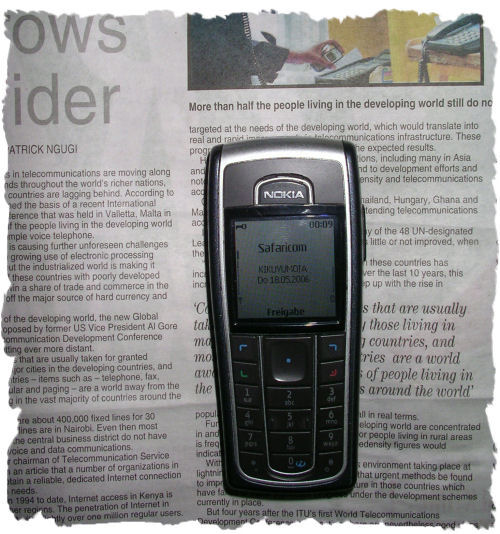 Well, I don't know what they've done to the mobile phone / gsm network here in Kenya (half rate instead of enhanced full rate?), but it actually works. You just connect your phone via cabooool, InfraRed (IR) or Bluetooth to your computer and that's it, no further adjustments required.The downside of course is that the connection is very slow and consequently only suffices for googleing things. Opening any bigger page/site sucks big times and drains your account of Kshs. 10/= (~ 0,12 EUR)/ minute.
I spent about 300 bob on Safaricom's service until I realized that I'm even better of paying an exorbitant rate of 3 to 4/= /minute @EasySurf where I actually GET my data instead of just paying for being "online".
The other thing I hate about many webmail services is that they come with this huge "click-through-rate": in order to read your email, you are forced to click through the various menu systems of your fav webmail service. And Gmail happens to miss out on POP3-collecting service – which is bad if you have more than one address.
I even tried to access my mail via telnet, but the recipient? refused the connection and a further traceroute command resulted in a timeout etc etc
==> Safaricom online = good for small things.
This morning I went to Java House and tried to access their WLAN.
Cool.
BUT!, either I am too stupid or that notebook has a seriaaaaas mmmbrobrrem – it just didn't work. Connecting to the hotspot worked, even the allocation through the DHCP server – couldn't receive any packets though, nothing, 0 resutls. And netstumbler delivered two working networks. Aterere…
The coffee was delicious, though. :-)
AOB: I tried Mbuzi Choma @ Miggles in Gigiri. Oh….I smelled like a goat until next morning. Hehe…MbuziChoma with Tusker and a waiter with these typicoooool plastic bowles to wash your hands before the meal. That's 1/2kg of Mbuzi for 190 /= – which buys you a coffee @ Java's….Nairobi worlds…