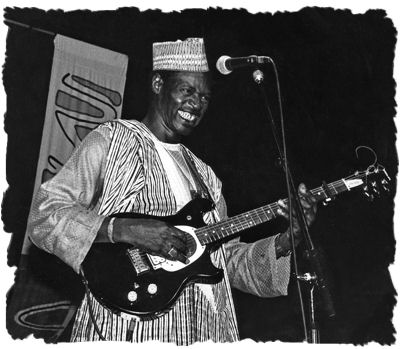 Various hits from blogafrica.com today (thx, afroM!), which included a very nice audio stream of an Ali Farka Touré & Toumani Diabaté performance via (the feed of) "Imagens de África", made me realize that I also still have some bootleg recordings of an Ali Farka Touré live performace I downloaded some years ago with the (now defunct?) ethnobeat yahoo group (thx, Araceli).
Now, since Poxi Presha would definitely hate me for publishing anything copyrighted (yes, Bwana PP, we appreciate your battle and you're not yet forgotten!), and since the music is (fortunately) available for purchase as well as streamable via The Hype Machine (Toure, Touré), let me please link to these live recordings FIY only.
Ali Farka Touré – Live1
Ali Farka Touré – Live2
Ali Farka Touré – Live3
Yani, I don't know what YOU do when there's Blues music around, but let me tell you: the first thing I did this morning was to grab my guitar and (trying to :-) play along with AFT & BT.
Again, le monde est fait pour qu'on s'aime. How true…
n.b.: …listening to these live recordings and the almost hypnotising "reiteration" of tunes, I am reminded of a great concert two years ago with Abaji (Lebanon) and Boubacar Traoré (Mali) playing together. Unfortunately, we will never be able to hear Ali Farka Touré playing together with…well…the Dagar Brothers?
UPDATE: Alastair Johnston of muzikfan.com has just published his obituary of Ali Farka Touré. Please don't miss this…