Yes it's tool time again and I would like to tell you about my new Lea­ther­man Wave® 2004 mul­ti-tool. Why 2004? Becau­se they came up with a bet­ter ver­si­on of the LM Wave® some time back in the end of 2004 and sin­ce I just love good tools, I nee­ded to get my hands on this new one.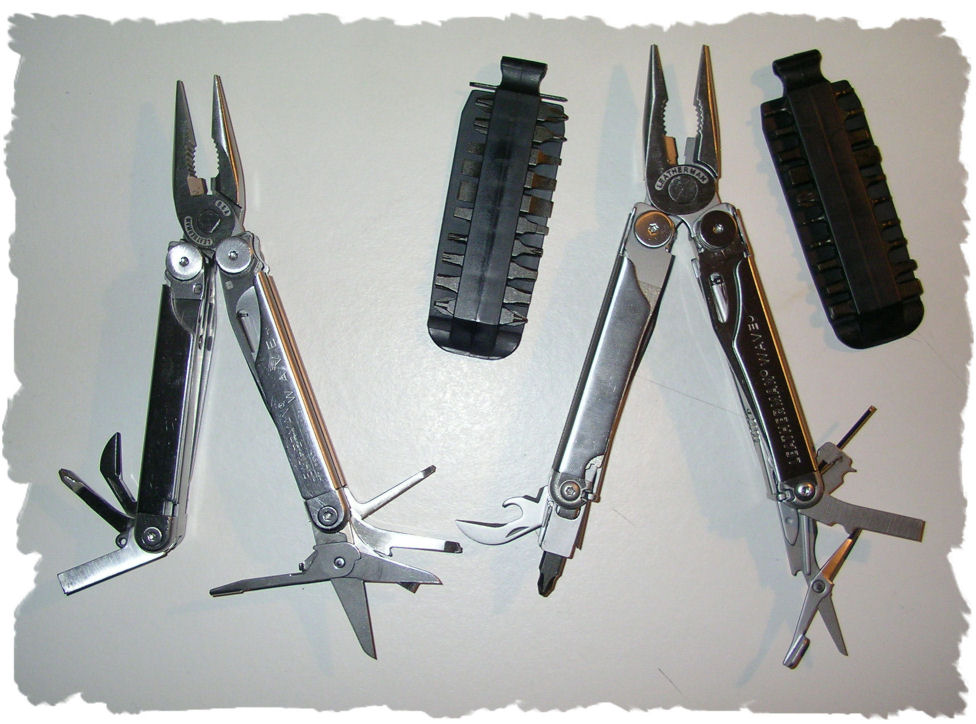 the stuff that makes me hap­py: old and new LM Wave :-)
Befo­re I con­ti­nue boring you with more tech­ni­cal details, let me sum this all up and point you to this very detail­ed com­pa­ri­son report that takes a clo­ser look on the Lea­ther­man Wave® pre2004 (old Wave), the 2004 Wave® (new Wave), the Char­ge® Ti and the Char­ge® XTi. I think it's the most detail­ed review I've come across so far and it actual­ly tells us all we need to know about the small dif­fe­ren­ces bet­ween the old and new models. And yes, the­re is a difference.
This new 2005 Wave just rocks, they impro­ved a lot of things like now all the tools on the inte­rior of the hand­les lock up which adds to more secu­ri­ty and an over­all bet­ter hand­ling. The only down­si­de so far is that they shrin­ked the size of the scis­sors as well as deli­vering it with a cheap loo­king lea­ther sheath that does­n't look as char­ming as the old one — which still holds the new, slight­ly big­ger Wave®, hence it's okay.
I almost never lea­ve home without my Lea­ther­man Wave® on the belt, and the­re have been nume­rous occa­si­ons on which that tool has not only come in han­dy but has been a sort of life saver. Kudos to Tim Lea­ther­man ("My name is on every tool.") for bles­sing us with this bril­li­ant invention!
In case your name isn't Hash and you'­re not yet a proud owner of a Lea­ther­man Crunch®, go and get a mul­ti­tool NOW! :-)
P.S.: you own a VW Golf? => THIS is the tool you'll need!