Oh my….oh….oh oh oh….omg!!!!
What exactly is it with MSN and my blog?
I was sitting here, thinking about these two great books I (eventually!) received today ("The Journey Is The Destination" by K.Eldon & "Third Culture Kids" by Pollock and Van Reken) and what I actually want to tell you about those books (in case you never heard of them) when suddenly I had this urgent desire to go through my site stats (as generated by this nice WP plugin)….
Ati??!?!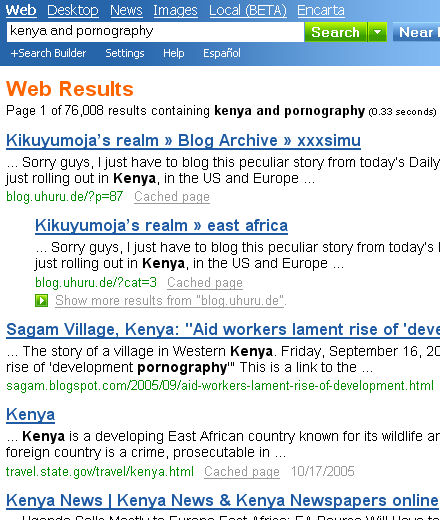 Seems like MSN search delivers my blog as the primary resource for anything like "KENYA AND PORNOGRAPHY". And someone actually clicked on it so this nini ended up in my shortstats!
Wot? You're waiting for a picture of naked Bw Kikuyumoja? Tztz…weeeee…… Maneno makali hayavunji mfupa…