Oh my.…oh.…oh oh oh.…omg!!!!
What exact­ly is it with MSN and my blog?
I was sit­ting here, thin­king about the­se two gre­at books I (even­tual­ly!) recei­ved today ("The Jour­ney Is The Desti­na­ti­on" by K.Eldon & "Third Cul­tu­re Kids" by Pol­lock and Van Reken) and what I actual­ly want to tell you about tho­se books (in case you never heard of them) when sud­den­ly I had this urgent desi­re to go through my site stats (as gene­ra­ted by this nice WP plugin).…
Ati??!?!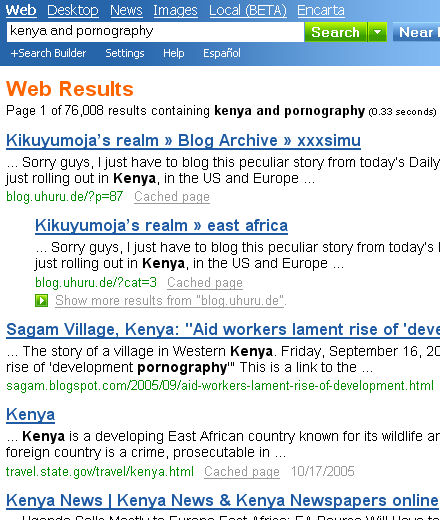 Seems like MSN search deli­vers my blog as the pri­ma­ry resour­ce for anything like "KENYA AND PORNOGRAPHY". And someo­ne actual­ly cli­cked on it so this nini ended up in my shortstats!
Wot? You'­re wai­t­ing for a pic­tu­re of naked Bw Kikuyu­mo­ja? Tztz…weeeee.….. Mane­no maka­li hay­a­vun­ji mfu­pa…