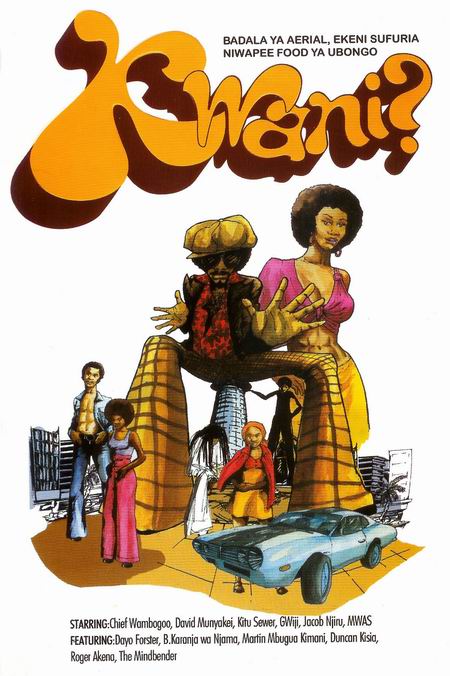 Mar­tin Kima­ni of "Afri­can Bul­lets & Honey" alrea­dy blog­ged about the "Fun­kiest Litera­ry Jour­nal This Side of Hea­ven" in July 05.
And you know what? Thanks to my secret agent Lady Kikuyum­bu­zi who pro­vi­des me with all this fun­ky stuff kama tapes with Kame­me FM, inte­res­ting sni­plets from the new­speahh­paa and other small bubu­di­us to help a mZun­gu Kiuk in exi­le get goin' — I even­tual­ly got my own copy of this GREAT book today!
(note to Mbu­zi­mo­ja: Mapen­zi ni kikoho­zi, haya­we­zi kufichika. :-)
Let me just quo­te from Bin­ya­van­ga's edi­to­ri­al: "…I pre­fer to see Kenya as a diver­se place which needs diver­se con­ver­sa­ti­ons: no publi­ca­ti­on or per­son can repre­sent all of Ken­ya's litera­ry aspirations"…"Kwani? is a place for see­kers. Not all see­kers. Just some" (…) "I am begin­ning to see that Kenya (The Par­lia­ment and Sec­tions Kenya..) is dying. (…) The­re is ano­t­her Kenya gro­wing out of the­se ashes. It has learnt to need nobo­dy; to be com­pe­ti­ti­ve and crea­ti­ve. It speaks Sheng. It is the Kenya we are wai­t­ing for."
And then of cour­se you open the book, read some pages and think to yourself: Ati??? WHAT has hap­pen­ed to Kenya? This IS GREAT, tha­t's what I've been wai­t­ing for all the time, this is MY GENERATION taking over now. This is part of the new Kenya that actual­ly blogs on the inter­net, this is Kenya with it's mobi­le pho­ne cra­zy­ness, it's lan­guage mix-ups (Sheng et al).… this is what my fel­low Euro­peans need to have in mind when they are spea­king to Ken­yans. And I also think: the revo­lu­ti­on will not be tele­vi­sed, no, it is right here, in the midd­le of ever­ything and we'­re part of it. And it has alrea­dy star­ted. We are here to ask ques­ti­ons, look back in histo­ry and crea­te a posi­ti­ve future. This Kwani?3 book is just part of a new Kenya com­ing up. And it rocks!
If you hap­pen to live in the Lon­don area, pls make sure to check out "AFRICAN VISIONS 2005 — Think Afri­ca: A fes­ti­val of Afri­can Lite­ra­tu­re, Cul­tu­re and Poli­tics" taking place at the Bri­tish Libra­ry on Octo­ber 15th-16th. => "…the UK launch of the exci­ting Ken­y­an-based New Wri­ting maga­zi­ne 'Kwa­ni?'."
Mbu­zi­mo­ja, I owe you big times! :-)