Ein Spiegelartikel über brauchbares ipod Zubehör brachte mich zum iWrap – dem Origami-styled Papiergehäuse für ipods, Walkman, Discman, etc (Mao-Bibel?!) zum Selberbasteln. Erinnerte mich natürlich auch stark an PaperCDCase, welches auf einer Origamifaltung eines amerikanischen Matheprofs basiert.
Wer eher auf Holz steht, schaut hier und genau da fand ich dann auch einen wunderbaren Link zu Gizmodo – der Website rund um diese kleinen technischen Spielzeuge…(what's the difference between men & boys? > the size/price of their toys). Manches wird man sicherlich schon bald bei thinkgeek oder im Sammelsurium kaufen können.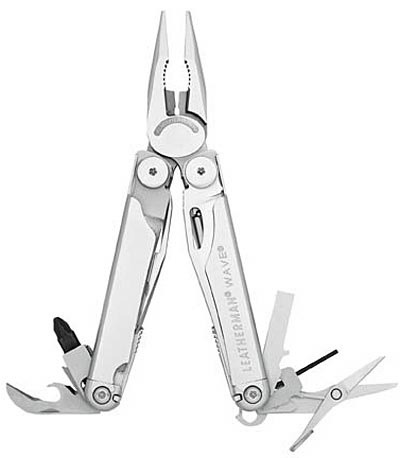 Ich frage mich nur die ganze Zeit, wann der Spiegel auf die Optimus Welle aufspringt und das neue Keyboard featuren wird (so wie Slashdot & Co). Das Teil is schon recht edel, allerdings wundern wir uns hier grad noch über die Displayansteuerung und die begrenzte Lebensdauer von OLEDS, die offiziell mit ca. 1.000 – 10.000h angegeben wird. Die neue Samsung Mikrowelle zeigt aber deutlich, dass Art Lebedev sein Handwerk versteht.
Hat jemand schon Erfahrung mit Gizmo (statt Skype) gemacht? Ich suche nämlich noch eine gute SW für meine neue Sipgate local number :-) ==> der Nachteil bei der über 1&1 beantragten VoiP Nummer ist nämlich der, dass sie an 1&1 gebunden ist (oder??) und man dann bei einem Anbieterwechsel (ich sage nur Congster & Summerflat!) die Nummer wechseln müsste…meine AVM Fritz Box Fon WLan zu Hause nimmt aber auch die Sipgate Nummer. Hmm…
P.S.: Ich gehe nie außer Haus ohne meinen heiß geliebten und überaus praktischen Leatherman Wave (as pictured above). Für mich immer noch das Gadget/Tool No.1!