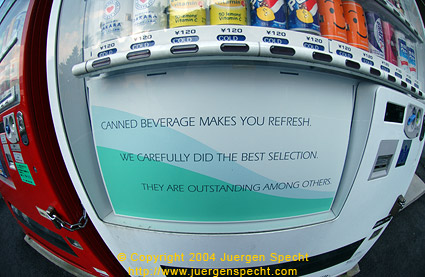 Dieses Bild stammt von der Website von Juergen Specht – einem in Japan lebenden deutschen Fotografen, der unter anderem hunderte Bilder von Automaten in Japan aufgenommen hat.
Er schreibt: "I believe that every photographer is a story teller. This is my story. The story of a German photographer living in Tokyo, Japan."
Seine Bilder hat er unterteilt in artistic galleries, truthful stories, daily Singles & documentations (~cultural explorations). Besucher der Website können ihre Lieblingsbilder gleich abspeichern (coole Idee).
Bei mir wecken solche Bilder viele Erinnerungen an früher – es ist der Wahnsinn, was aus Shibuya mittlerweile geworden ist. Die Website ist insofern auch schön, weil sie manche Eigenarten der Japaner (Engrish – siehe Bild) aus der Sicht eines Gaijins witzig darstellt.
Daher: Kiku's Surftip der Woche!