Tal­king 'bout pho­to­gra­phy, I stumb­led across this site by a pho­to­gra­pher cal­led Chris Jor­dan. It covers "Por­traits of Ame­ri­can Mass Con­sump­ti­on" and gives a bril­li­ant insight into our con­su­mer was­te socie­ty. All we pro­du­ce is waste.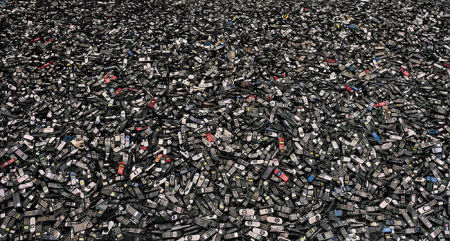 Anyo­ne in need of a mobi­le phone?
(sin­ce I do repair bro­ken stuff like mobi­le pho­nes in my free time, this pic is par­ti­cu­lar­ly sad for me.…)
I always thought the only way to fight tho­se amounts of was­te and pol­lu­ti­on would be by pro­du­cing less.… Wrong!
Ins­tead, as my wacky prof wro­te in his famous book, we have to look at the way natu­re does it and start rede­signing our pro­ducts. Or, as he puts it: "A tree pro­du­ces thousands of blossoms in order to crea­te ano­t­her tree, yet we con­si­der its abundance not was­te­ful but safe, beau­ti­ful, and high­ly effec­ti­ve… Was­te equals food."
I mean, have you ever loo­ked at it from this kind of per­spec­ti­ve? Pro­du­cing even more than nee­ded and yet, ever­ything in sur­plus equals nut­ri­ti­on for the enviorn­ment (humans, natu­re, etc.). Pro­ducts will be made out of bio­lo­gi­cal or tech­ni­cal nut­ri­ents and thus remain wit­hin a cycle. The cycle of life. Not tho­se one-way solu­ti­ons as pic­tu­red above.
I am tru­ly fasci­na­ted by the idea, and I stron­gly belie­ve that our genera­ti­on has to iden­ti­fy and deve­lo­pe pro­ducts that are eco-effec­ti­ve and remain wit­hin a life-cycle (Eco Effec­ti­ve­ness = Eco­no­mic Via­bi­li­ty + Social Accep­ta­bi­li­ty + Envi­ron­men­tal Per­for­mance). Tech­no­lo­gy gives us so many pos­si­bi­li­ties and it just depends on us how we arran­ge all this potential.