tl;dr
The author has a new latop ("Lenovo ThinkPad T14G2 AMD ") and used his blog to geek out on it.
And the same laptops, but with a new display installed:
s/HP EliteBook/Lenovo ThinkPad
In February 2023, I upgraded my two Dell Latitude i5-6th intel gen laptops (Win10/Linux) to two different intel i5-8th gen laptops: An HP Elitebook 840 G6 and a Lenovo T480s.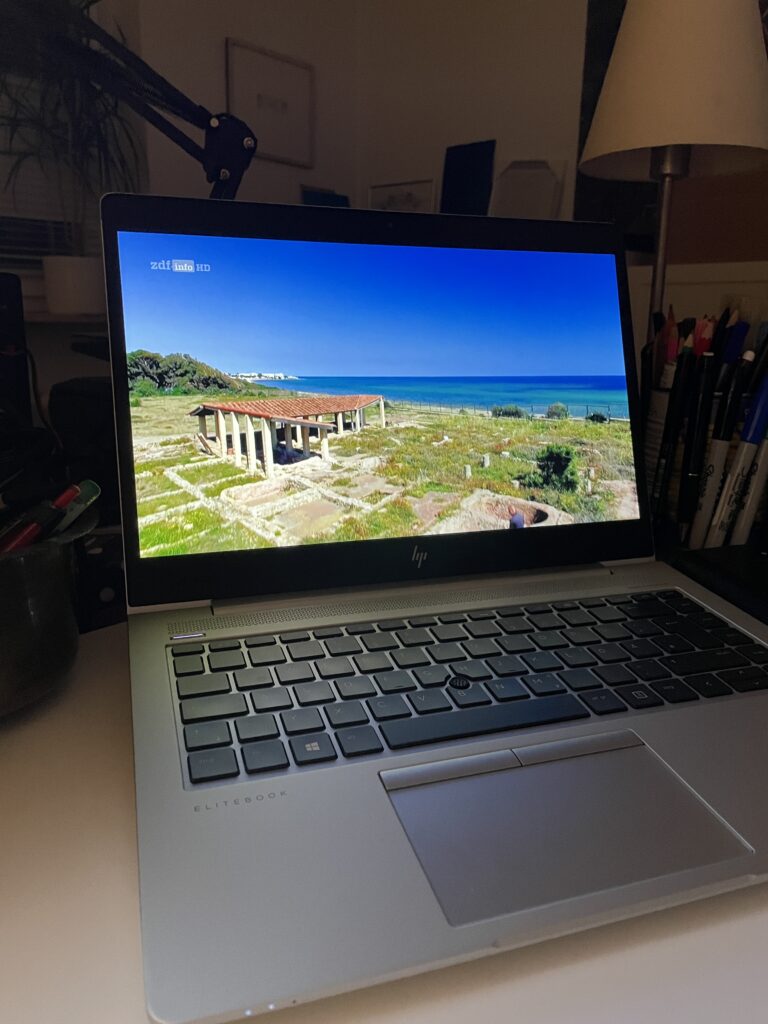 Both purchases were very spontaneous decisions. After years of using Dell Latitude Laptops (that I really like), the HP Elitebook 840 G6 convinced me because of its marvellous touchpad (clickpad), so I had to get one. The Lenovo T480s, however, is a differnt story.
I used to dislike business Lenovo ThinkPad laptops in the past because of the strange placing of the Fn and Ctrl-Keys (which can be swapped in the BIOS). But the moment I had my fingers typing on this 1,8mm key travel keyboard, with just the right haptics, I knew it was the right laptop for me, the laptop nerd. And this is something I only experienced after buying one. I bought them 2nd hand and refurbished both laptops myself, as described in my previous blogpost on this topic. The upgrades also included swapping the (worn-out) displays to new 400nits, low-power versions.
And to be clear on mobile computers: I also own and use an Apple MacBook Air M1 for my clients with Apple systems. If I only had to pick one mobile computer, it would probably be the MBAir M1/M2. I even like the flat keyboard that comes with these MacBooks also consider it the best travel laptop ever. And the best thing about MacBooks? The excellent touchpad.
"The touchpad?", you'll probably reply, "I hate the one on my laptop and use an external mouse or the nibble in the center of the keyboard".
Yes, touchpad, clickpad. They have to be good and were THE inital reason for my previous upgrade from Dell Latitude laptops to the above mentioned HP and Lenovo.
Lenovo E14G3 AMD
In June 2023, I started working in an office where  Lenovo E14 G3 laptops replaced all desktop computers. These E14 G3 with AMD Ryzen CPUs are really nice and powerful, even though they have some disadvantages (1x USB-A 2.0 instead of 3.0; only two USB-A ports, no WWAN available, weight). But the majority of these laptops are used in offices, connected to USB-C docks most of the time, with closed lids (I hate that, btw). So the E14 wasn't an option for my own needs, even though used machines with visible wear are around 400 EUR at the moment. The frame and build quality are awesome, though. And if you love 1,8mm key travel and don't need an LTE modem (WWAN) in your laptop, then the E14 G3 is a viable option. The E14G5 already has the 1,5mm keyboard, btw.
Lenovo L14G4 AMD
So the next best / affordable option and availability at the time of writing is the ThinkPad L-series, e.g. the new Lenovo L14 G4 with an AMD Ryzen 7730u CPU. A good machine, it seems, that I specd for my needs and ordered as brand new from Lenovo! Yes, brand new instead of 2nd hand that I can refurbish myself like I have done in the past 20 years.
Sure, just a "plastic" frame (instead of the aluminium body on the T480s, E14 or even L14 G1+G2) and an expensive single-sided M.2 2242 SSD so I made sure to order mine with 1 TB already included because I wouldn't be able to reuse the 2280 SSD from my HP. It just wouldn't fit.
Looking at the base cover design, the L14 G4 looks like a plastic clone of the T14 G3. Oh, and it only comes with a 16:9 display, sadly not 16:10. But I'm still fine with that. FHD resolution is also ok with me, but I also made sure it would come with a low-power, 400nits display.
While waiting for the order to arrive, Notebookcheck eventually published their review on the L14G4 AMD. Verdict: The L14G4 is indeed a great laptop, BUT the CPU isn't so much better than the one used on a two year older laptop. ZEN3-architecture, instead of Zen4. DDR4 instead of DDR5, thus PCIe 3.0 instead of 4.0. If the L14G4 really is the cheaper alternative to the T14 G3 and G4, it would have required a 16:10 screen and/or newer CPUs.
Lenovo ThinkPad T14G2 AMD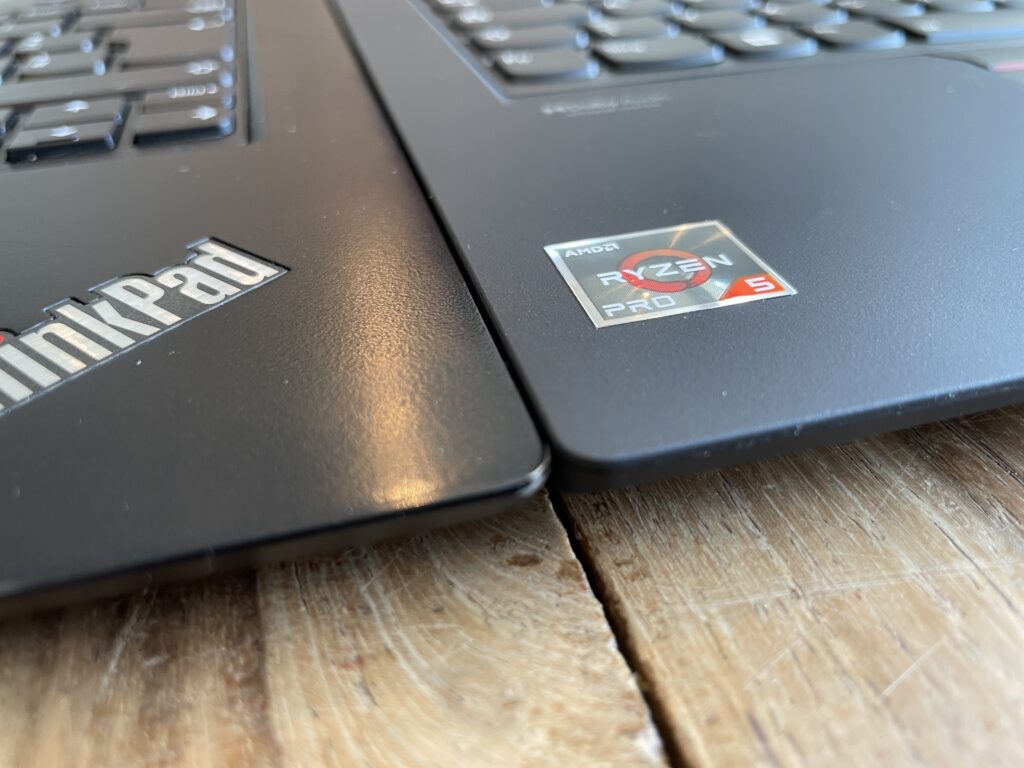 It was at that moment that I saw an offer for a brand new, sealed Lenovo ThinkPad T14 G2 for half the price. The seller's page didn't say much, but the price was really low and so I just ordered it as well.
A brand new (AMD Ryzen 5 PRO 5650U) laptop in generation G2 that is already superseded by G3 and G4 in some markets. Not much information was available, none of my extra wishes weren't mentioned. E.g. the 400nits, low power display; WWAN antennas and a caddy for the SIM-card; a fingerprint reader. I ordered this with some scepticism and actually checked the factory B.O.M. via the serial number the very moment I had received the invoice.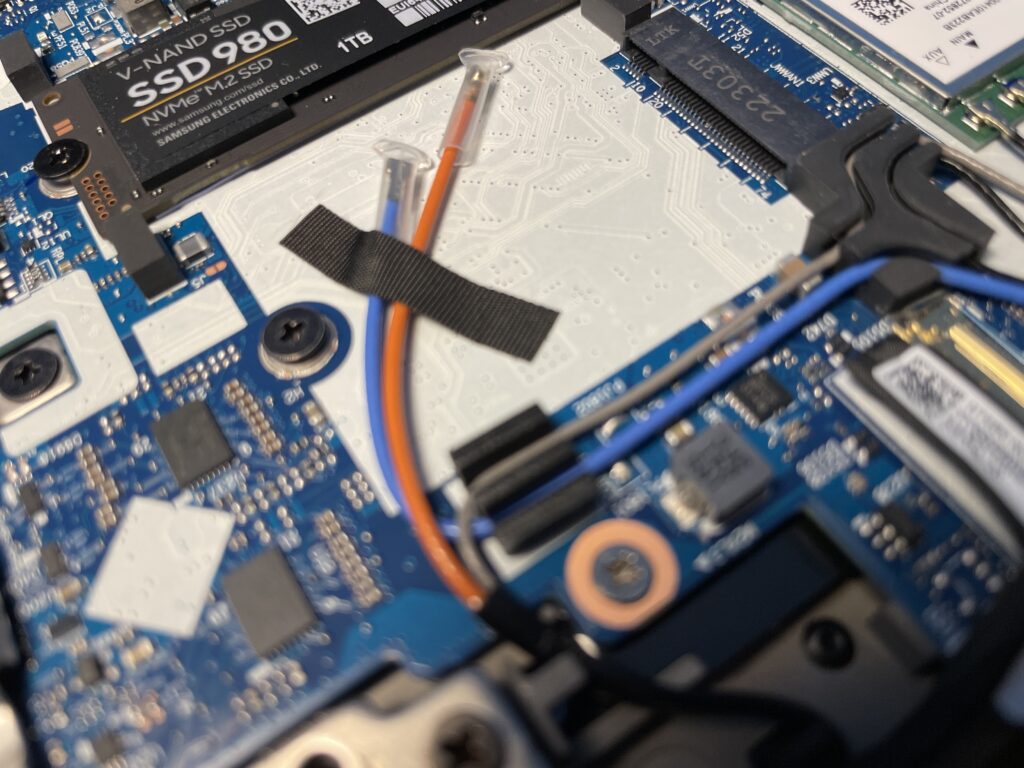 There is a Notebookcheck review based on the intel version of the T14 G2, but both versions differ a bit (e.g. WLAN cards, placing of chips and cards, connectivity), so the best option is to search for hardware maintenance manuals (PDF) that are most ofen available online. Also, these manuals are exactly why I prefer business laptops (instead of consumer laptops).
Talking about preferences: The 14″ screen size is my favourite laptop size. Not too big, not too small. It is "my" laptop size of choice since years and I am very glad that all manufacturers have eventually started offering more and more laptops in the 13″ and 14″ range.
So when I received it the next day (!) and opened it up, I was happily surprised to find all my extra requirements already included:
a 14″ FHD, 400nits, low power display with a good contrast ratio
16GB soldered RAM that I quickly updated to 32GB dual channel (for the low price, it could have been 2x 8GB instead, where one half is soldered onto the motherboard, so the 16GB version is much better)
a 2280 socket for my 1 TB Samsung 980 SSD (this I already knew)
WWAN antennas and the sim card tray, so I can add a WWAN card in future
an IR-sensor next to the webcam
a suitable fingerprint reader (works fine on Windows)
the keyboard that still has the 1,8mm key travel as opposed to G3 and G4 that come with a lower action
….and a docking connector that would fit the same dock (40AG/40AJ) that I am already using for the T480s AND that actually lifts the laptop from the table and thereby improves the air flow/intake.
From what I've experienced so far, many Lenovo ThinkPads tend to overheat, so I made sure to do two things first:
opened it up and replaced the (really dry) thermal paste that the laptop came shipped with. I am using Arctic MX-4 thermal compound (Amazon) most of the time.  This is a two month old laptop, but I've seen older laptops with less crumbly thermal compound on the CPU.
I also did something I usually don't do: I followed the advice on /r/thinkpad and downloaded a Win 10 pro image from Lenovo that already has all drivers and settings included – which I believe is the better option if you want to experience everything the way it was designed to be. You'll need to type in the serial number of your machine, the process is a bit complicated and it requires a 32GB USB flash drive. And it will resize your entire SSD, so you'll need to repartition everything later on.
Display quality ("display lottery")
Talking about displays: The one on this T14 G2 AMD is an "NE140FHM-N61" from BOE. The one I installed on my HP Elitebook 840 G6 and the Lenovo ThinkPad T480s are both "N140HCG-GQ2" by Innolux and have a worse contrast ratio (see panelook links).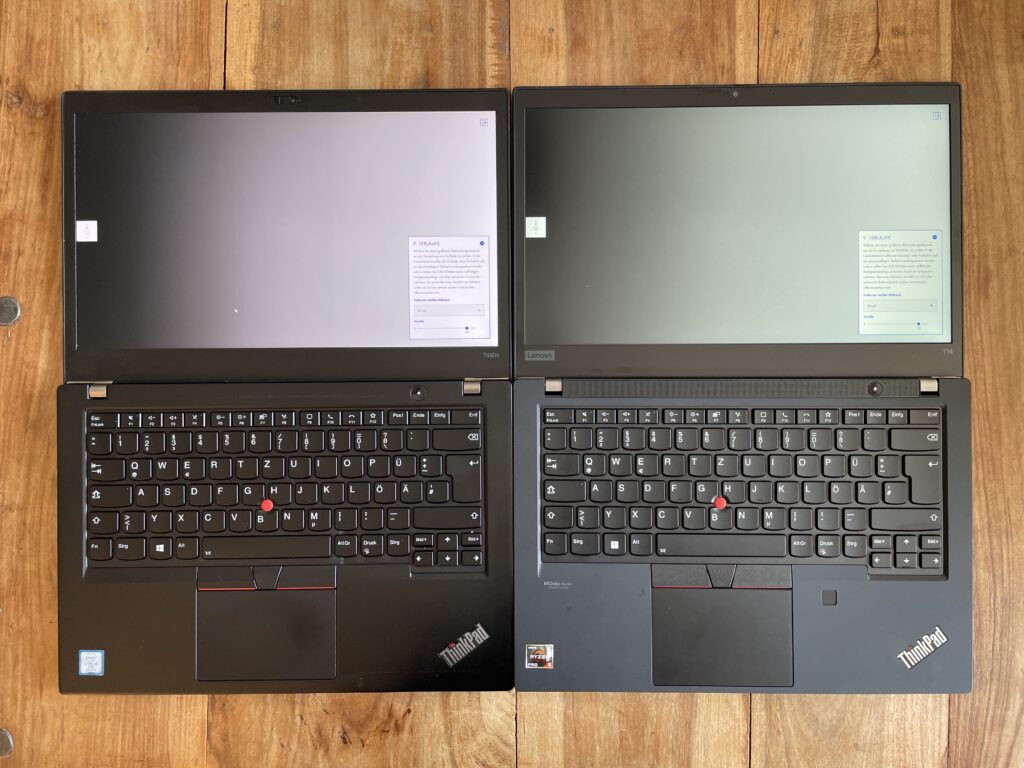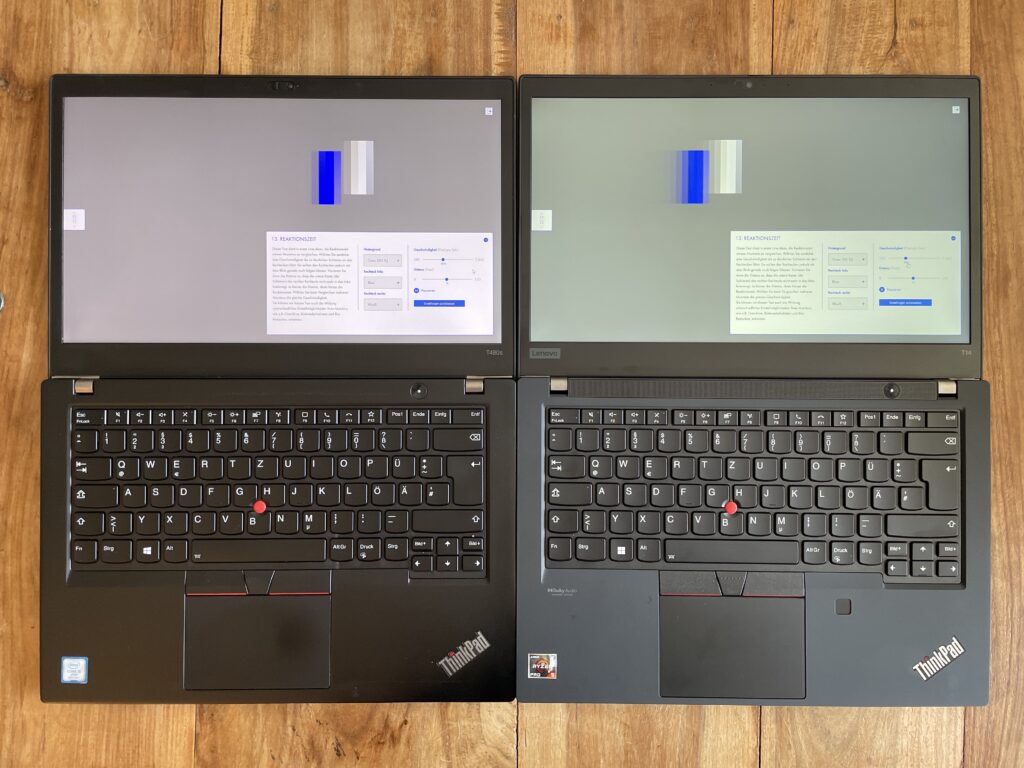 All tests done using eizo.de/monitortest which ran in Google Chrome.
There is a visible greyish/blueish teint on top of the new display (right) that doesn't look as natural. But when I took the side-by-side photos I realized that the colours are actually more accurate on the new one. I am curious how I will adopt to the new screen – knowing that I can just as well replace it anytime. Right now, I prefer the Innolux type.
And yes: If you've found this blogpost while searching for a replacement screen on your T480s: The low power version makes a lot of sense and will provide a few extra minutes of battery runtime.
Things I dislike with the T14G2 so far are:
The rubberized cover on the palmrest is something I don't like and need. A flat aluminium cover, maybe in grey would have been better.
Both Lenovos are prone to fingerprints. Which is something you won't see on silver aluminium bodies (MacBook, Elitebook).
The base cover is a pain to remove. You easily end up bending the heatpipe because it may get stuck in the bottom cover. I had to bend it back while replacing the thermal grease. You'll need a Phillips-head screwdriver and a soft plastic spudger to avoid any scratches on the base cover.
For better heat dissipation, I would have prefered an aluminium base cover. Looking at the design of the G3 and G4 editions of the T14, it looks like they improved it in such a way that it now doesn't need to be lifted over all ports. So that's another reason for G3 and G4 of the T14/P14s laptops.
The fan is still audible, albeit not as high pitched as on the HP EliteBook.
The speakers are a sad joke and should have been as voluminous as the ones on the T480s. The ones on the EliteBook 840 G6 aren't that much better though (despite being labeled as Bang & Olufsen, lol). So if the internal speakers are important to you, make sure to get an Apple MacBook (Air).
Also, I've set the primary function of the Functions keys to F1-F12 (so you'll need to press Fn+F1 to mute etc.) and kept the Fn/Ctrl-keys the Lenovo/ThinkPad-way. I already had to adjust to the layout on the MacBook keyboard, so it won't be that hard.
My T14G2 is connected to a 27″ Dell Ultrasharp monitor and the external Logitech MX Keyboard most of the time, so I can't say anything about battery runtime. It shows 8-9hrs when fully charged and disconnected from a power supply. Will have to test this a bit further.
And then there's this Geekbench score which shows 4 of my 6 laptops in use:
There may be even fast laptops out there, but you can see from this simple comparison that the performance upgrade makes sense in my case. And adding another 16GB of RAM for dual channel speed put the icing on the cake.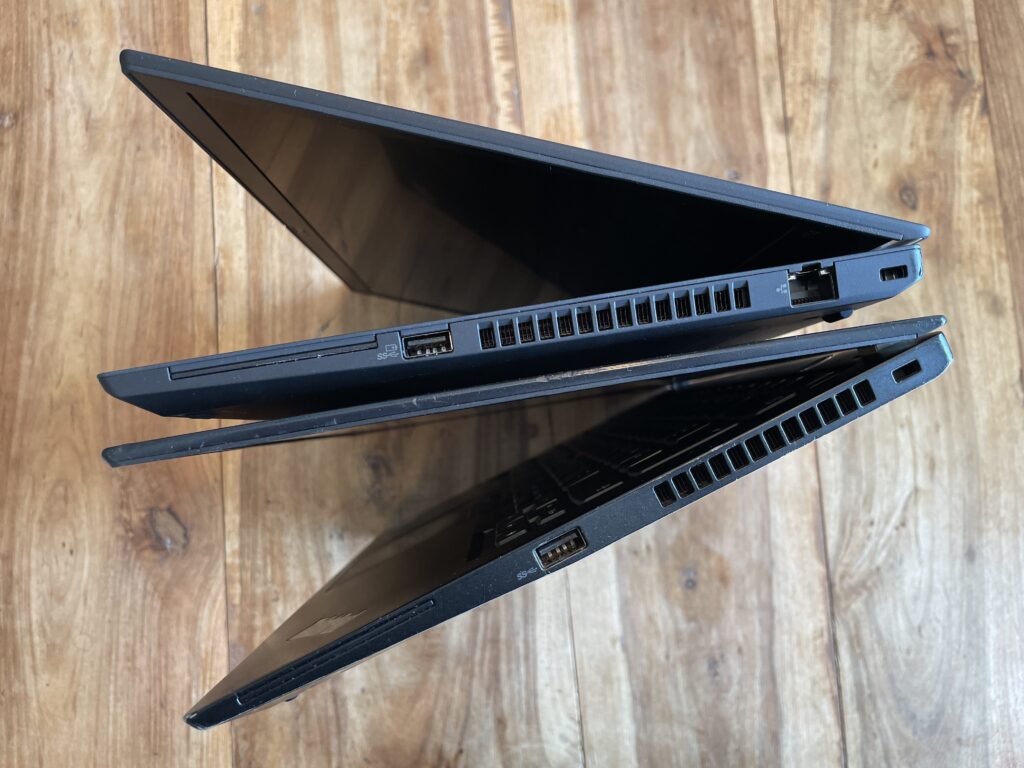 Meanwhile, the L14G4 is yet to arrive, three weeks after my initial order. I will probably open it, feel the haptics and then return it to Lenovo. If the T14 is already better than the L14 series, then it can't be so much better. And the L14Gen4 also has the same base cover design as the T14G2: You'll need to lift if over the ports, which I don't find to be that smart. Even the T480s base cover didn't include the ports. So something went wrong in the design process and this sadly applies to the T490, T14G1 and T14G2.
While I prefer business laptops with an aluminium cover, the "new" T14G2 (new to me) feels good enough. I will probably replace it in 2-3 years with another T14/P14s successor.
And the T480s? My T480s is here to stay. The T480s is a hot beast and has some serious thermal issues when connected to a power supply, but it will run just fine in mobile mode. You can tell is has been misused by the previous owner/user and has already suffered a bit. So if there is one thing I could change on the T14G2, it would be the plastic body to a metal one (without any rubberized coating).
edit
After posting this on reddit, someone commented that the BOE panel really looks out of place. In comparison with the one from Innolux (installed on my other laptops), it is a big foggy and blueish.
Thanks to the editors at Notebookcheck, you can download the *.icm files for each display – which, when installed, will tell your computer how to adjust the colours in a better way. It isn't perfect, and my own calibration would probably make more sense, but it's a step in the right direction:
BOE NE140FHM-N61 ==> *.ICM file
https://www.notebookcheck.com/uploads/tx_nbc2/NE140FHM_N61_01.icm
Innolux N140HCG-GQ2 ==> *.ICM file
https://www.notebookcheck.com/uploads/tx_nbc2/N140HCG_GQ2_01.icm
This, however, didn't change much for me and my problems with the BOE display. I then decided to swap the displays and in the process of removing the glued display bezel on the T14G2, I killed the BOE display.
Whatever, life is too short for bad hardware.
The BOE panel has much better technical specs than the Innolux (contrast ratio wise), but I just couldn't live with it, so it had to go – two days after unpacking this brand new laptop. Again, life is too short for bad hardware.
The "display lottery" from Lenovo has also been subject of a blog post from 2019 on notebookcheck, and I keep on wondering why an established manufacturer like Lenovo, who controls the whole supply chain, doesn't use this as a marketing value and sells special laptops with better displays. Something HP did with their DreamColor displays back in the days (laptop displays, not external monitors).  The "this laptop comes with the best display"-idea would be perfect for the P-series, I guess. Especially since the latest P14s don't come with much else that differentiates them from the T-series. Or make it available across all series: 70-130€ extra costs for the better display. I'd sure be a happy customer, and I guess a lot of others would do the same.
I've never seen an Apple user complaining about the recent display colours. But on these "PC laptops" (Win/Linux) better image quality seems to be a never ending story. @Dell @HP @Lenovo – you can do better!
edit 2:
quick Lenovo L14 Gen4 AMD review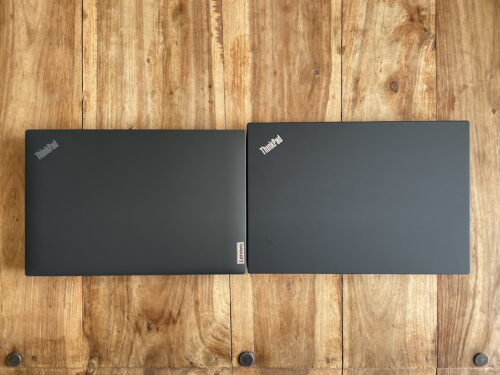 I finally got hold of the Lenovo L14G4 AMD that I had ordered three weeks ago and took the chance to quickly compare it to the T14G2 AMD. I've installed a Win10 Pro on it, as it didn't come with any operating system. The L14Gen4 has the following specs: AMD Ryzen 7 PRO 7730u CPU, 32 GB RAM (1x 32), a 1 TB 2242 SSD, WWAN antennas and a 14″ FHD 400 nits display.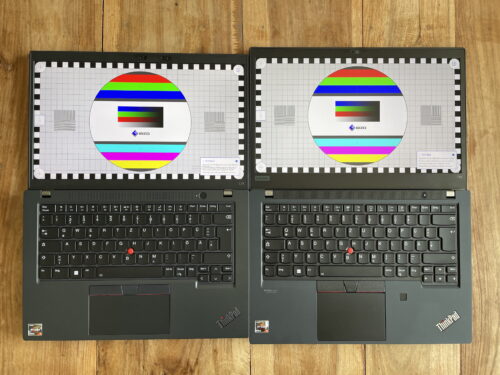 Now, this may be a bit unfair, but the L14G4 comes with a similar CPU to the one in the T14G2 – it's just a newer version, but with the same architecture. And a quick Geekbench score tells us there isn't much difference. I bought both laptops brand new and factory sealed; the T14G2 for 629 EUR and the L14G4 was 926 EUR (including discounts).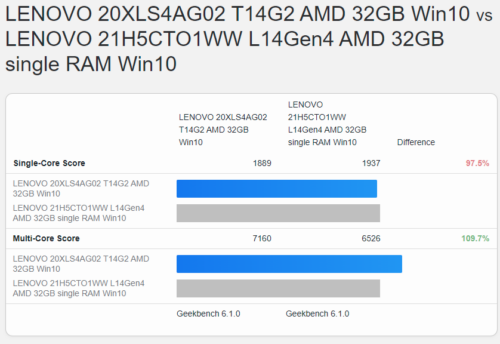 What I like about the L14G4
Lenovo's display lottery delivered a really good 14″ FHD 400 nits display, the AUO B140HAN06.9, with nice colours and great contrast as shown in this simple comparison with the Innolux panel. There is a bit of ghosting visible in one of the tests, but the colors in a dark room, and especially the black and white, are better than the Innolux. Notebookcheck also confirms my first impressions in their recommended test.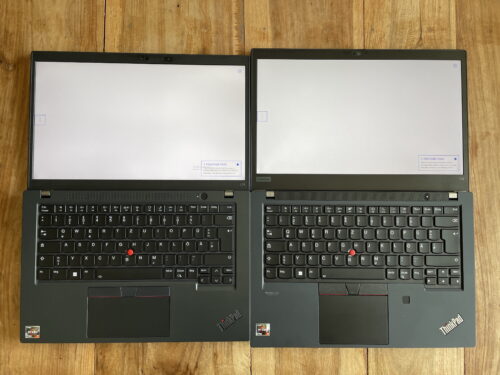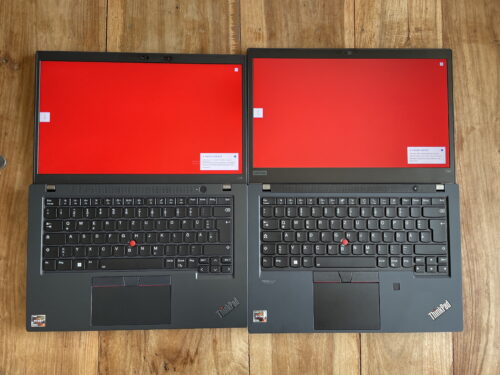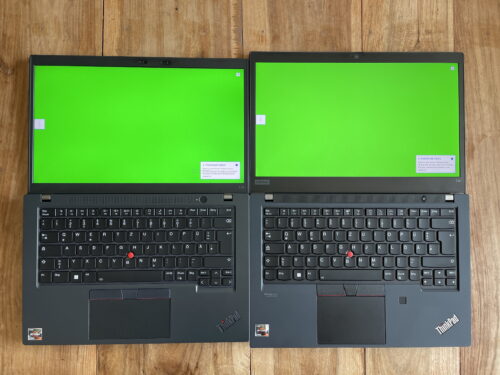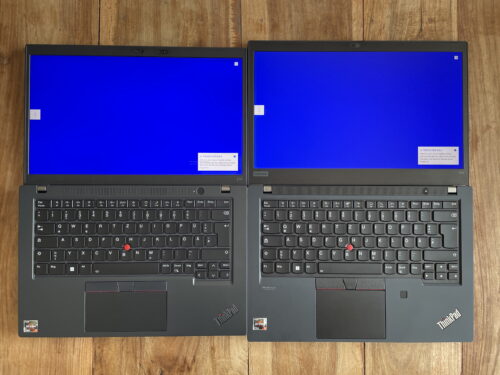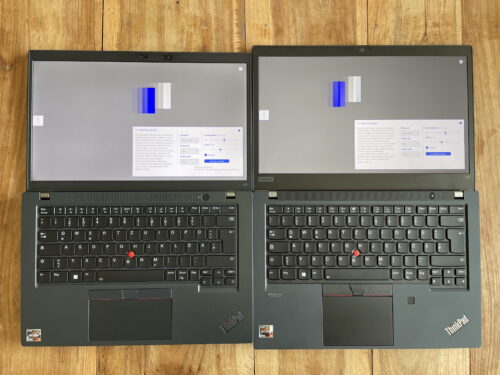 All images taken indoors in the morning, with daylight coming from the righ side and test display test used was Eizo Monitortest which ran in Google Chrome on Windows.
The clickpad is smaller, but also very usable. It could be a bit higher, but it comes with a relatively smooth surface, which already compensates a lot. The one on the T14G2 is much better, though. Smoother. If you are using the pointing stick, you may be disappointed by the flatter surface of the buttons.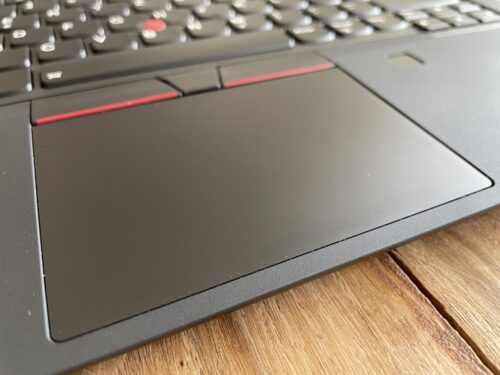 Battery capacity and runtime seem to be awesome. When unplugged from 100%, my Win10 says "14 hours", which is much more than what it says on the T14 (both batteries are new), but it's 57 vs. 50 Wh, so the L14G4 should run a bit longer.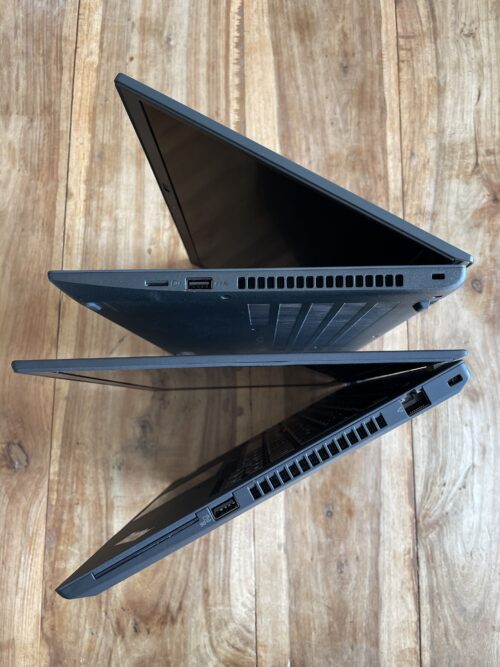 The ports on the L14G4 are very similar to the T14 G3. Laptops with real and usable RJ45 ports are important to some of us. And yes, the LAN port could be faster in 2023.
What I dislike about the L14G4
They keyboard is worse. It's not too bad and you can type on it. Even longer texts are ok. But everything from key travel to the shape of the keys or even just the new width of the new keyboard (it is about 0,5 cm narrower) in comparison to the old 1,8mm keyboard travel is worse. It could just be part of a consumer laptop (except for the nipple thing / pointing stick).
I don't understand why they have changed it, especially as the keyboard was one of THE design features of a ThinkPad. Because otherwise you could just as well pick an HP or Dell laptop. Or any Lenovo consumer laptop with much more attractive features.
A thinner keyboard such as this one imo requires a fixed base, i.e. a strong top cover. The top cover aka palm rest on the L14G4 is a bit too soft. You can press it down in the middle next to the screen which is not accetpable on such a work laptop. Yeah, maybe it's just the old IBM ThinkPad design language that loves flexible plastics on the top cover, and maybe I am just spoiled by my other laptops (Dell Latitude, HP Elitebook, Apple MacBooks) or even the highly recommendable Logitech MX Keys that I am using most of the time on my desktop, but that flexibel top cover is just too soft. It doesn't provide enough stability for the keyboard and a positive typing experience.
And yes, there has to be a difference to the T14 of which I consider the L14 to be a cheaper plastic clone of. So the use of plastic body parts is ok. But that flexible top cover isn't.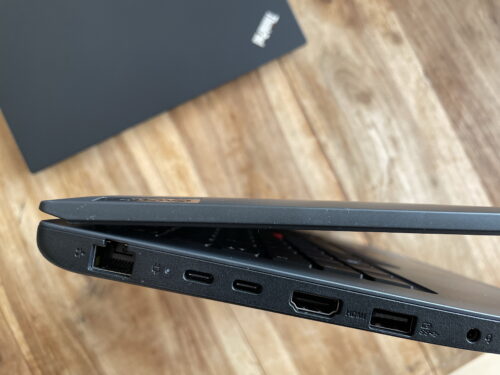 The back cover of the display is also a bit bulky. I haven't seen the one on the new T14 G3 and G4 in person (which, from photos online, may have a similar design), but when you are used to slim laptops and then see this bulky cover, you start wondering about the type of material that was used on the cover. Knowing that the display itself is very thin! It looks like the extra material was used to reinforce the lid, which is btw still very flexible.
The lid doesn't open with one hand (as opposed to the T14). But maybe it's just a matter of the tension on the hinges which may be adjusted with a small ring spanner.
I'd also conclude that the odd feeling I have about this L14G4 is that it appears to be bulky where it should be slimmer, but slim and flat where it should be reinforced. But maybe I am all wrong and only time will tell us in a few years that these bulky covers were meant to survive the daily struggle while the thinner T14-series will be scratched and what not.
Heat dissipation
Going by the photos from the Notebookcheck review  (I didn't dare to open it), the heatpipe looks decent enough. It becomes hot, but also quickly cools down. Fan noise is audible, but also lower than on the T14G2.
I also heard coil whine when I closed the window and held the laptop to my ears. No coil whine on the T14G2, though.
Conclusion
I had ordered the L14G4 some time before I found the T14G2, and had it arrived in time, I would have accepted it as the new Lenovo style. But now, with the T14G2 already on my desk (and having saved a few Euros in comparison), the L14G4 feels like a cheap laptop that I wouldn't spend much money on. Not the almost 1000 EUR I've bought it for. Maybe 600 EUR. It was sold with a discount to .edu customers for that price earlier this year, so that price makes sense. But anything above that – when you could also go for an older, but not worse T-series laptop – is way too much. My main issue with the L14 Gen4 AMD is the flexible body and haptics of the plastics. It feels like a consumer laptop from the early 2010 years. It's not something I'd associate with the ThinkPad brand, and I know from previous L-series ThinkPads that Lenovo can do better.
tl;dr L14G4 AMD
nice display; great battery runtime; worse keyboard, body flexes, coil whine