"…the suda­re is the thing han­ded down from their ances­tor." (src)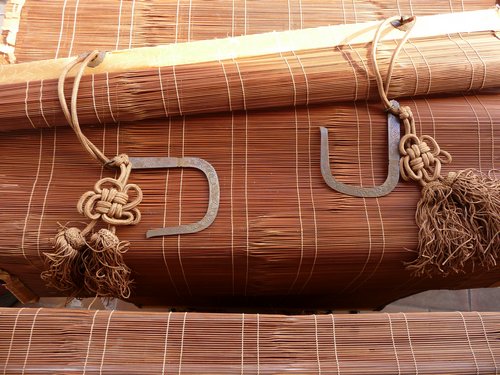 Found this nice quo­te on a web­site run by an arti­san who crafts and repairs Suda­re — Japa­ne­se screens. The same artist goes on exp­lai­ning that:
"…the suda­re is basi­cal­ly made from bam­boo, but it can also be made from 3 to 4 other types of mate­ri­als. The word "suda­re" is cha­rac­te­ri­zed in Kan­ji by the com­bi­na­ti­on of 2 kan­jis: one mea­ning bam­boo and the other mea­ning "in row." So "suda­re" means "lined-up bam­boo." Well actual­ly, if we break the word "suda­re" down, "su" stands for "lined-up bam­boo," and "dare" means "han­ging down" becau­se you hang suda­re down from the cei­ling when you use them. "
And tha­t's exact­ly what I am going to do with the­se screens: hang them up in our living room (in front of the window).
The inte­res­ting sto­ry and my rea­son for sharing this is that my par­ents found them on top of a rub­bish con­tai­ner near our house in Tokyo some…30? years ago. An older house in the neigh­bour­hood had been demo­lis­hed and careless workers threw them away, so the Sudare(s) were free to be picked up.
The­re's some­thing about modern Japa­ne­se cul­tu­re and how it con­flicts with old tra­di­ti­ons that would cer­tain­ly make up for a lot of inte­res­ting blog posts. For­tu­n­a­te­ly, the­re are a lot of Japan-rela­ted blogs out the­re that cover exact­ly this tran­si­ti­on bet­ween the old and the new worlds.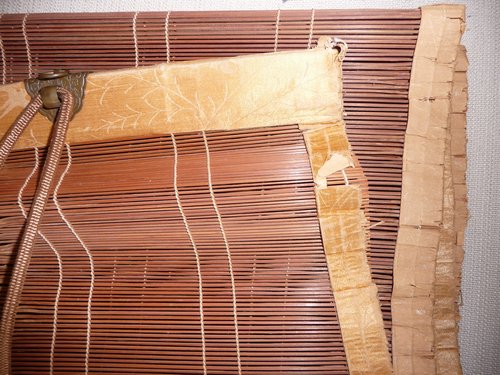 The­se suda­re may look a bit worn out now, also becau­se they were kept in a very mois­tu­re base­ment over the last 5 years, but the bam­boo mate­ri­al is still in gre­at shape and 100% ok. The build qua­li­ty of the­se Japa­ne­se suda­re is just ama­zing — even though they may be about 80+ yrs old!
I will buy some gol­den tape to repair the seam at the sides.