Wow, I've even­tual­ly upgraded my tech-noma­de life by swit­ching to an impro­ved home office setup.
From a sin­gle (1280 x 800 px) note­book + cab­led mouse…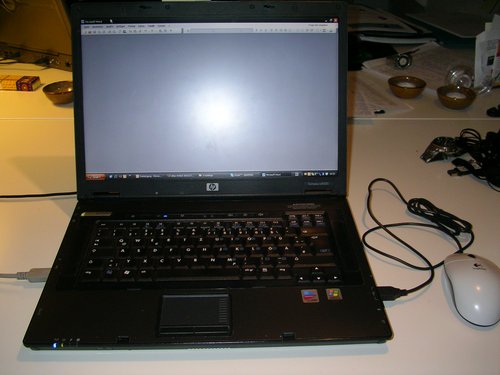 …to a (1680 x 1050) 22″ wide-screen moni­tor and a cord­less Logi­tech key­board & laser mouse: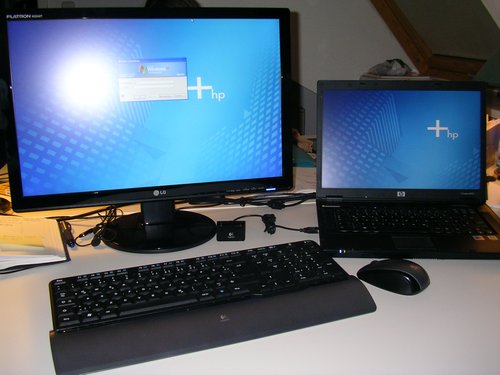 You know I actual­ly did­n't want to go this far and attach ano­t­her screen to my sys­tem as I was afraid it would com­pro­mi­se my free­dom (~ uhu­ru! :-). But it is SO much bet­ter to work on a big­ger screen — which btw also has a much more vibrant colour con­trast and pro­vi­des more reli­able results when it comes to pho­to edi­t­ing & co.
Saw this set­up (note­book + ext moni­tor) in use some­whe­re else and rea­li­zed that I should upgrade my own desk­top. Bes­i­des, being able to move a brow­ser win­dow from one screen to the other is just very, very con­ve­ni­ent. Yes, I know, I am a bit late at adop­ting such "new" technologies.
The 22″ LG Fla­tron W2242T-PF is one of the che­a­per screens and even though it comes with both VGA and DVI‑D ports (this is a requi­re­ment to me), it does of cour­se only fea­ture a che­a­per TN dis­play (which will never be as effi­ci­ent for decent colour works as MVA/PVAs, for instance). The moni­tor stand also is a bit shaky — it's just a pie­ce of ligh plastic with no real balan­ce for the 4,7kg screen (manu­fac­tu­rers obvious­ly try­ing to cash-in on sel­ling extra VESA wall & desk­top stands). Howe­ver, my funds do not pro­vi­de enough room for a much bet­ter moni­tor, so I'll stick to this one for now. Am a bit curious to know what kind of screen type tho­se 13,3 Mac­Books come with.
Oh, and if you hap­pen to own one of tho­se new LGs: just make sure you redu­ce screen bright­ness and remo­ve blue colour to a value of 23 (23 …the­re you have it). I don't know why LG came up with such stu­pid fac­to­ry set­tings in the first place.
The key­board is a Logi­tech Cord­less Desk­top S520, kind of new model but it also has a nas­ty soft­ware bug: Logi­tech's Set­Point soft­ware does­n't like the Syn­ap­tics touch­pad dri­vers as found on a lap­top like my HP nx8220. Which means that about 50% of all extra (pro­gramm­a­ble) keys do not work (until Logi­tech comes up with a working solu­ti­on, that is).
Com­pa­red to many other wire­less key­board-mou­se dek­s­top solu­ti­ons, the keys have a rela­tively low drop and it almost feels as if you'­re typ­ing on a note­book. Nice! The laser mou­se is average but still bet­ter than my older + cab­led 9,- EUR opti­cal Logi­tech mouse.
I also mana­ged to buy a used docking sta­ti­on for the note­book, so unplug­ging the machi­ne for mobi­le use is much easier + the docking bay also has a DVI‑D port. This real­ly is the set­up for me: a busi­ness lap­top + docking sta­ti­on, hoo­ked up to an exter­nal screen and key­board once I am at home (thus avoiding the dif­fi­cult sce­n­a­rio of kee­ping two dif­fe­rent com­pu­ters at sync…unless of cour­se I'd be using a Mac machi­ne, but tha­t's ano­t­her story).
As for having a nati­ve 1680x1050 screen reso­lu­ti­on direct­ly on the note­book: I tes­ted this a few mon­ths ago with ano­t­her dis­play panel, but 1680x1050 at some­thing abo­ve 128dpi is just too tiny for my old eyes.
p.s.: Logi­tech sto­le 5h of my life with their f******** "Set­Point" soft­ware tha­t's sup­po­sed to power the extra but­tons on the key­board. What the.….??! Also, con­si­de­ring that this soft­ware just has to power some extra but­tons and the mou­se, you'­re pro­bab­ly won­de­ring about the 50+ mb down­load that comes along with using Set­Point.? Logi­tech hard­ware is nice, but their soft­ware real­ly pis­sed me off big times.
[update: Logi­tech sup­port wro­te in (at least!), tel­ling me to deinstall the dri­ver for Syn­ap­tics touch­pad. WTF? Sor­ry guys, your dri­ver soft­ware is eit­her cer­ti­fied, or not. I won't install any shit­ty Set­Point crap on my sys­tem until that issue is solved.]