As much as I dis­li­ke rants on this blog, the­re's not­hing worse about local public trans­port in the Rhein-Main area (Frank­furt am Main et al) than this ticket machi­ne in use at all metro stations: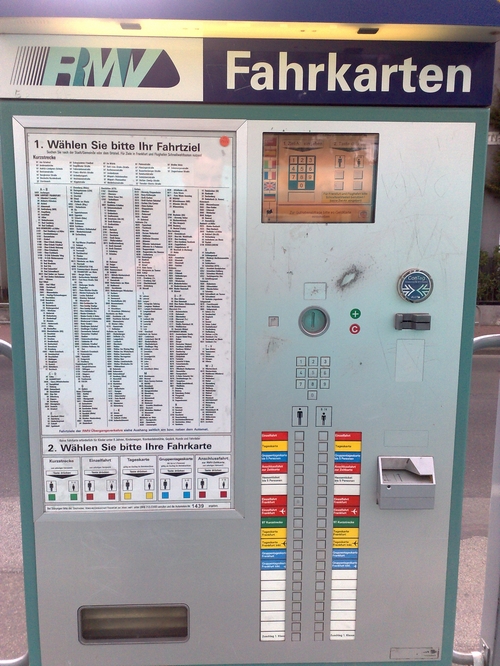 Even though the menu is avail­ab­le in dif­fe­rent lan­guages, obtai­ning a valid ticket is real­ly com­pli­ca­ted for tho­se who do not know how to ope­ra­te it.
for tickets wit­hin the City area of Frank­furt am Main, just press the "Ein­zel­fahrt Frank­furt" but­ton which is the 7th (red) but­ton on the left column.
for tickets to desti­na­ti­ons out­side of the City area, one has to choo­se it from the list on the left (note: not all are lis­ted!), type in the cor­re­spon­ding 4‑digit num­ber and choo­se "Ein­zel­fahrt" (first red but­ton on the left column mar­ked with an adult icon/pictogram).
As you can see from the pic­tu­re, the machi­ne also accepts bank­no­tes, chip cards and cer­tain mobi­les. Pls also note the alrea­dy men­tio­ned coin-scratch-area to the right of the coin slot which — for some rea­sons — is ALWAYS on the same spot with all machines.
RMV appar­ent­ly knows how bad their machi­nes are — which is why they'­ve publis­hed a detail­ed explana­ti­on online.
What I dis­li­ke about the­se machines:
Why make it com­pli­ca­ted if it can be done way easier ins­tead? Just put a colou­red map of desti­na­ti­ons on the left and assign 4–5 but­tons on the column to the right that cor­re­spond to the colou­red destinations.
Why do they offer the (rather pri­mi­ti­ve, no-touch-) screen in five dif­fe­rent lan­guages (Ger­man, Eng­lish, French, Ita­li­an, Spa­nish and Tur­kish) if the rest of the machi­ne is kept in Ger­man only?
If they'­re alrea­dy using pic­to­grams for lan­guage sym­bols and age groups, why can't they extend this to the over­all interface?
Too many but­tons are con­fu­sing! After all, you just want cus­to­mers to obtain a valid ticket. 4–5 but­tons are enough!
Do not offer too many steps during the ticket-selec­tion-pro­cess. Ins­tead, use some­thing like this:
Desti­na­ti­on?: Whe­re do you want to go? 1–5 pri­ce groups, not more!
Dis­count?: Adult or child (~ dis­coun­ted tariff for dis­ab­led, elder­ly, stu­dents, child­ren, etc.)?
Pay­ment?: Insert money (bank notes, coins, chip cards, mobi­le RFID chips, etc.)
Done!
Some­ti­mes I just wish I was working in auto­ma­ti­on engi­nee­ring (ins­tead of in the field of eco­lo­gi­cal sani­ta­ti­on sys­tems) and could approach the RMV with a simp­le upgrade pro­po­sal for a bet­ter user inter­face on their ticket ven­ding machi­nes. And this alt­hough I am not even an Apple user :-) and sin­ce the­re are others out the­re who are real pro­fes­sio­nals for kee­ping things real­ly simp­le. Much like the upco­m­ing elec­tions in the US, anything is bet­ter and will be an impro­ve­ment to the exis­ting sys­tem. Right now the purcha­se of tickets through the­se machi­nes is more com­pli­ca­ted for most cus­to­mers than pro­gramming your VCR.
Also, if I was into auto­ma­ti­on engi­nee­ring and had to deli­ver a diplo­ma the­sis, I'd cover this subject.
p.s.: The red litt­le sti­cker next to the mir­ro­red image of yours tru­ly & "Wäh­len Sie bit­te Ihr Fahr­ziel" actual­ly indi­ca­tes when it was clea­ned (!) for the last time.