How do I exp­lain this?
Tho­se tables full of bana­nas should be inte­res­ting enough for a blog post (at least to me), but may­be I should start with my own litt­le story:
Last year in March upon retur­ning from Kenya, I rea­li­zed I should cough up some mbe­ca and invest them into a good pair of run­ning shoes — which I actual­ly never had befo­re, only "cross trai­ners", which are like hea­vy weight shoes used for a firm stand while play­ing ten­nis (@ Impa­la Club when that mem­bers­hip fee was still affordable).
Short­ly after their purcha­se, they quick­ly star­ted to rot in the dar­kest cor­ner of my clo­set, even though I took them with me to Frank­furt. Kee­ping your run­ning shoes around is a per­fect remin­der that will nag on your con­sci­ence: Yeah, I should do more sports and well…oh…there's some­thing online I'll still need to check out…oh…I am too tired today.
Some days ago, I reac­ti­va­ted my almost new run­ning shoes and star­ted jog­ging. I did this becau­se a) it feels good, b) I am slight­ly over­weight *cough* *cough* and c) I'd regis­tered for the JPMor­gan Cha­se Cor­po­ra­te Chal­len­ge 2008 in Frank­furt am Main, Ger­ma­ny — which is "an annu­al seri­es of 3.5‑mile (5.63 km) road foo­tra­ces" taking place in 12 dif­fe­rent cities worldwide.
Mind you, I may be good at other things, but I am bloo­dy begin­ner when it comes to doing sports (ok, ten­nis back in the days and some beloved swim­ming from time to time), but it also star­ted way back in school when I used to be the last one selec­ted for teams. You know it yourself how mean kids may be — if you'­re bad at sports, you'll always be an out­si­der in some way, espe­cial­ly if your sports tea­cher is the same who tea­ches you mathe­ma­tics. This tea­cher actual­ly advi­sed me after gra­dua­ti­on not to stu­dy any sci­en­ti­fic sub­ject and, for­tu­n­a­te­ly, I didnt lis­ten to him. Obvious­ly, the­re was still an open issue on this for me and I nee­ded to pro­ve it to mys­elf that my tea­cher was wrong in 1996. A per­so­nal affair, if you will.
Now, run­ning. Damn, it feels so good. The last time I had tried that was in Nai­ro­bi, try­ing to find a good rou­te without potho­les. But still, run­ning never was THE sport for me, and this alt­hough it's just very simp­le and you won't even requi­re pro­per shoes or other equip­ment. Just start, set yourself a tar­get, see how it works, et voilá.
Ok, back to the JPMor­gan Cha­se. When I came to Frank­furt in June 2007, I did­n't have time to regis­ter for the 2007 Cha­se and con­se­quent­ly had to wit­ness it from the side­walk. I did see a lot of other — over­weight — ppl taking part, and — con­si­de­ring the rela­tively low 5,6km distance — rea­li­zed that IF the­se ppl are taking part, I should also try it.
So here you go:
What you recei­ve is a bag with a T‑Shirt, your star­ting num­ber, some free maga­zi­nes on run­ning and some glu­co­se. Approx. 10% of your star­ting fee will be dona­ted to a cha­ri­ty orga­ni­sa­ti­on and you get the chan­ce to actual­ly run tog­e­ther with the CEO of your com­pa­ny (cool guy, btw, he beat me by 4 minu­tes) and around 73.718 other ppl from 2.589 (more or less com­pe­ting) com­pa­nies.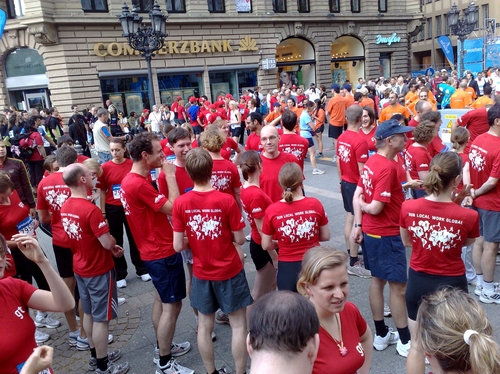 RUN LOCAL WORK GLOBAL — our mot­to (sic!).…
and too.…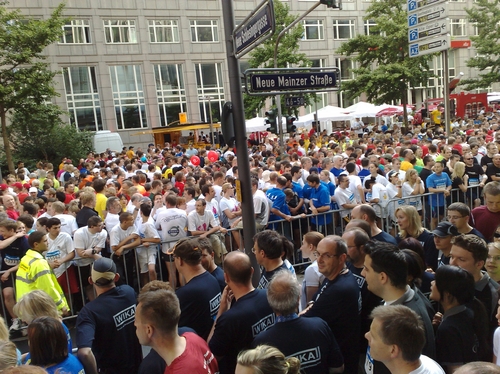 …many…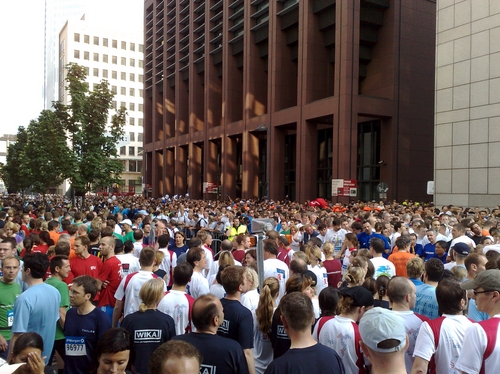 …run­ners.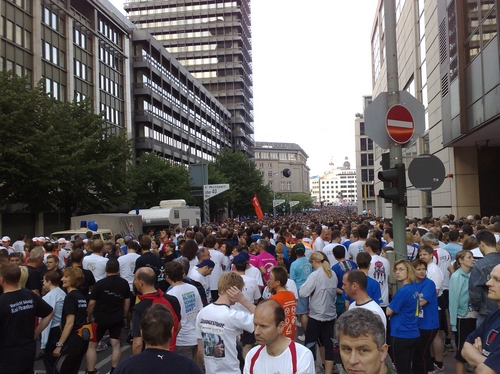 73.719 run­ners are A LOT!
They actual­ly had two star­ting points due the huge amounts of ppl. The Cha­se star­ted at 7:30pm, but I only mana­ged to cross the line at 8:20pm.…
It real­ly is a huge events, even with half-naked Bra­si­li­an ladies at the road side doing some sam­ba for tho­se who like it… some com­pa­nies also seem to invest a lot of money into this event and equip their staff with shirts and other cor­po­ra­te things. Actual­ly, it's a win-win situa­ti­on for ever­yo­ne involved.
After around 40 minu­tes, I even­tual­ly mana­ged to pass the finis­hing line. Not bad for a begin­ner, if I may say so. With such a huge amount of ppl on the road, it real­ly isnt that easy to run with no obsta­cles in the way, but still, gre­at fun, some sports and:
Lots of waste.…
Lots of empty bottles…and.…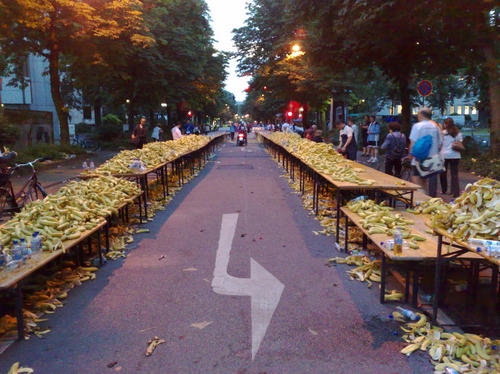 BANANAS from here up to the end of the world.
Now you know whe­re they are eaten.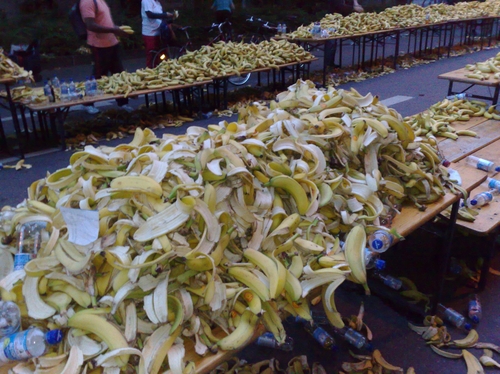 My plan actual­ly inclu­ded pro­vi­ding you with a link to the fabu­lous Nokia Sports­tra­cker web­site and my pro­fi­le the­re, but do to the nar­row roads in down­town Frank­furt, GPS recep­ti­on was a bit dis­tor­ted on my N95, so Sports­tra­cker did­n't work. If you own a modern Nokia S60 pho­ne and enjoy run­ning, this litt­le uti­li­ty real­ly adds value to your pho­ne. Used it the other day to track my speed and distance.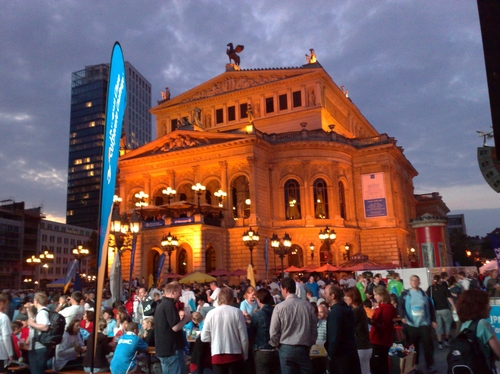 After the Cha­se, we enjoy­ed some good beers and wat­ched Tur­key sco­ring a 2:1 against Switz­er­land. What you see in the pic abo­ve is the illu­mi­na­ted ope­ra of Frank­furt. Lik­ed the colours.
Ok, the JPMor­gan Cha­se was gre­at fun and I think I'll be at it again next year — and in the mean­ti­me, I'll have to train for Octo­ber, becau­se tha­t's when I'll have a litt­le 10km com­pe­ti­ti­on with mem­bers of my exten­ded fami­ly. So yes, if you want it, you can do it.
n.b.: other posi­ti­ve side-effects of a regu­lar run­ning habit: you get to sweat much less and/or start swea­ting at a much later point while wal­king around under the sunshi­ne. In other words, this who­le eco­sys­tem insi­de my body has impro­ved and will cer­tain­ly con­ti­nue to impro­ve. For a non-spor­ti­ve per­son like me, this impro­ve­ment is the big­gest advantage.