So today is World Envi­ron­ment Day and I had actual­ly pla­ned not to cover this spe­cial day as I am dealing with envi­ron­men­tal issu­es almost every day and would actual­ly have to blog on it every day then. Just simi­lar to what World Water Day means to me (not much as a *spe­cial occa­si­on* from my very own pov, that is).
Howe­ver, as I went for lunch with my col­leagues today, we found the fol­lowing flyer(s?) on our tables and I instant­ly thought: hey, i've got­ta blog this. ..
.So, here you go: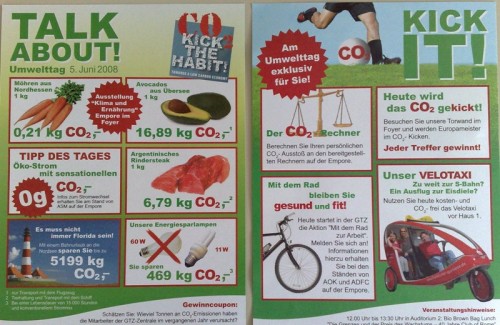 And? Wha­t's the message?
Local­ly grown car­rots pro­du­ce less car­bon dioxi­de emis­si­ons than avo­ca­dos that were impor­ted via airplanes.
Argen­ti­ni­an beef steak has a (cal­cu­la­ted) car­bon emis­si­on of 6,79kg/kg if trans­por­ted via ship.
Ener­gy saving / com­pact fluo­re­scent lamps of 11W save an equi­va­lent of 469kg of car­bon emis­si­ons when com­pa­red to con­ven­tio­nal bulbs @60W and a life expec­tancy of 15.000h.
Take your bike to work and con­tri­bu­te to a bet­ter environment
(which would be ~ 12 km one way for me).
…and: cal­cu­la­te your own car­bon foot­print — which takes into account ALL data. Average car­bon emis­si­on of Joe User in Ger­ma­ny (accord­ing to this site!) is around 10t/a, and I was just below it with ~ 8t/a. Still, lots of room for impro­ve­ments. My col­league had ~ 25t/a! Wha­t's yours?
Les­son lear­ned: ever­ything is inter­con­nec­ted, inter­wo­ven to a huge net­work of rea­sons and cau­ses. Eating expen­si­ve and impor­ted avo­ca­dos from Kenya that cost at least 1,- EUR each and come at the size of an egg (sic!) are much more pro­ble­ma­tic than local food.
It prol­ly pro­du­ces even more car­bon emis­si­ons than the prin­ting and dis­tri­bu­ti­on of such fly­ers to a staff / tar­get group that is alrea­dy sen­si­ti­zed for the worl­d's bur­ning issu­es (health, water, sani­ta­ti­on, ener­gy, trans­port, urba­ni­sa­ti­on, HIV, Mala­ria, war, greed, etc. etc.). …
No, serious­ly, World Envi­ron­ment Day is here to remind all of us that envi­ron­men­tal pro­tec­tion starts with our own envi­ron­men­tal awa­reness and that we can not just sit back and wait for some Mes­siah to come and give us a working solu­ti­on. Rethink your actu­al beha­viour and iden­ti­fy the potential.
(And this, alt­hough I am a strong defen­der of the Braungart/McDonough theo­ry, e.g. how nice it would be to have a 2nd — green — indus­tri­al revo­lu­ti­on whe­re the reduc­tion of *bad beha­viour* isn't a solu­ti­on (= con­suming less is still harm­ful), but ins­tead iden­ti­fy­ing and using mate­ri­als who­se bio­lo­gi­cal and tech­ni­cal nut­ri­ents remain in an loop. Eco­san is one of such approaches.…but tha­t's ano­t­her story :-).